Instagram/shopwyllis
Bruce Willis' Ex Demi Moore & Her Daughters Share What Birds They Would Be
Making time fly by while in self-isolation, Demi Moore and her daughters contemplated what kind of birds represents them best in "part 1" of their "homebodies" conversation.
If you could take to the sky on feathered wing, what kind of bird resonates with you? It's a question that had Demi Moore and her three daughters turn almost philosophical.
In a new video shared by Demi's daughter Tallulah, the four women each gave insight into their perspective, starting with 28-year-old Scout, who would like to be a species of egret or crane because they "feel like an omen of peace."
Demi had a comfortable chair to herself and her dog, while her daughters huddled up on a couch next to her. Cozily in the middle, Tallulah ventured that she feels "connected" to and "albino Peacock," and elaborated:
"To be reduced down to just one hue and still be majestic. I don't know there's just layers there that I like."
Even though the 57-year-old matriarch feels little relation to birds, she could relate to the functionality of chickens as they "bring about food to others."
But on second thought, Demi felt that the phoenix resonated with her more as it is known in Greek folklore as the bird that cyclically regenerates.
31-year-old Rumor had a hard time choosing between a flamingo and a hummingbird, and Demi interestingly pointed out that the unique little birds can hover, fly backward and forward like a helicopter - the only birds to have this ability, as Demi added:
"No other bird can do that, they operate like a helicopter. I think they have tremendous magical and spiritual significance."
The four women have plenty of time to have their thoughts take flight while in quarantine together. However, Demi and her daughters are not the only occupants of their Hailey, Idaho home during the novel coronavirus pandemic.
Making for extra company, Demi's ex-husband Bruce Willis along with their three daughters' boyfriends and some close family friends are also hunkered down with them.
Family activities such as "family paint night" also helps to pass the time in good humour, and Demi even has the fake mustache to prove it.
The video discussion between the four women also showed off the buzzcut Bruce recently gave Tallulah to make her look like "Joan of Arc."
While Bruce's wife, Emma Heming Willis, is missing from the rest of the family quarantining together, she couldn't join them after a medical emergency (accidentally poking her foot with a hypodermic needle) left her stuck in Los Angeles until restrictions are lifted.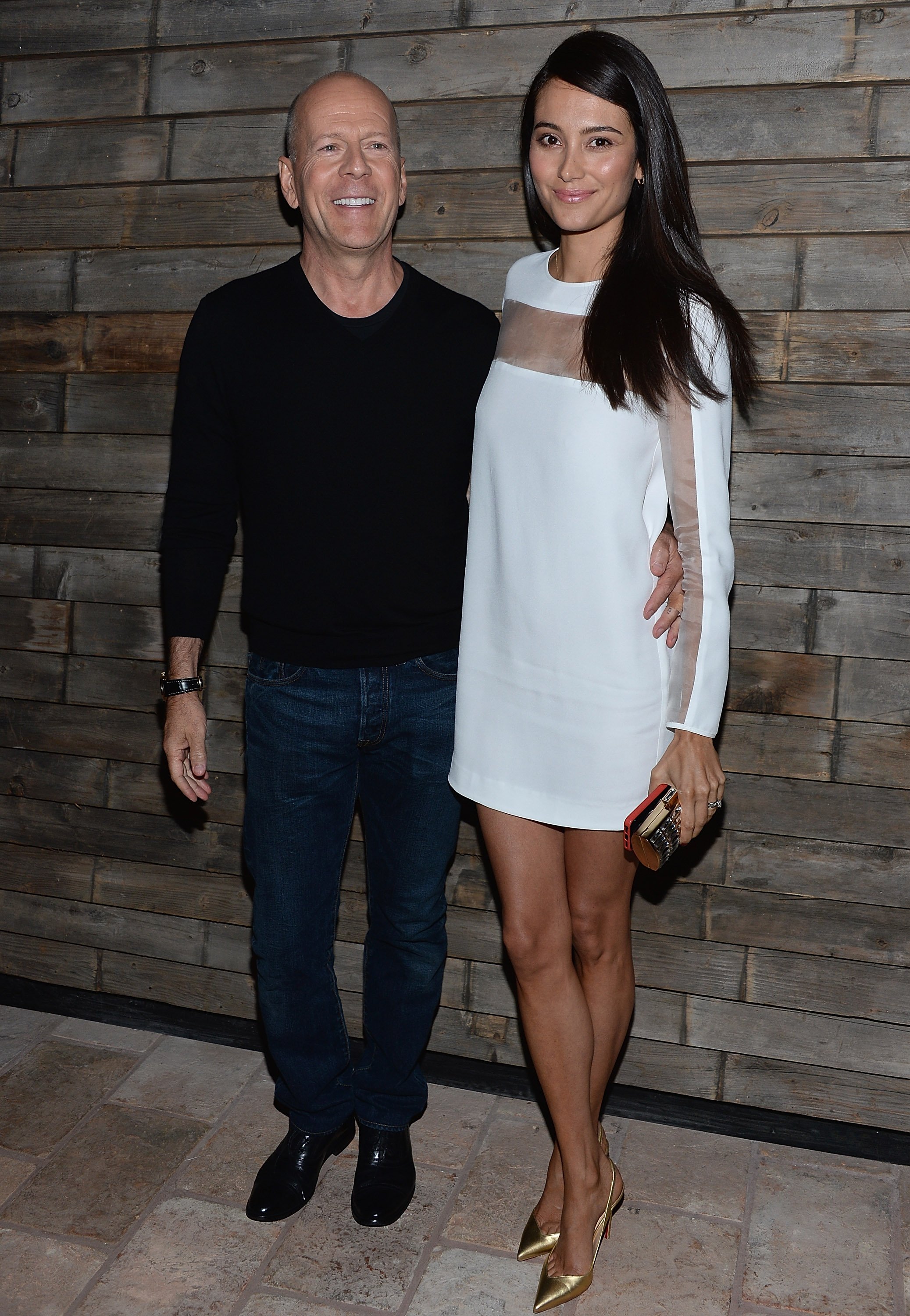 Bruce Willis and Emma Heming attend the after party for The Cinema Society & Bally screening of Summit Entertainment's "Red 2" on July 16, 2013, in New York City. | Source: Getty Images.
Even though Emma can't be with Bruce Willis and the rest of the family in quarantine, it reportedly doesn't bother Emma.
Bruce and Demi separated decades ago, and she reportedly gets along well with Emma, who is seen as a part of the family.
Please fill in your e-mail so we can share with you our top stories!