Getty Images
Glimpse into NCIS: LA's Future as Fans Applaud Season 11 Finale on Social Media
Although ending the season 11 of "NCIS: LA" with the episode "Code of Conduct" was not the initial plan, it worked perfectly. Fans are even labeling it as the best episode of the season.
Due to the novel coronavirus pandemic, several production companies could not shoot all the episodes they had devised. Sadly, "NCIS: LA" was one of them. However, fans loved how everything ended!
Warning: From this point on, spoilers for the finale of "NCIS: LA" season 11 follow.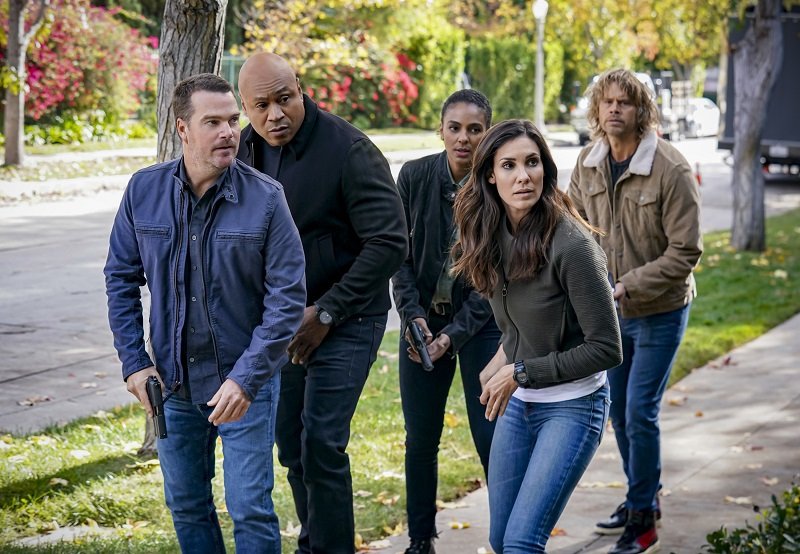 Chris O'Donnell, LL Cool J, and other members of the "NCIS: LA" cast. December 2019 | Photo: Getty Images
" was the 22nd episode of the season. In it, Sam Hanna (LL Cool J), "G" Callen (Chris O'Donnell), and Agent Devin Rountree (Caleb Castille) went to Afghanistan to help with a case after two SEAL members accused their chief of killing an unarmed prisoner.
Chief Petty Officer Thomas Argento (Juan Riedinger) supposedly killed civilians, as well. The three NCIS agents, as expected, ran into a lot of troubles during their stay in Afghanistan.
The team eventually met a young man named Jawan, who told them that he watched Argento killing a sedated person just for the story as he made everything sound like it had been a fight.
They also learned that the chief used the same MO to kill other people, meaning that he was a serial killer posing as a soldier who needed to be stopped.
After a lot of tension between Argento's team and the NCIS officers, the murderer was arrested. However, due to his powerful connections in Washington, DC, he was sure that he wouldn't be convicted.
Since "Code of Conduct" was not supposed to be the finale, it ended on a bit of a cliffhanger that was probably supposed to be unraveled in the following episodes. It didn't stop fans from praising it, though.
A Twitter user pointed out that it was an "amazing episode" and that the guest actors did a great job. Another person admitted that it was the best of the year and added that they couldn't wait to know more about the SEAL team.
Some other netizens opted for showing their impatience for the upcoming season 12 and also praised the whole cast of the show.
"[This] has to be the best episode of S11 or if not, close to it! This is what the show should be like week in week out!"
Frank Military, one of the executive producers of the show who also directed "Code of Conduct," revealed that they would air the planned finale in Season 12. However, it will not be the first episode.
"NCIS: LA" EXEC ON THE FUTURE OF THE SHOW
Frank also addressed the relationship between Kensi Blye and Marty Deeks (Daniela Ruah and Eric Christian Olsen, respectively) claiming that while several people want them to enlarge their family, having a baby is not that easy for a lot of couples. He added:
"That's what's going to be embodied in the Kensi and Deeks dynamic […] It's going to be a test. It's a very interesting story."
Without revealing any spoilers, the executive producer confessed that Callen and Anna's relationship would be a matter of interest for the upcoming season and that it would be "in jeopardy."
Even though CBS has not officially renewed the show, they are very likely to do it soon because of the high ratings that it got this season and for their large fan base.
"NCIS: LA" ending, however, was not the episode that got the most viewers. It was actually "Missing Time," aired on March 22. It had 7.4 million people watching, which is a lot for shows in the US.
Please fill in your e-mail so we can share with you our top stories!