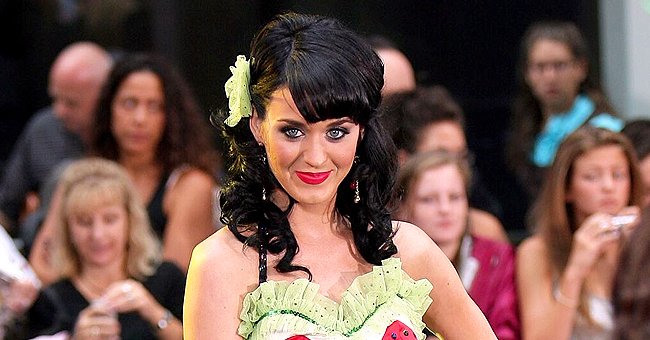 Getty Images.
Katy Perry's Strangest Outfits through the Years — From Watermelon Romper to Music Sanitizer

Katy Perry recently reminded fans of her creatively quirky side when she dressed as a bottle of "music sanitizer." However, it's just one of many outlandish costumes the pop singer donned over the years.
From fruit to fairytale characters, the "American Idol" judge came up with unusual outfits to get the imagination going. Following are ten noteworthy times the pregnant pop star stunned and delighted with her choices of costume.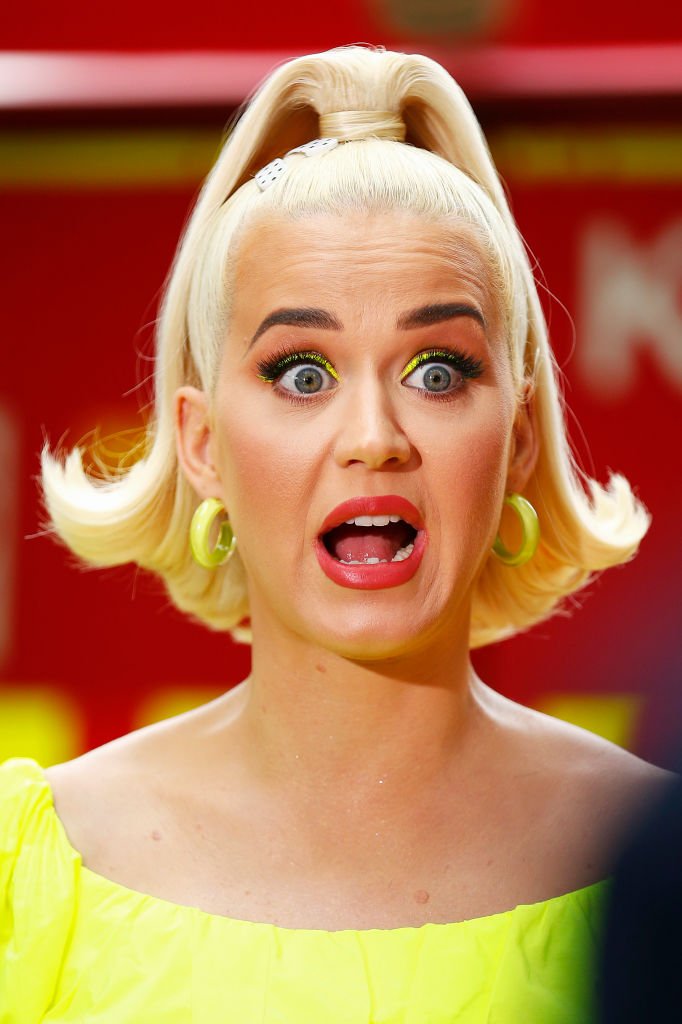 Katy Perry speaks to media on March 11, 2020, in Bright, Australia. | Source: Getty Images.
WHEN THINGS GOT TWISTED IN 2014
Katy attended the annual Australian Recording Industry Association Music Awards back in 2014, and her outfit reminded more of snack time.
Reminding fans that she dressed up as the Australian "cousin to the Cheeto" family, her yellow Twistie full-body costume with a matching bag really stood out.
HER LIGHT SHOWN BRIGHT AT THE MET GALA
The pop singer shined brightly when she arrived at the Met Gala red carpet in 2019. Dressed in a chandelier ensemble that weighed 40 pounds, Katy admitted that she had a hard time moving around.
"I had to really walk a straight line," Katy said at the time. "I wanted to say hi to all of my friends, but even if someone looked at me for long enough, I would start to teeter."
MAKING A MEAL OUT OF THE AFTERPARTY
For the Met Gala afterparty, Katy exchanged her chandelier look for another outlandish outfit. Dressed as a hamburger, she admitted that moving around was much more comfortable since her "meal" had a lot of padding.
FLAMING HOT FOR HALLOWEEN
In 2014, Katy arrived at actress Kate Hudon's annual Halloween bash dressed, unlike any other A-lister that attended the coveted party.
Channelling her inner flame, the pop star dressed up as a giant Cheeto, complete with a matching handbag and matching lipstick.
A BUDDING BISCUIT
Making another edible look her own, Katy went full-on Gingerbread Man for the December holidays in 2014.
Posting a picture of herself in full costume, Katy showed off the gingerbread onesie she decided to get for all her friends for Christmas.
SPACED OUT
When Katy served as a host during the 2017 MTV music awards, her inspiration took flight when it came to her outfit for the evening.
Ready to take the evening into all corners of the universe, Katy donned a sexy spacesuit look, complete with a space helmet and a flag.
LAND OF FAIRY TALES
In April 2018, the pop singer arrived at a taping of "American Idol" dressed for the job she wants, instead of the one she already has as a judge on the popular talent show.
Channeling her inner Snow White, Katy looked like a real princess in the outfit classically associated with the well-known fairy tale character.
GO INDIGO
With short white dyed hair, Katy gave fans a representation of her "Indigo Child" look that resembled nothing edible or anything that might take flight, but it did have a face protruding over her shoulder.
In a multicolored PVC dress, the addition of a light blue sleeve with a face coming out of the end where it meets the shoulder - produced an interesting look.
HOPPING ALONG
With Katy pregnant with her first child, it gave her outfit in April 2020 an extra kick. Hopping away from colorful fruit ensembles, the singer instead opted for the Bunny look.
Coming up with a clever pun, Katy announced that "somebunny" would be going live to answer questions about "American Idol" before it resumed.
READY TO CLEAN THINGS UP
On April 27, 2020, Katy gave fans a glimpse into her studio at home as "American Idol" continued remotely amid the novel coronavirus pandemic.
With a play on words, Katy nailed her most recent and wacky outfit. Looking like a life-sized bottle of hand sanitizer, the words hilariously got changed to read that she is ready to sanitize music with the "American Idol" brand that also contains moisturizers and Vitamin E."
PERFECT IN PINK
When Katy Perry announced being pregnant with her first child with fiancé Orlando Bloom, she creatively did so in style without the additions of fruit or animals.
Without making a formal announcement, the pop singer included it right at the end of the music video to her song "Never Worn White."
Looking beautiful in a flowing pink gown, the final moments of the video showed Katy lovingly cradling her growing baby bump.
Please fill in your e-mail so we can share with you our top stories!