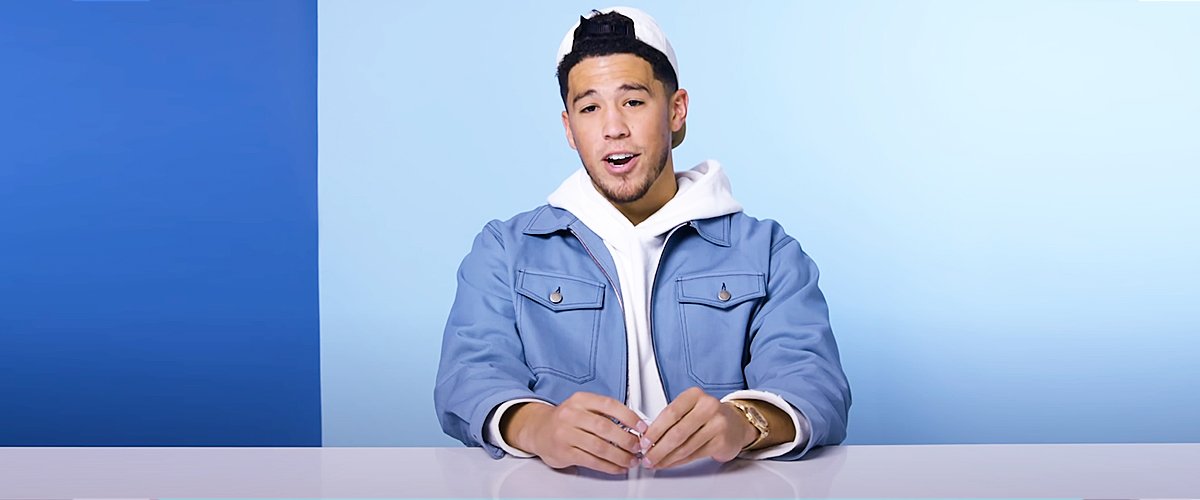 youtube.com/GQ Sports
Devin Booker Was Spotted with Kendall Jenner and Allegedly Dated Jordyn Woods — Meet the NBA Player

Phoenix Suns star Devin Booker has enjoyed a meteoric rise in the game, becoming one of the biggest talents in the NBA. The shooting guard reportedly dated model Jordyn Woods and was recently spotted on a driving trip with Kendall Jenner.
From working out in the gym with his dad when he was still in high school, to becoming a shooting guard in the NBA, Devin Booker has climbed the ladder of the beautiful round leather game with a consistency that has been the hallmark of his career so far.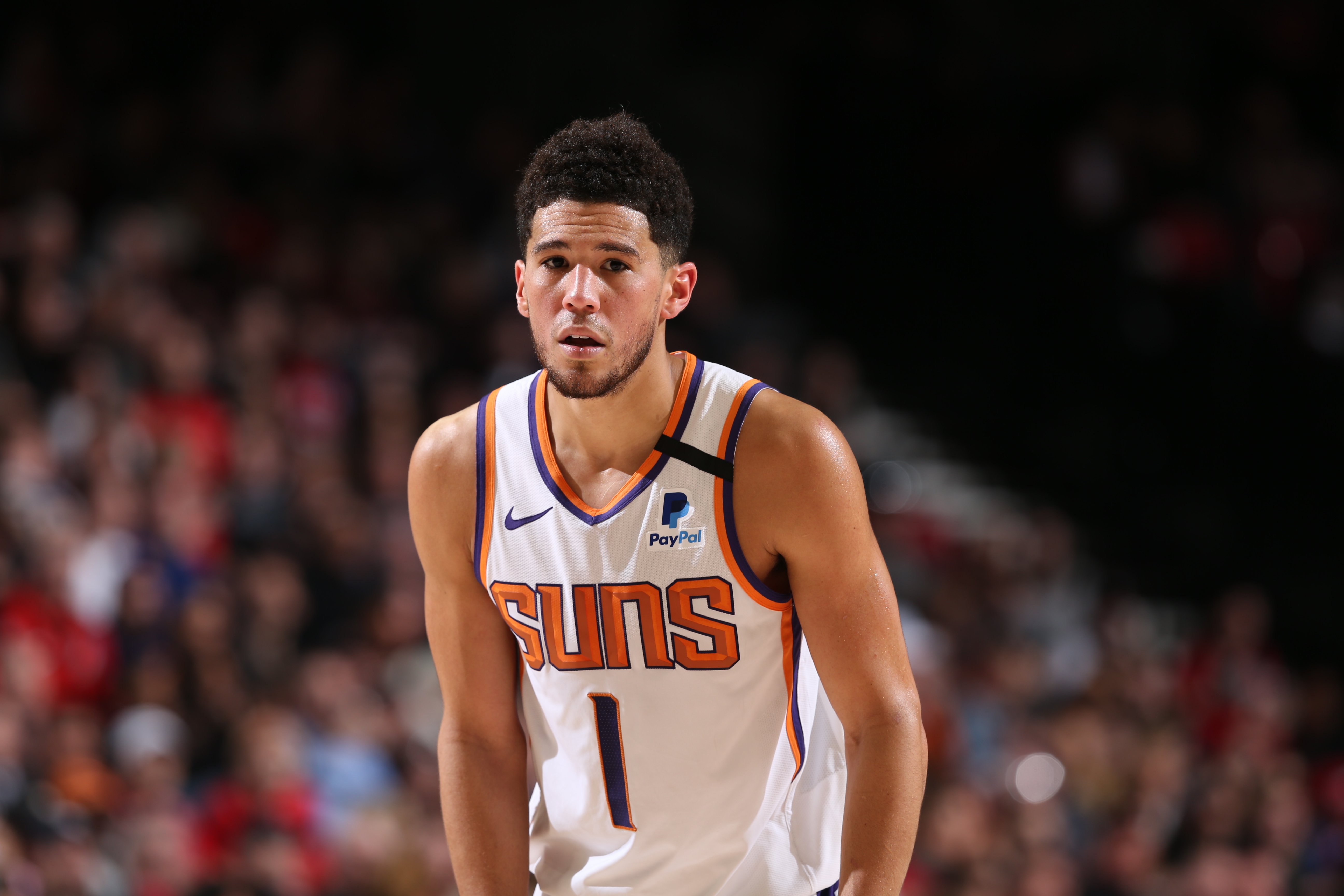 Devin Booker during a game on March 10 , 2020 at the Moda Center Arena | Photo: Getty Images
In college, during his one season playing for Kentucky, Devin Booker prepared for life as an NBA shooting guard, which was the position everyone, including the team that drafted him, believed was a natural fit for Booker's qualities.
He watched clips of Klay Thompson, Bradley Beal, and Kyle Korver. But frankly speaking, none of these guys performed consistently on the level that fans have grown accustomed to with the 23-year-old NBA star.
Early in his Suns' career, Booker had to be played out of position as a de facto point guard due to an injury crisis. And the 6 ft 5 player flourished in the role, though it meant his usually high shooting percentages dropped. Speaking about Booker's performance as a point guard, Ryan McDonough, the team's GM, told ESPN.com:
"We saw him as a traditional shooting guard. To see him run the pick-and-roll, and make plays at this level -- that has surprised us."
Since making his NBA debut for the Phoenix Suns in 2015, Booker has grown to become one of the most important players for the team who continue to struggle in the NBA.
In 2017, the shooting guard showed how valuable he was to the team when he scored an outrageous 70 points during the Suns' loss to the Celtics.
Booker suffered his first significant injury while playing for the Phoenix Suns in 2017. Devin Booker's injury required surgery, and it put him out of the matchday squad for six weeks.
On July 7, 2018, the Phoenix Suns tied down their star player to a lucrative new contract to ward off interest from bigger teams. Devin Booker's contract was a 5-year extension worth $158 million.
Earlier in the year, before the season was suspended, Booker made his All-Star Game debut after he was initially snubbed. But an injury to Portland Trail Blazers point guard Damian Lillard got him a replacement slot.
The NBA season is now on a forced break due to the novel Coronavirus outbreak, and the NBA star is taking the time to raise money and awareness for COVID-19 relief.
DEVIN BOOKERS PERSONAL LIFE
In May 2018, Booker 23, and Jordyn Woods 22, were spotted on a double date with Kendall Jenner and her boyfriend Ben Simmons at The Nice Guy in LA.
After several months of speculation, their evening out with Kendall and Simmons confirmed the dating rumors.
Devin Booker's ex-girlfriend, Jordyn Woods, is a popular model and social media influencer. It is unclear how long the two were together, but the two separated before Woods was involved in the messy controversy with Tristan Thompson, who was dating Khloe Kardashian at the time.
The model was caught making out with Tristan Thompson at a house party in February 2019. At the time, Woods was the best friend of Kylie Jenner, and it made the situation even more delicate.
Luckily for Booker, he had moved on before all that drama happened. Meanwhile, the NBA star was recently spotted with Kendall Jenner on a road trip to Sedona Arizona amidst the strict self-isolation guidelines.
While sources close to the pair maintain that nothing is going on between them, social media users were quick to point out Kendall Jenner's dating history with NBA players, which includes her on-and-off relationship with NBA star Ben Simmons.
DEVIN BOOKER'S FAMILY
The 23-year-old Booker was born on October 30, 1996, to former NBA player Melvin Booker and Veronica Gutierrez, a Mexican-American. The latter raised him while his father played overseas for a decade, in countries like Italy and Russia.
Booker has two other siblings, older brother Davon Wade and half-sister, Mya. Devin Booker's sister, Mya, has microdeletion syndrome, a chromosomal genetic disorder.
The Phoenix Suns shooting guard has been very vocal about the role his mom played in his life and how she managed to raise three kids on her own. Booker said:
"I owe her everything, just growing up she raised me and my brother and sister, and she never frowns, she was always positive."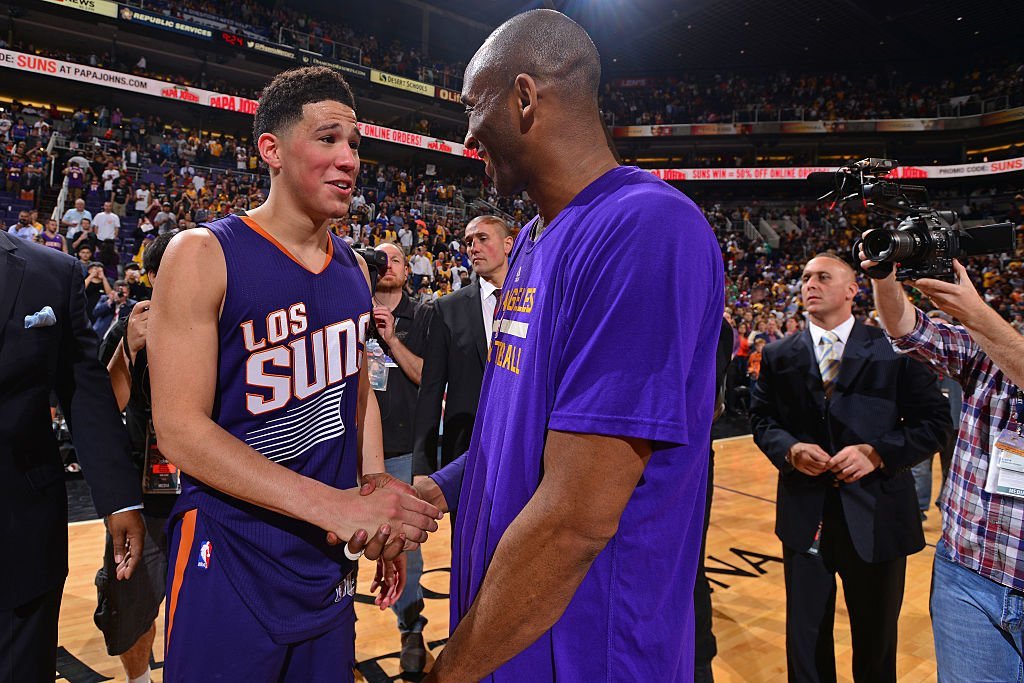 Devin Booker shakes hands with Kobe Bryant after a game at Talking Stick Resort Arena on March 23, 2016 | Photo: Getty Images
Booker shares a close relationship with his half-sister Mya, and the pair recently teamed up for the #Leanintogether campaign. In the video, the basketball player talked about the importance of gender equality and how he tries to help his younger sister accomplish her dreams.
The shooting guard, who is a Special Olympics global ambassador, has been involved in several initiatives over the years that shed light on the abilities of people with intellectual disabilities.
Please fill in your e-mail so we can share with you our top stories!