'OutDaughtered' Star Adam Busby Replies after Facing Backlash for Daughters Riding without Helmets
Reality TV star Adam Busby came under some fan backlash after his daughters were spotted riding without helmets. In a recent IG post, the father of six issued a response to the criticisms. 
Adam Busby and his wife, Danielle, are famously known as the parents of the first set of all-time female quintuplets in the US. They also have an older daughter, Blayke. 
The intriguing family of eight is one of the most loved families on television. On the TLC reality series "OutDaughtered," the couple takes fans on the challenging journey raising six little girls.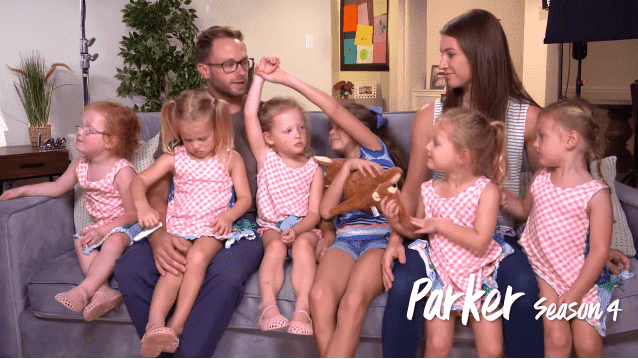 And one of these challenges is keeping an eye on them to ensure they are safe. Recently, the couple came under some heavy criticisms when the girls were spotted riding their bikes without helmets. 
After waves of criticisms from fans and parenting police, Adam Busby took to social media to respond to their claims. The father of six wrote:
"If I thought that my kids were in any sort of life-threatening danger, they would be wearing them."
Much has been made from the series of pictures that Busby shared a few days ago. In the photos, the daughters who are dressed in colorful prints ride their bikes without any protective gear under the supervision of their parents.
Adam and Danielle Busby are parents to six lovely angels, eldest daughter Blayke, 9, and quintuplets Ava, Olivia, Hazel, Riley, and Parker, who are all four-years old.
Adam and Danielle show a unique understanding that has made parenting.
Adam and Danielle have their hands full with their six daughters, but that helps them create some exciting content for viewers of the reality series "OutDaughtered." The family reportedly earns between $25,000 to $40,000 per episode of the show.
The show, which debuted in May 2016, has followed the development of the famous quintuplets. And Riley, who is regarded as the smartest of the bunch, has become a fan favorite.
The little tot recently got enrolled into kindergarten ahead of her sisters and seems to be thriving. One of Riley's teacher in preschool said about her, "I know she's a little bit younger than the rest of them, but she's doing really great, she's learning."
Riley is not just book smart. She is also the leader of the pack and the most troublesome at home. Her boisterous behavior has led to speculations from the show's fans that Riley has her private room because the parents claim she is the first to get up and would wake her sisters. 
The six girls keep their parents busy all day. But Adam and Danielle show a unique understanding that has made parenting their daughters less complicated.
Adam, 37, and Danielle, 36, have been married since 2006, and despite sharing six children, their love seems to be waxing strong with each passing day.