'The Masked Singer' Kitty Revealed to Be AGT Star Jackie Evancho
Kitty's reveal on "The Masked Singer" during Wednesday night's quarterfinals had the show's judges stunned as the final five contestants competed for a spot in the top four.
With "The Masked Singer," slowly building up to the finale of its third season, Night Angel, Rhino, Turtle, Frog, and Kitty made up the remaining five contestants to battle for their spot in the top four on Wednesday evening.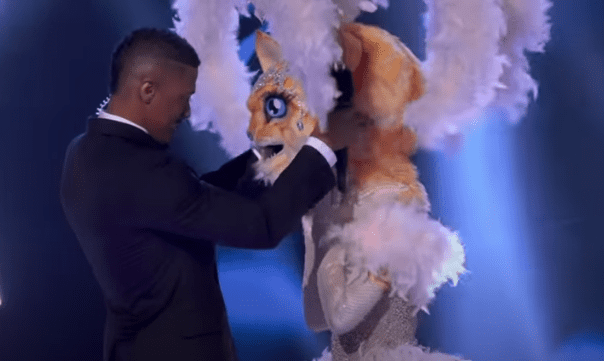 HOW THE EVENING UNFOLDED
Judges Ken Jeong, Nicole Scherzinger, Robin Thicke, and Jenny McCarthy had a tough decision on their hands, but luckily they had help from comedian Jeff Dye that joined them for the evening.
Turtle knocked his round out of the park with a rendition of Coldplay's "Fix You," and had Jeff and Ken gush about how he could "take it all."
Jenny thought that Night Angel's performance for the evening outshined the rest after singing Donna Summer's "Last Dance" - which comfortable gave her a spot in the final four.
Votes by the studio audience gave Turtle a spot as well, but when Kitty received the least amount of votes, the time came for her big reveal.
THE JUDGES GOT IT WRONG
The judges scrambled with final guesses that included the Olsen twins, Lea Michelle, Anna Kendrick, Ashley Tisdale, and Vanessa Hudgens, but they all turned out to be wrong.
After an unmasking that seemed to last just long enough for people's curiosity to peak, the person under the furry mask turned out to be Jackie Evancho.
WHAT JACKIE HAD TO SAY 
Smiling broadly, the 20-year-old singer said that she "wanted to show a different side" of herself, and she surely had all the judges fooled. Thanking the judges for the opportunity, Jackie added:
"Without you, I don't think I would have discovered where I want to take my career and who I want to represent myself as in the future."
SHE'S ALREADY HAD A VERY SUCCESSFUL CAREER
Like all the other contestants on the show, Jackie is accomplished in her field even at her young age. A classically trained singer, she became the runner-up on season 5 of "America's Got Talent" back in 2010.
While Jackie returned to the "AGT" stage to compete during the battle of "The Champions," the youngest solo artist ever to go platinum also sang at President Trump's inauguration.
ANOTHER HAD LESS LUCK CONCEALING HIS IDENTITY
When the banana ended up on the bottom of the list on "The Masked Singer" two weeks ago, he had less luck in concealing his true identity from the panelists.
Even though they initially thought the banana had to be a comedian, they soon caught on that he was in fact the lead singer of the band "Poison," Bret Michaels long before his reveal.