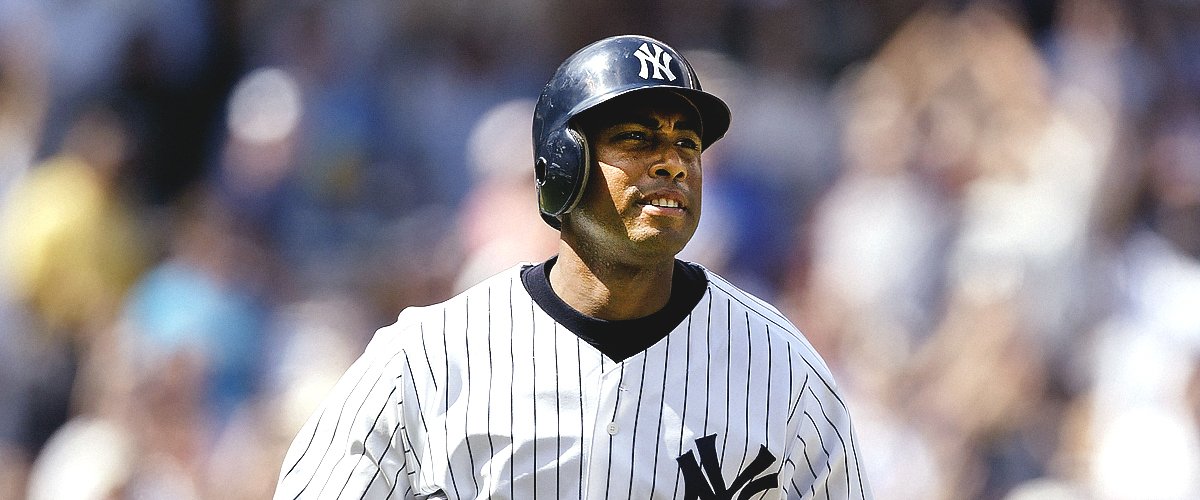 GettyImages
Bernie Williams Is a Yankees Legend — Glimpse into His Family, Including Three Kids
Bernie Williams spent his 16-year-long career in the MLB with the New York Yankees, and to this day, he's still considered one of the best switch-hitting center fielders in the league's history. Williams is also a musician and a loving father of three.
Bernie Williams is not only the first player to have won a Gold Glove, batting title, and World Series ring during the same season, but he's also the only MLB star to have been nominated to a Latin Grammy Award.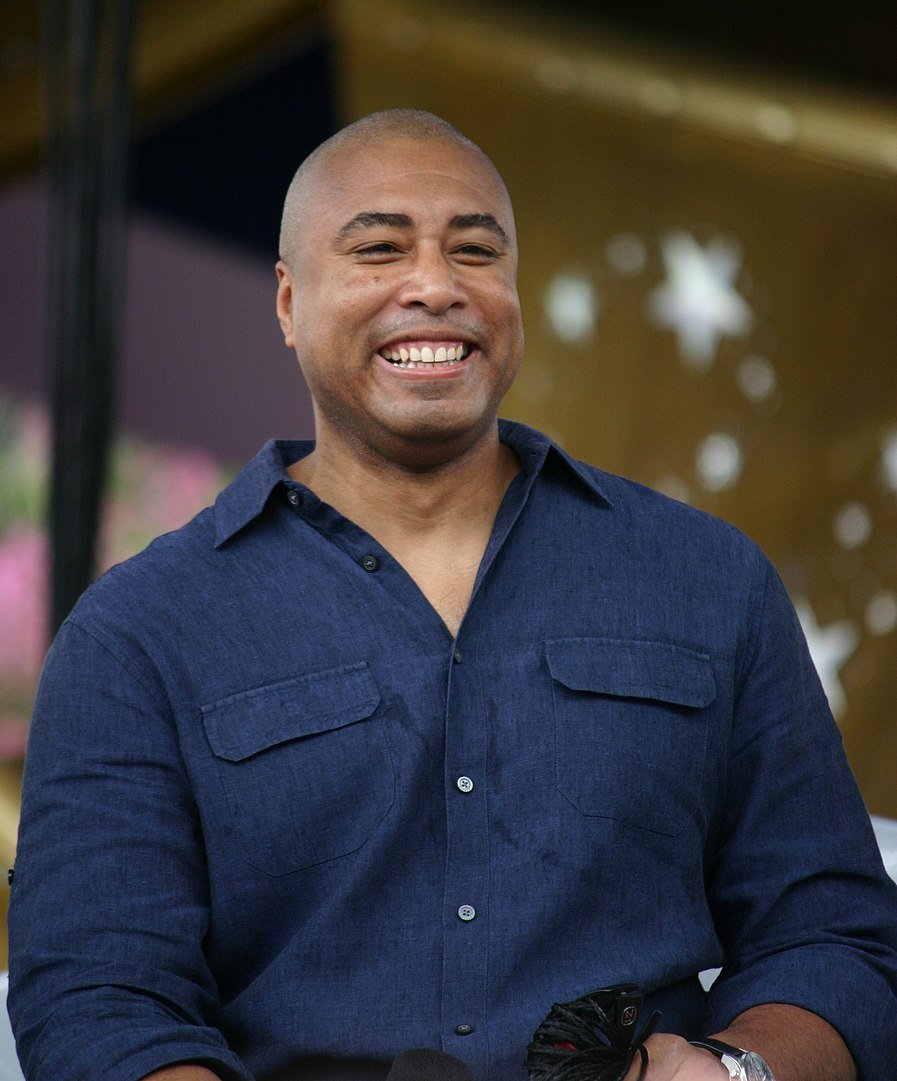 Bernie Williams answering fan questions during an interview at the Sorcerer's Hat Stage on Friday, March 4, 2011 | Photo: Wikimedia Commons Images
A music enthusiast since before he started his baseball career, Bernie went on to pursue that passion after officially retiring from the MLB in 2015.
And these days, he claims that the work he's done as a musical advocate has been more meaningful that his four World Series rings with the Yankees.
MEET BERNIE WILLIAMS
Bernabé Williams Figueroa Jr. was born on September 13, 1968, in Puerto Rico. His father was a merchant marine, and his mother a public school educator who demanded good grades from her kids.
Bernie believes he's making a bigger impact with his music advocacy.
Bernie was raised in Vega Alta, a town about 45 minutes from San Juan, and every day he had to commute to attend a specialized art school, Escuela Libre de Musica.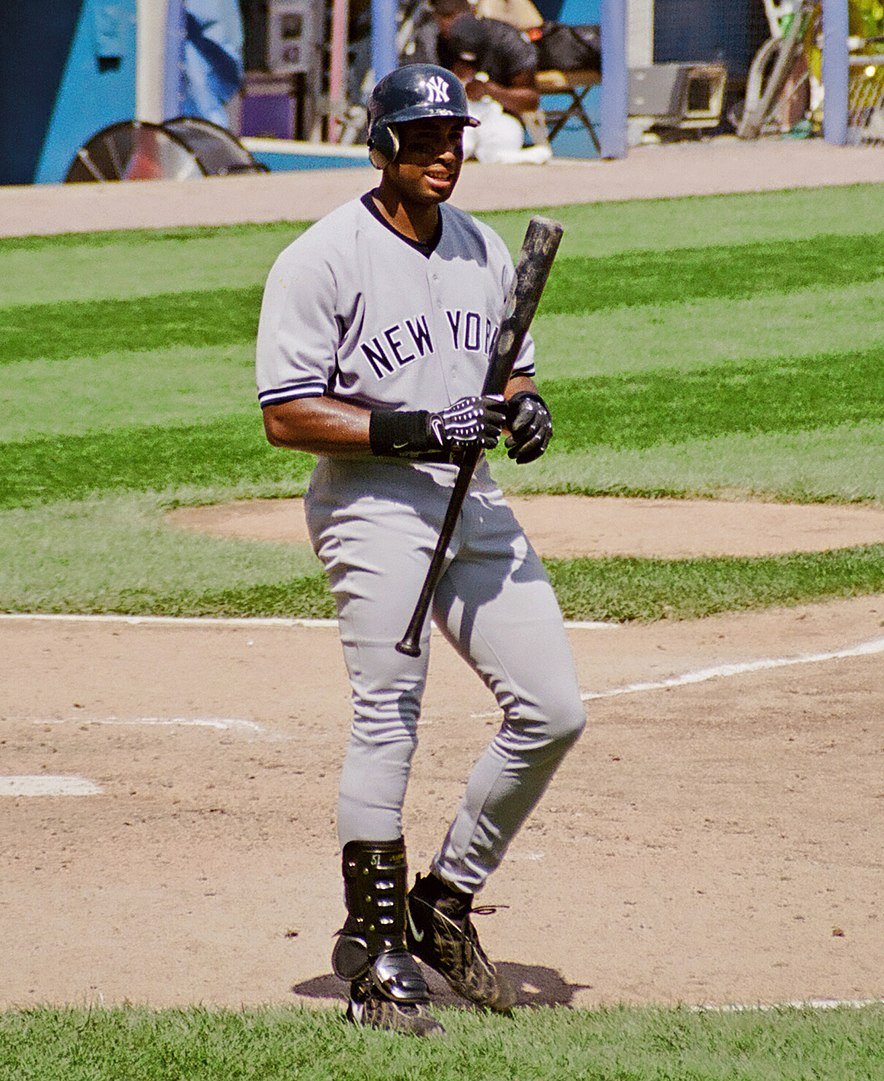 Bernie Williams at New Comiskey Park, 1999 | Photo: Wikimedia Commons Images
He and his brother would be back home around five in the afternoon, just in time to attend track or baseball practice since the art school didn't have a sports program, but their mom wanted the kids to have a well-rounded education.
Bernie was good at playing guitar, but he was also a decent athlete. As a teenager, he was among the better young runners on the island and made some records in the 400-meters category back then.
He was also a standout prospect on baseball, and at age 17, Bernie signed a contract with the New York Yankees.
While training for the minor league baseball, Bernie continued his education studying biology at the University of Puerto Rico. However, he realized he had to focus on one thing at the time and decided to drop out of college.
BERNIE WILLIAMS' YANKEES CAREER
Bernie then joined the Yankee's AA team in Albany and continued developing his skills until he played his first game in the major league as number 51 in 1991.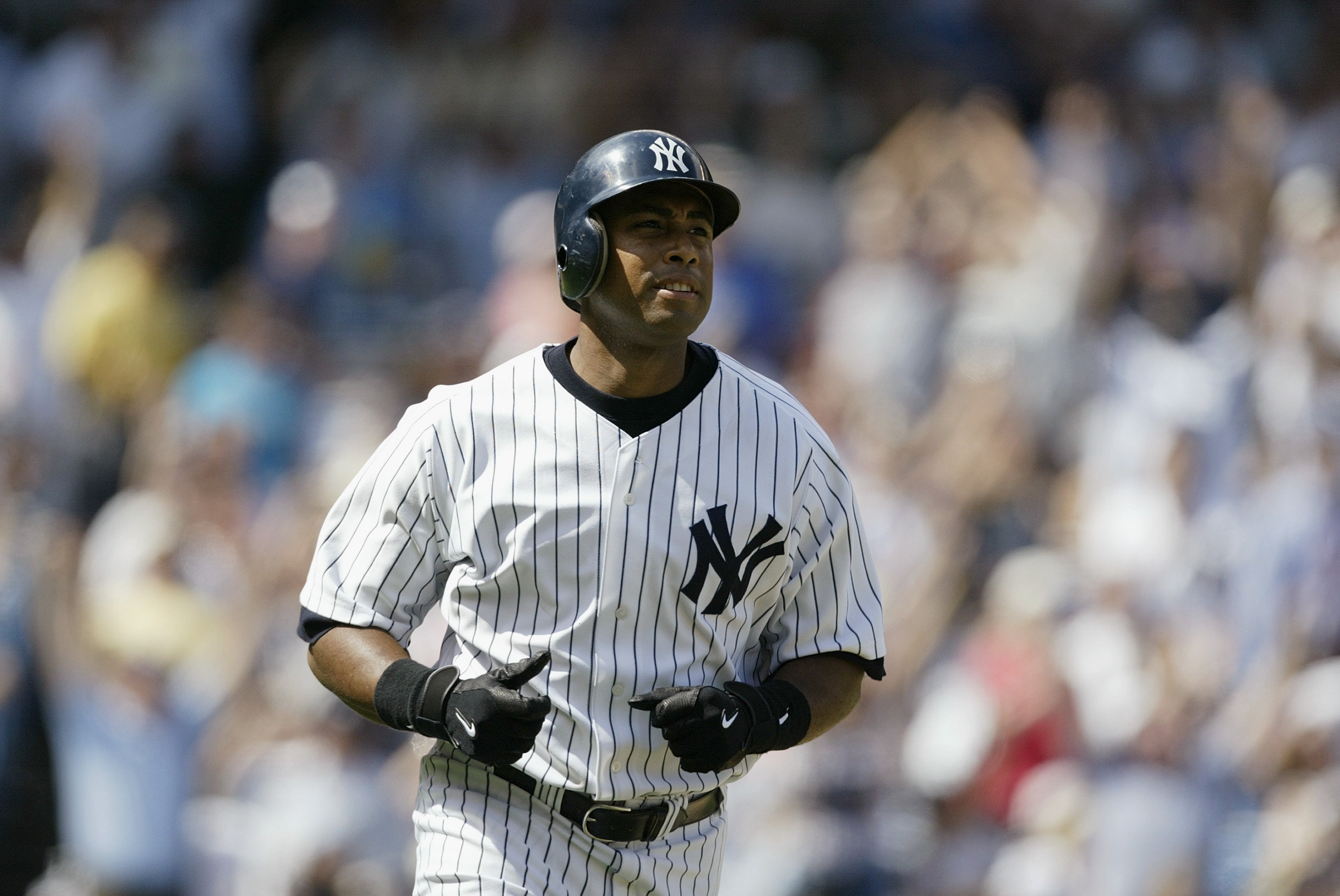 Bernie Williams #51 of the New York Yankees runs during the game against the Toronto Blue Jays at Yankee Stadium on August 9, 2004 in the Bronx, New York. | Photo: GettyImages
It took Bernie and the Yankees staff two years to figure what was the best position he would play on the field. And finally, in 1995, he was placed as the center field, a position that he would maintain for the following 11 years.
Bernie's contract with the team expired at the end of 2006. However, he didn't officially retire until 2015. That same year, the Yankees retired his number 51 and honored him with a plaque at Monument Park.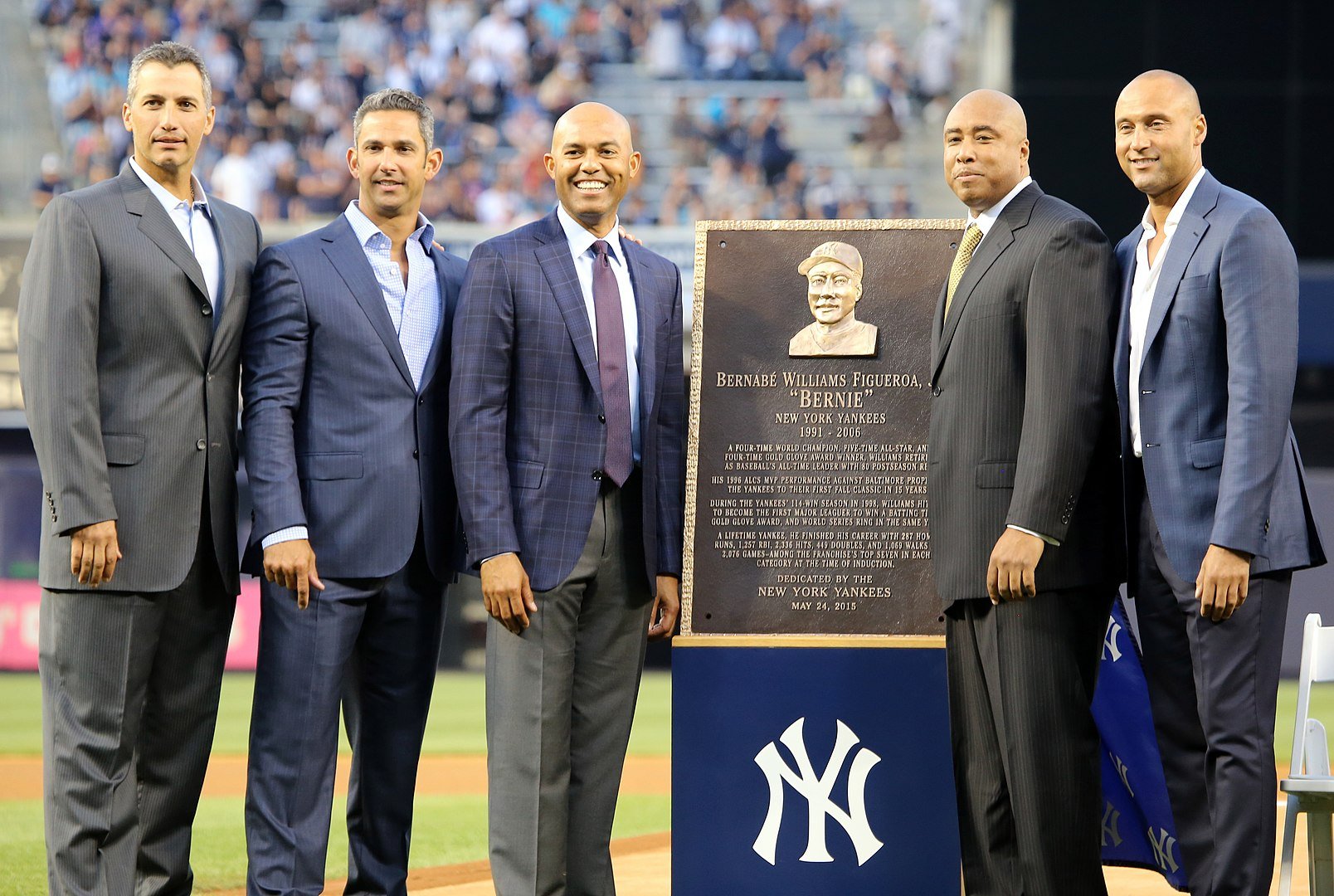 Andy Pettitte, Jorge Posada, Mariano Rivera, Bernie Williams and Derek Jeter, unveiling Williams' Yankee Stadium plaque | Photo: Wikimedia Commons Images
Throughout his time with the Yankees, Bernie won four World Series championships, received four Gold Glove Award, was on the All-Star team five times, and won the ALCS MVP in 1996.
BERNIE WILLIAMS' FAMILY
Bernie married Waleska Williams in 1990. They went on to have three kids: son Bernie Jr., and daughters Bianca and Beatriz.
Bernie and Waleska divorced sometime before his jersey retirement ceremony, but the exact date isn't known. Although Bernie's mother, brother, and his three kids were present at the ceremony, Waleska was absent, and he didn't mention her in his speech.
These days, Beatriz and Bianca are both artists. Beatriz is a visual artist with a Bachelor of Arts from Johns Hopkins University and a Master's Degree in Art Therapy from New York University.
Beatriz and Bianca recently collaborated on a piece titled "Atabey" in which they used recycled materials including paper, plastic bags, cardboard, and glass.
Their goal, Beatriz explained, was to prove that art can be made from everyday materials that often go to waste.
BERNIE WILLIAM'S MUSIC CAREER
As for Bernie, even before retiring from the MLB, he released two studio albums, "The Journey Within," and "Moving Forward." Both albums feature fusions of jazz, rock, and tropical rhythms.
The first album reached the Top 3 on Billboard's Contemporary Jazz Chart, and the second, which featured artists such as Bruce Springsteen, Jon Secada, and Ruben Blades, was nominated for a Latin Grammy Award for Best Instrumental Album in 2009.
In 2016, Bernie graduated with a bachelor's degree in jazz composition from Manhattan School of Music. He said at the time that the degree had been years on the making, and it was a promise he had made to his mother.
Bernie has become a vocal advocate for the funding of music and arts programs around the country, working side to side with organizations such as the Turnaround Arts and the National Association of Music Merchants (NAMM), in which he's a board director.
The now 51-year-old has been part of the NAMM Music Education Advocacy Fly-in to Washington D.C since 2011, and he was a key player in helping promote the "Every Student Succeeds Act" that was passed in 2015.
"Out of all the World Series rings and all the home runs and all the hits that I've ever done as a Yankee, this part of my life, to me, it's a lot more meaningful," Bernie told The Undefeated in 2019.
Although he still considers his time as a baseball player as a great part of his life, Bernie believes he's making a bigger impact with his music advocacy, as he added:
"To be able to actually have some sort of part in determining the future of the education of this country, there's no comparison there."
Bernie is still performing with a collective of musicians, sometimes including his brother, who plays the cello.
Please fill in your e-mail so we can share with you our top stories!