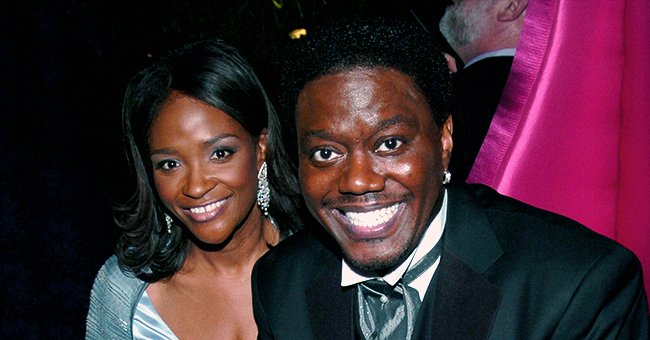 Getty Images
Rhonda McCullough Was Bernie Mac's Wife for 31 Years – Now She Keeps His Legacy Alive

Bernie Mac left behind a wife named Rhonda McCullough when he passed away in 2008. Only three years after he passed away, she decided to remarry.
Rhonda McCullough was right by her husband's side when he struggled with pneumonia. When he succumbed to the illness, she mourned with the rest of the family and was devastated.
Bernie and Rhonda were high school sweethearts, and they've gone through a whole lot together. However, three years after his death, she decided it was time to move on and remarried.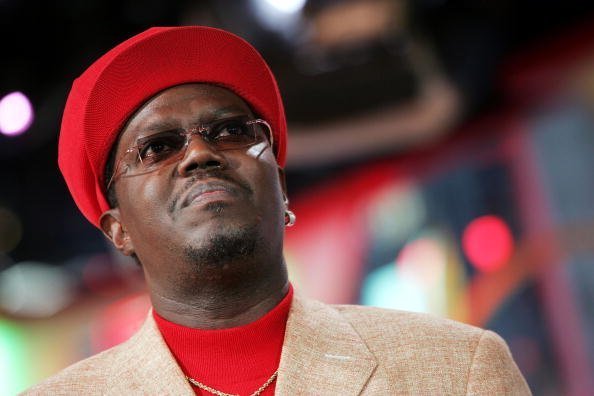 Bernie Mac appears on stage during MTV's Total Request Live at the MTV Times Square Studios September 10, 2004. | Source: Getty Images
WHO IS RHONDA MCCULLOUGH?
Rhonda McCullough was born in Chicago and attended Chicago Vocational High School. She's a qualified nurse who did a two-year nursing program in 1983. Rhonda passed her state board test in 1985 and started working as a nurse just a few weeks later.
She started working at an intermediate care facility, caring for mentally ill patients and working night shifts. Rhonda then became a psychiatric nurse at Chicago Rean-Mental Health Center. She worked at the center for 15 years.
The 63-year-old loves to cook and revealed in 2017, "When I'm cooking, I feel the love because I want everybody to come celebrate, enjoy and have some good food."
However, she started caring for her body, making her meals lighter, and even losing 60 pounds. The old-fashioned cook shared memories of cooking for Bernie Mac, saying the late comedian "loved to eat."
Rhonda is the overseer of Bernie Mac's estate. She's also the president and CEO of the Bernie Mac Foundation and increases awareness about sarcoidosis, the disease that caused Bernie's death. She said she was initially afraid to speak in front of people but has since gotten used to it.
She has also worked as a producer and is known for 2011's "I Ain't Scared of You: A Tribute to Bernie Mac," "Unsung Hollywood" from 2014, and "Project Purple: Mission Sarcoidosis Awareness."
A BIG ADJUSTMENT FOR RHONDA MCCULLOUGH
Rhonda McCullough and Bernie Mac met in 1974 in high school. She said she used to see him in the hallway in high school, and all the girls used to be crazy about him.
At first, Rhonda didn't understand what they saw in him; however, she started to see Bernie differently when they started talking. The first thing she said was, "You ain't never seen nobody Black and pretty as me."
Rhonda became Bernie Mac's wife in 1977, just three years after they met. The newly-married couple was both 19 years old when they married, and they had their first child six months after becoming husband and wife. The pair welcomed their daughter Ja'Niece on January 21, 1978.
She expressed how difficult their situation was back then and that they were on public aid and food stamps to make ends meet. Recalling their situation, Rhonda expressed:
"It was just difficult, and he used to always tell me 'Don't worry Ima be rich... You just wait and see.'"
Things turned around for them in 1990 when Bernie got his big break. He won the Miller Lite Comedy Search, and Rhonda said he just got increasingly popular.
He performed on HBO's "Def Comedy Jam" in 1992, and this performance put him in the spotlight. He eventually had his TV show, "The Bernie Mac Show," and appeared in numerous popular films. Rhonda said she retired after they made their first million dollars.
In 2016, Rhonda opened up about how life has been without Bernie, and it was an emotional discussion for her as she tried to hold back her tears. After all, they grew up together, and he was all she ever knew.
"My whole life was him, since I was 16, and I just didn't know what I was going to do. I was like, 'What is my reason for being here now? What is my purpose? How am I going to make it now?'"
RHONDA MCCULLOUGH'S LIFE AFTER BERNIE
She married Horace Gilmore in 2011 after being introduced to her by her younger sister. Instantly, they had a connection that McCullough claims are "God-sent." Now, he is her companion as she continues through life and appreciates their relationship.
Despite this, she still heads the Bernie Mac Foundation, supporting its endeavors as its CEO and president. The foundation focuses on combating sarcoidosis, a disease that causes inflammation of organs, common in African-American women and those of Scandinavian descent.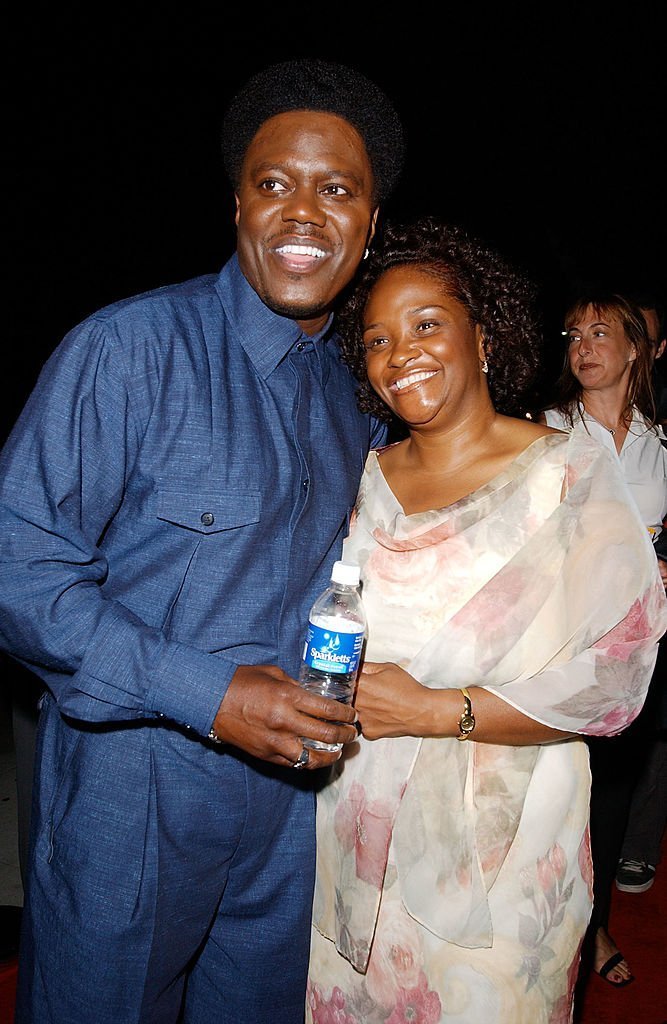 Bernie Mac and wife Rhonda at the "Bernie Mac Show" season premiere party in Beverly Hills, Ca., September 17, 2002. | Source: Getty Images
Rhonda's sister predicted the man in her life after her husband died. She said her sister called and had just met her next husband. According to Rhonda, she was referring to Horace Gilmore.
She said she had no intentions of dating or marrying again and was still grieving. However, when the two met at a party by her mother's friend, she said, "love blossomed." The pair's first date lasted 13 hours, and they eventually tied the knot in 2011 on New Year's Eve.
REMEMBERING BERNIE MAC
Bernie Mac is known for his HBO series "Def Cam Comedy" and has appeared in multiple hit shows like "Moesha," "The Player's Club," and "Ocean's Eleven," and was named one of the "Original Kings of Comedy." Ultimately, he starred in his own semi-autobiographical sitcom, "The Bernie Mac Show."
During her husband's final moments, McCullough shared that she was asking him not to die, reminding him that she was still waiting. However, he ultimately succumbed to his illness, and at the time, she was unclear about what to do.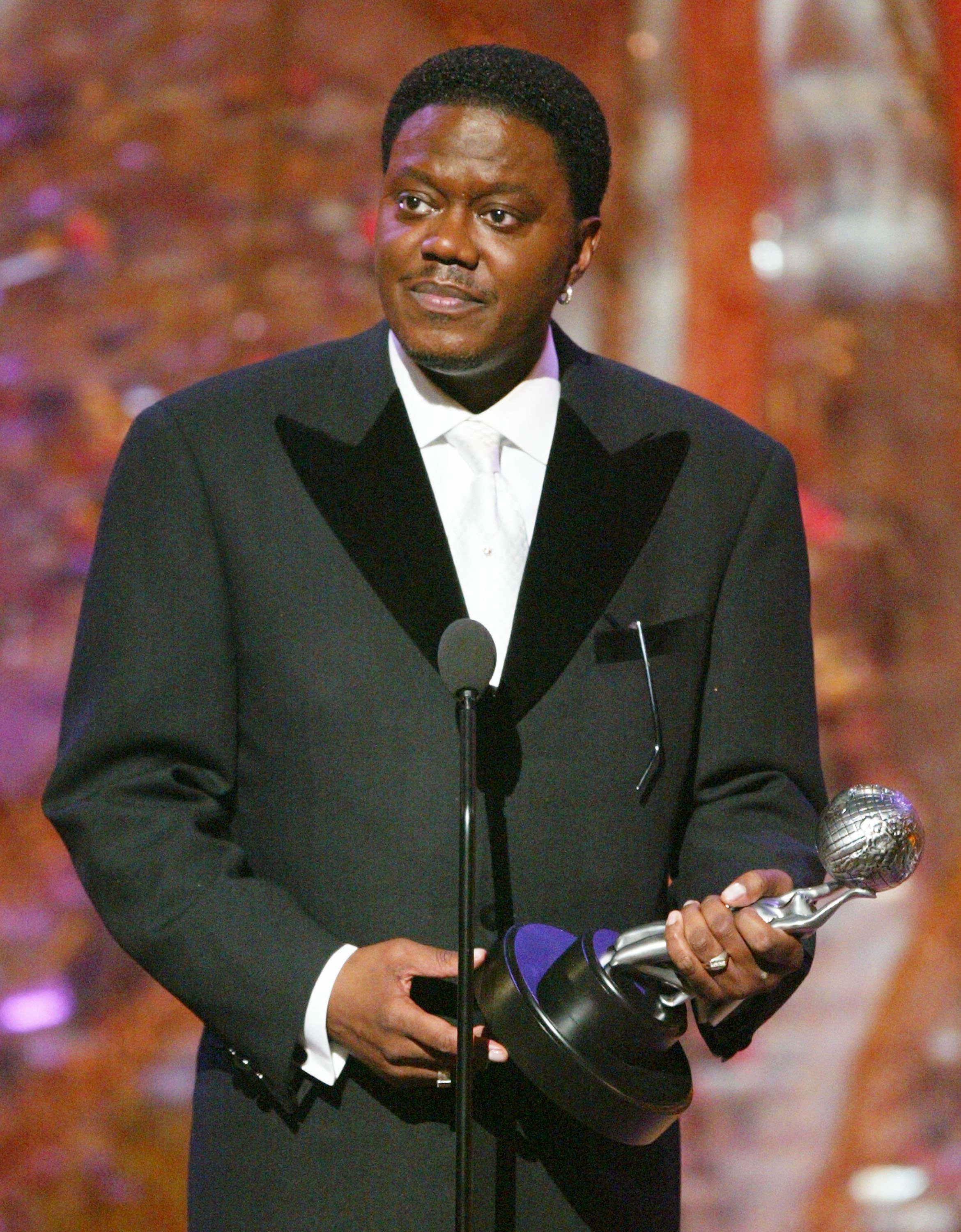 Bernie Mac accepting his award for Best Actor in a Comedy Series on stage at the 35th Annual NAACP Image Awards. | Source: Getty Images
Rhonda believes that Bernie achieved all he had because she cared for everything at home, so he didn't have to worry about that. It gave him the freedom to go out and make it in the comedy world.
She said she misses the late comedian daily and that he's in her heart. Rhonda's happy she was able to serve as she believes that is her purpose.
Please fill in your e-mail so we can share with you our top stories!