Getty Images
Glimpse inside Music Icon Little Richard's Love Life

The undeniable rock n' roll icon died at age 87, on May 9th, 2020. His music and performance style became a trademark that largely influenced many musicians in the history of rock. His complicated sexual orientation and his religious beliefs were also part of his life.
Little Richard, whose real name was Richard Wayne Penniman, was born in Macon, Georgia in 1932. He was the third child of a crowded family of 12 brothers and sisters, which led him to approach to music, because, as he once said, he wanted to stand out of his siblings.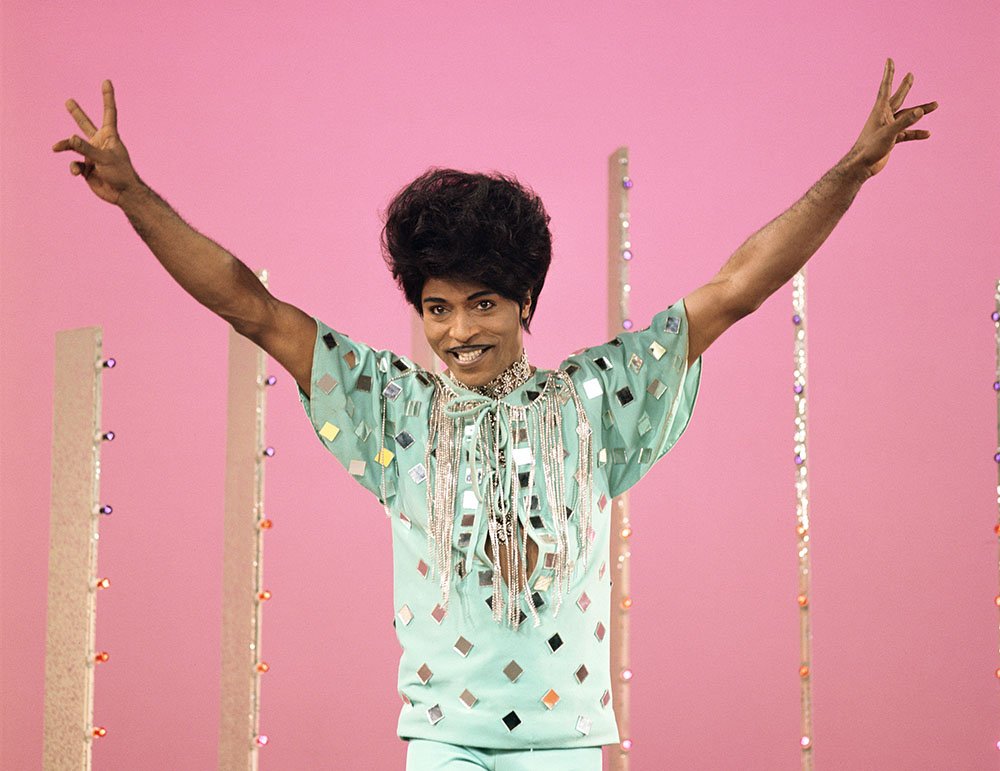 Little Richard appears on The Glen Campbell Goodtime Hour. Image dated October 1, 1971. I Image: Getty Images.
At 13 years old, after his father kicked him out of the house as Richard would show "early signs of homosexuality", he started honing his skills as a performer in a club in Macon. In 1951 he signed his first but limited record contract, but it was in 1955 when he could finally use his signature style by being hired to be the frontman for a New Orleans group.
That year, his hit "Tutti-Frutti" reached No.2 on the Billboard R&B chart. His single "Long Tall Sally" also made it at No. 1 in 1956. Other songs like "Good Golly Miss Molly" and "Send Me Some Lovin" were also hits. In a three-year span, Richard had racked up 18 hit songs.
SEX AND RELIGION
For many decades, Little Richard was known for his dazzling signature performing style and screaming, but he was also known for his complicated relationship with his sexual orientation and his faith. Although often acknowledged as a gay man, he also reiterated his belief that homosexuality is "unnatural" while reaffirming his strong Christian faith.
Few years before his recent death, the singer was trying to reconcile his religious beliefs with his sexual orientation. In 1959 he said he received a sign from God to turn away from rock and roll and went to Oakwood College to study theology to became an ordained minister. A year later, he released a gospel album entitled "God Is Real".
His love life was mainly kept in secret, but he actually was married to a woman named Ernestine Campbell from 1959 to 1963 and never remarried after their separation. Before that, he also had a relationship with dancer Audrey Robinson, whose stage name was Lee Angel.
ROCK INFLUENCER
It is undeniable the influence that Little Richard's music had on rock n' roll from his time until today. You could say that his singles were unrelatable, but the amount of energy he put and the way he made every performance, built up his unique style and rock n' roll trademark. It has been said that Little Richard's music was omnisexual and alien.
Richard had no predecessors, he was a wild man, a drag queen, with a pencil mustache and makeup, and his music had an outrageous long-term cultural impact. Think of Prince and David Bowie and you could see his extravagance, while The Beatles and The Rolling Stones always confirmed his influence.
At the moment of his death, at age 87, many of the rock stars and celebrities that were influenced by Richard, took to their social media to express their feelings at his loss. Mick Jagger, Spike Lee, Quincy Jones, Jimmy Page, Brian Wilson, among many others, shared posts with touching words.
We are all going to miss Little Richard!
Please fill in your e-mail so we can share with you our top stories!