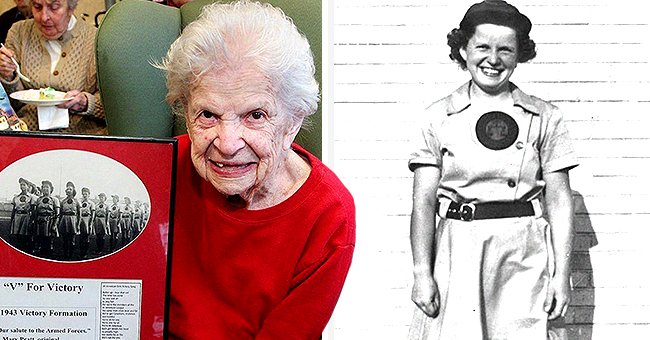 Twitter/AAGPBL
Pitcher Mary Pratt Who Was Believed to Be the Last Survivor of 1943 Rockford Peaches Dies

Mary Pratt served as the inspiration behind the Geena Davis 1992 blockbuster film, "A League of Their Own." Sadly, the trailblazer for women in sport passed away at the age of 101.
As a left-handed pitcher, Mary became a part of the Rockford Peaches team in 1943 that soon made waves in the All-American Girls Professional Baseball League that formed during the Second World War.
Believed to have been the last surviving member of the Rockford Peaches, her fortitude and determination soon became the inspiration behind the movie "A League of Their Own," starring Geena Davis and Tom Hanks.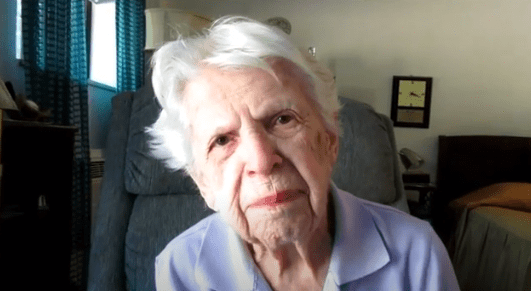 Female baseball legend Mary Pratt during an interview with the Patriot Ledger in 2016. | Source: YouTube/ Patriot Ledger.
HOW IT ALL BEGAN
In 1944, Mary started playing for the Kenosha Comets, with whom she had her best season, finishing with 26 strikeouts, 21 wins, and a 2.50 ERA that year.
The All-American Girls Professional Baseball League confirmed Mary's passing on May 6 on social media and said that her "stories, her energy would be missed for a long time."
MORE THAN A BASEBALL PLAYER
The Boston University graduate with a degree in physical education passed away at the age of 101, and she spent four decades building a career as a teacher while also officiating other sports, including lacrosse, softball, field hockey, and basketball.
Mary's nephew Walter also confirmed her passing and said that she died peacefully while living at the John Scott nursing home in Braintree, Massachusetts.
"Mary was a wonderful and very unique person. We won't see her kind again; it was just wonderful knowing her," Rose Somensini, a friend of Mary, told the outlet. "For physical education and coaching girls and women's sports, she was a wonderful promoter of girls and women's sports."
MARY ADVOCATED FOR WOMEN IN SPORT
The legendary baseball player, who celebrated her 101st birthday in November, passionately kept the legacy of the league alive throughout her life, as the former chief curator of the National Baseball Hall of Fame, Ted Spencer said:
"Once she was on-stage you couldn't get her off. Dedicated to telling the story that young women deserve an equal chance in all sports."
ANOTHER TWO LEGENDS LOST
Similarly, the winter sports community also suffered a recent and tragic loss when the former US Olympic bobsledder, Pavle Jovanovic, died by suicide on May 3 at the age of 43.
According to the USA Bobsled/Skeleton CEO, Aron McGuire, Pavle had a commitment and passion for the sport recognized by all who knew him.
After sledding onto the scene in 1997, Pavle went on to earn a bronze medal at the World Championship in 2004 after he got kicked off the 2002 Olympic team due to testing positive for performance-enhancing drugs.
In 2006, Pavle returned to the Olympic games, where he finished seventh in both the four-and two-man events alongside his driver Todd Hays.
The world of baseball also lost another legend when the former Oakland pitcher, Matt Keough, passed away at the age of 64.
Apart from playing for Oakland Athletics, Matt also made a name for himself with the Astros, Yankees, Cardinals, and the Cubs as a part of his extraordinary career.
Please fill in your e-mail so we can share with you our top stories!