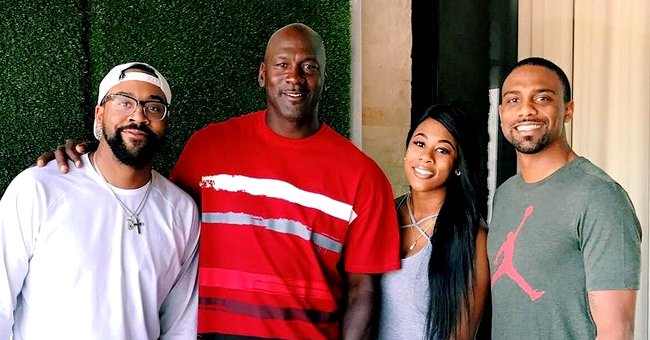 Getty Images
Michael Jordan's Children Open Up about What Life Is like When Your Father Is a Basketball Icon
Michael Jordan is a father to five children, three of them with his first wife, and they're his oldest. Two of them, Jeffrey and Jasmine, have shared what it was like growing up with the star as the father.
In May 2020, Michael Jordan's docuseries, "The Last Dance," aired its last episode out of ten. The show helped fans relive when Michael and the Chicago Bulls won the 1998 National Basketball Association (NBA) title.
Not long after the series aired, two of his children, Jeffrey and Jasmine Jordan, appeared on "Good Morning America" where they confessed to having a new perspective on their father's famous career.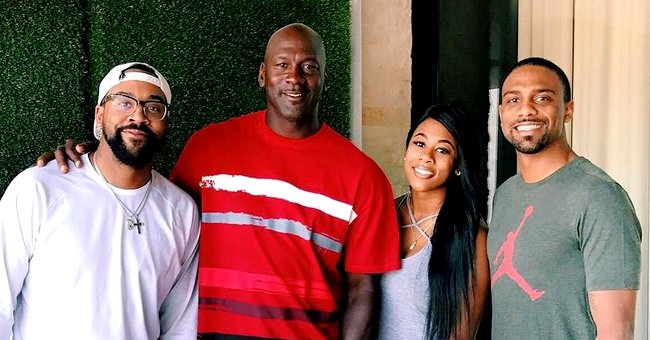 Michael Jordan posing together with his children on April 21, 2017 | Photo: Instagram/heirjordan13
WHY SERIES DIDN'T FEATURE MICHAEL'S KIDS
During the interviews covered for "The Last Dance," Michael's current wife, Yvette Prieto, nor his children, Jasmine, Jeffrey, Marcus, Ysabel, and Victoria, were interviewed. Jason Hehir, the series director, explained why.
Hehir said he didn't need to add the family members to his source list. He shared how he hadn't been interested in their opinions, and they'd believed they covered the story from all angles.
A LITTLE MORE ABOUT MICHAEL'S KIDS
The Hall of Famer is a father to five children Jeffrey, 32, Jasmine, 28, Marcus, 30, and twins Ysabel and Victoria, both 7. The former athlete and businessman welcomed his three oldest children with his ex-wife Juanita Vanoy.
WHO IS JASMINE
Jasmine studied sports management at Syracuse University and currently works as a field representative for Nike Jordan. She also works for the NBA team her father owns, the Charlotte Hornets.
The star's child is engaged to former basketball player and Syracuse alum Rakeem Christmas. In 2019, the couple welcomed their first child together - son Rakeem Michael Christmas.
MEET JEFFREY & MARCUS
Jeffrey also used to be a former basketball player who played for Central Florida and the University of Illinois. He then branched out into the business world as the lead brand digital innovator for the family brand.
In 2019, Michael's eldest child tied the knot with the love of his life, Radina Aneva. Marcus studied hospitality management but also used to play basketball for the University of Central Florida.
After graduating from college, Marcus also ended up in business by starting and becoming the CEO of The Trophy Room. The retail boutique also features apparel and footwear from the Nike and Jordan brands.
VICTORIA AND YSABEL
The former athlete shares his twin daughters, Victoria and Ysabel, with his current model wife. The identical twins were welcomed in February 2014, after their parents married in April 2013 in Florida.
Michael living a private life means not much was known about his lastborn children. Sadly, no photos have been shared of the little girls on the star's social media pages.
GROWING UP WITH MICHAEL
During their "Good Morning America" appearance, Jeffrey and Jasmine opened up about growing up with the basketball legend as their father. They confessed that they had a "normal" upbringing.
Jasmine recalled having to Google who her father was when teachers and other students would fuss over her father. When she confronted him about his fame, he confessed that he had no way of telling her who he was.
The three siblings were brought up to see the athlete as an average person. Not knowing much about his fame and background, Jeffrey and Jasmine were thrilled to learn more through ESPN's documentary miniseries.
Michael's oldest children got to see the legendary basketball star in his element, the atmosphere with his team, and the ups and downs he faced. The series became an eye-opener, and they got to see him in a different light.
PROTECTING JORDAN'S LEGACY
The two siblings also got to speak about preserving and protecting their father's legacy. Jasmine said she felt it was essential to protect it because generations were getting younger and would be in the same boat one day.
She [Jasmine Jordan] even shared an Instagram photo of the newborn holding her finger with his tiny hands on Mother's Day.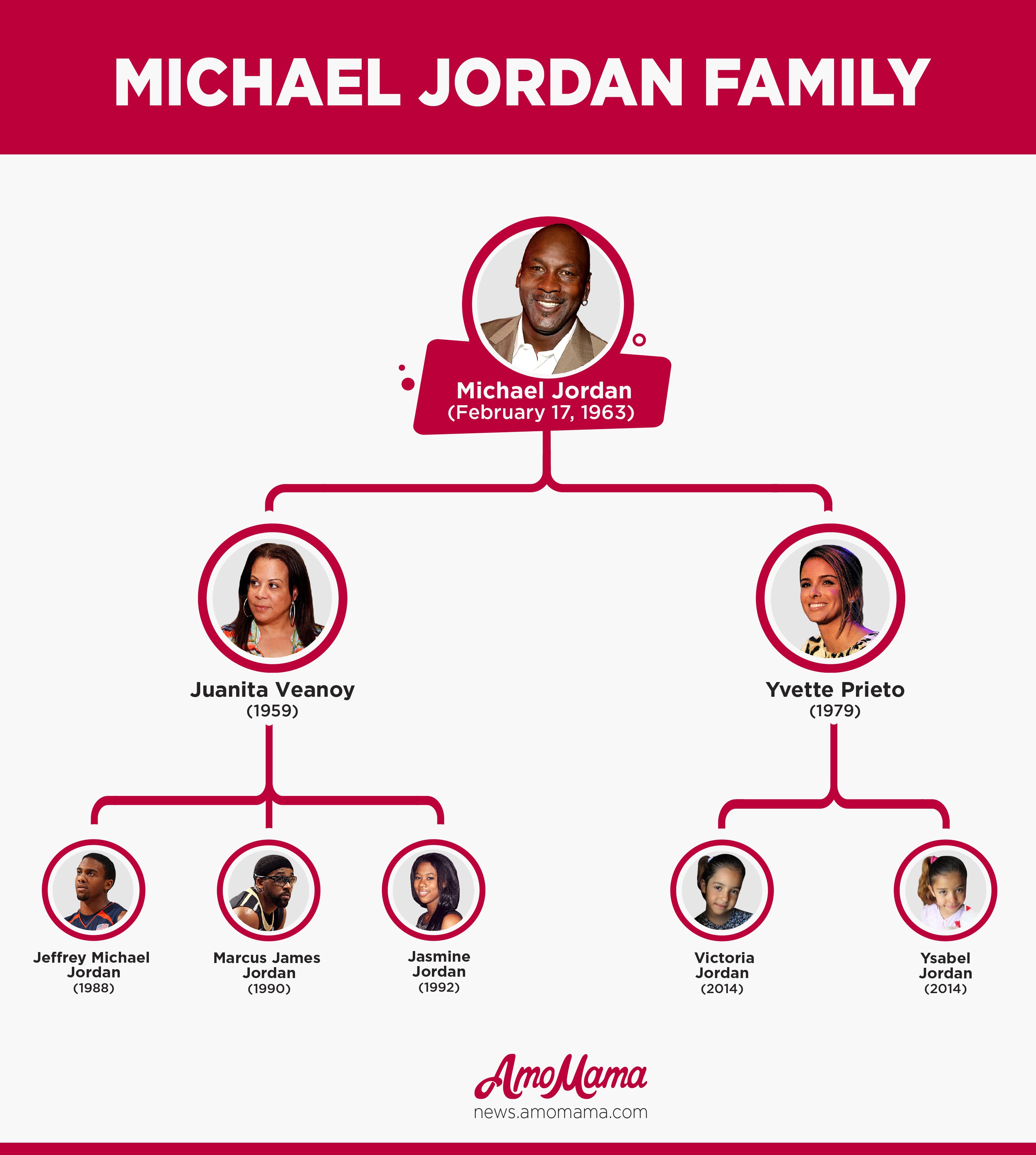 Michael Jordan's Family Tree | Photo: amomama.com
They would not have seen Michael play and would ask who he was and what he was famous for. Jasmine felt it was her and her sibling's responsibility to make sure this wasn't the case, saying:
"It's one that we love because it essentially evolves Jordan and the brand and the legacy that my father's created and also educates the younger generation…"
BEING IN THEIR FATHER'S SHADOW
Jeffrey confessed that it had been "difficult" to carry the Jordan last name onto the court as a former basketball player for the University of Central Florida. However, he said it got easier the older he got.
BECOMING A GRANDFATHER
Michael finally became a grandfather for the first time in May 2019 when Jasmine welcomed her first child. She even shared an Instagram photo of the newborn holding her finger with his tiny hands-on Mother's Day.
BONUS INFOR ABOUT MICHAEL
Michael is now a former professional basketball player who was also an Olympic athlete. He now works as a businessman and has acted before but he's mainly known for being one of the best basketball players ever.
From the mid-1980s to the late 1990s, the star dominated the sport. He led his team, the Chicago Bulls, to six National Basketball Association (NBA) championships and won the Most Valuable Player Award five times.
He was born Michael Jeffrey Jordan in Brooklyn, New York on February 17, 1963. The future star grew up in Wilmington, North Carolina, and started developing a competitive edge from an early age.
His mother, Delores, was a bank teller and later became an author. James, Michael's father, was a maintenance worker who later became manager at General Electric, and he and his wife had three other children.
He introduced Michael to baseball and also built a basketball court in their backyard. After enrolling in 1981 at the University of North Carolina at Chapel Hill, Michael soon became an essential member of the basketball team.
The future star later started his professional basketball career in 1984 when he was drafted by the Chicago Bulls.
Please fill in your e-mail so we can share with you our top stories!