Kristen Bell Says Her 5-Year-Old Daughter Delta Still Wears Diapers
During a candid conversation on the latest episode of her show, talented actress Kristen Bell revealed that her 5-year-old daughter still wears diapers.
Any parent who has more than one child knows that growth and development are unique for every child. While some children are quick in their development and growth, others take a little longer, which is okay.
For actress Kristen Bell, who is a mother of two, this is just the case as she recently highlighted one particular difference in the development of her two kids.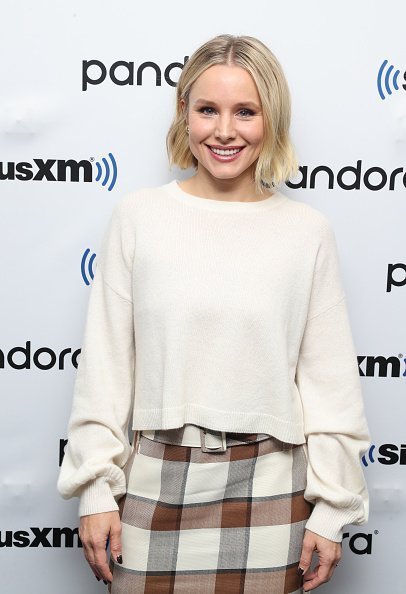 During a recent episode of her show, "Momsplaining with Kristen Bell," the actress had a round table talk with her friends Maya Rudolph and Casey Wilson, on their motherhood experiences.
After reading some tweets from the show's fans, Bell switches the conversation and tells Maya and Casey how she could get her first child, Lincoln, 7, to start using the toilet. In her words:
"My oldest daughter at 21 months, we merely suggested that she use the toilet in the other room and [she] never wore another diaper beyond that."
The 39-year-old actress continues by explaining how things turned out differently with her second child, who is 5-and-a-half and still in diapers.
Maya, a mother of four, claimed that, from her experience, things like that are relative, to which Bell agreed, reiterating that every child is different from the next.
Bell and her husband launched their family business, a plant-based baby product line, "Hello Bello."
Kristen Bell and her husband, Dax Shepard, 45, began dating in 2007, and in 2013, the couple got married secretly in a courthouse ceremony. The lovebirds share two kids, daughter Lincoln, 7, and Delta, 5.
Earlier in March, Kristen and her daughters self-isolated separately from her husband, Shepard. He had done some traveling prior and decided to stay at a friend's empty apartment to protect his family. Bell and her kids recorded a cute dance video to entertain Shepard. Sharing the video, she wrote:
"Today we were missing him so much, we did the only logical thing we knew how to do. Danced outside his window..."
In March, the beautiful actress announced that she and her family had donated $150,007.96 to "No Kid Hungry" to help feed children during the novel coronavirus outbreak. 
Kristen later explained that the odd number in the donation was from her daughter's, as they insisted she added the money they had saved up in their piggy banks.
Back in 2019, Bell and her husband launched their family business, a plant-based baby product line, "Hello Bello."
The Bubbly actress is a proud mother, and together with her husband, they form a close-knit family, continually showing them off on her Instagram page.