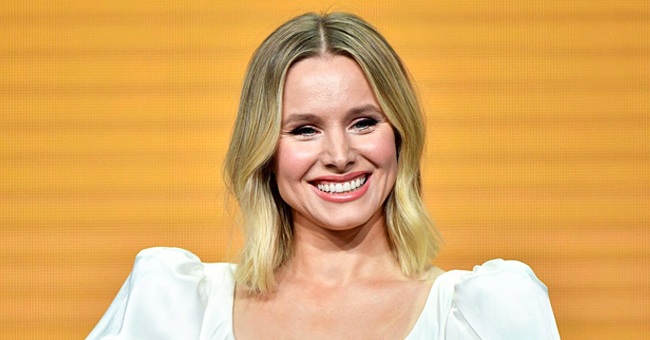 Getty images
Kristen Bell's Youngest Child Delta Has Graduated from Preschool
Kristen Bell's daughter is growing up fast! The actress's youngest child recently graduated preschool, and she celebrated with a post on Instagram.
Kristen Bell is a proud mama of two beautiful girls, Lincoln, 6, and Delta, 4. The youngest just graduated preschool, and since the actress rarely posts photos of her children on social media, she accompanied the announcement with a picture of herself.
Bell wore a denim shirt, and had a clip in her shoulder-length blonde hair with the word, "AMAM," which translates from backwards into "MAMA."
Referring to Delta as her "Youngest baby Bunny," the actress shared the news with her fans, before writing at the end,
"I love you to the moon and back, DBS."
The "The Good Place" star shares her daughters with her husband, Dax Sheppard. The couple is very private with their children, and keep them away from the camera, and the public aspect of their lives. Sheppard, once explained that he and Bell chose to be entertainers, but it does not include their daughters.
The couple protects their children's privacy to the extent that in most photos, they only show their backs and not their faces. In a July Instagram video where the actress asked Lincoln and Delta to guess her age, their voices sound in the background, but they are not seen in the video.
While Bell and Sheppard shelter their children from their world, the girls influence some of the roles they choose to take on. The "When in Rome" star revealed last month that her daughters are a vital part of the reason she decided to star in "Veronica Mars" reboot.
She said she wanted them to grow up in a world where a character like that exists, and get influenced by it. Bell started her career in movies over twenty years ago, but her foray into TV came with the voice-over role in the hit CW series, "Gossip Girl."
Although her character only made an appearance in the final season of the show, the Golden Globe-nominated actress's role played a key part in the events that happened in the show and fans loved her.
The mum-of-two has equally played voice-over roles in several productions, but her most prominent is playing "Anna" in Disney's "Frozen." The movie grossed over a Billion Dollars at the box office and it is the actress most significant role till date.
While that's the statistics for her career, Bell, like most mothers, considers being a mum to her daughters as the most vital part of her life. It's a role she gives all her time, love, and dedication. After all, it's the role of a lifetime.
Please fill in your e-mail so we can share with you our top stories!