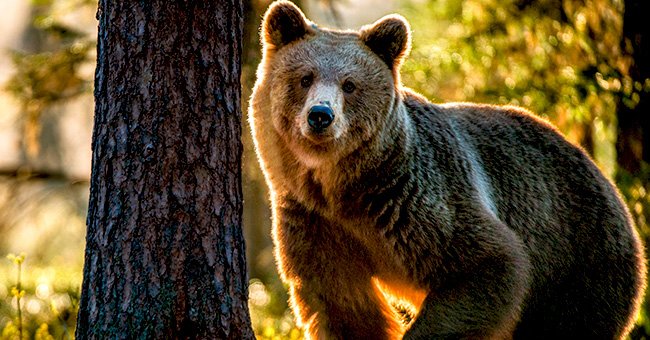 shutterstock.com
12-Year-Old Boy Has Close Encounter with Bear in a Nerve-Racking Video
A heart-stopping viral video showed the moment a young boy was able to get away from a wild bear while on a picnic with his family.
Some situations come up in life that requires a person to remain calm and not show a sign of distress. Although it can be difficult, it is pertinent one adheres as it might be life-threatening.
A 12-year-old boy named Alessandro Franzoi displayed tremendous courage while remaining calm when he noticed a bear trailing him.
According to DailyMail, the boy and his family had gone for a picnic in Sporminore, located in northern Italy, when he decided to go into the woods to pick some things.
The video showed Alessandro coming out of the woods with a large wild brown bear trailing him. He ensured that he remained calm as he walked down the hill slowly. Speaking of the experience, Alessandro said:
"I did not look it in the eye, and the bear understood I was not its enemy. And now I am the happiest child in the world."
Alessandro, wearing blue trousers and a blue and orange top, looked relatively calm as he walked down the hill to a family member who was capturing the scene. Although he looked back repeatedly, he was able to make his way to safety.
On the other hand, the bear can be seen slowly creeping up behind the young boy as he made his way down. At a point, the bear stood on its hind feet, and it looked as though he was about to grab the boy.
Interestingly, after Alessandro was able to get away, the bear turned back and left the area without attacking anyone.
The video, which has gone on to have over 50,000 views and numerous comments, had a lot of people by surprise as they could not fathom how the boy remained calm in such a dangerous situation.
Some people took to the comments section to congratulate Alessandro for making it away in time while some expressed that had they been in his shoes, they would have likely passed out from fear. Admiring Alessandro's courage, someone said:
"Such a brave boy you have there! what an encounter!"
While it might have been impossible to believe that Alessandro remained calm, the young boy told the DailyMail that he had a passion for animals and forest, and during the lockdown, he had learned how to walk away from bears.
He also mentioned that one of the things he learned when walking away from wild bears was not to look the bear in the eyes and to walk away slowly without making the bear feel like it was in any form of danger.
Interestingly, after Alessandro was able to get away, the bear turned back and left the area without attacking anyone.
In all, Alessandro and his family are excited that he could effectively practice what he had read about getting away from bears and dangerous situations.
Please fill in your e-mail so we can share with you our top stories!