Getty Images
Chris Berman's Wife Died in Car Crash and His Daughter Survived Tongue Cancer — Meet His Family

Even though the career of Chris Berman has been quite successful for years, he has experienced some very challenging things in life, including the death of his wife.
Chris and Katherine Berman tied the knot in 1983. At the time, she was a school teacher, and he was one of the anchors of ESPN's show "SportsCenter."
Katherine had a blood-alcohol level three times higher than the legal limit.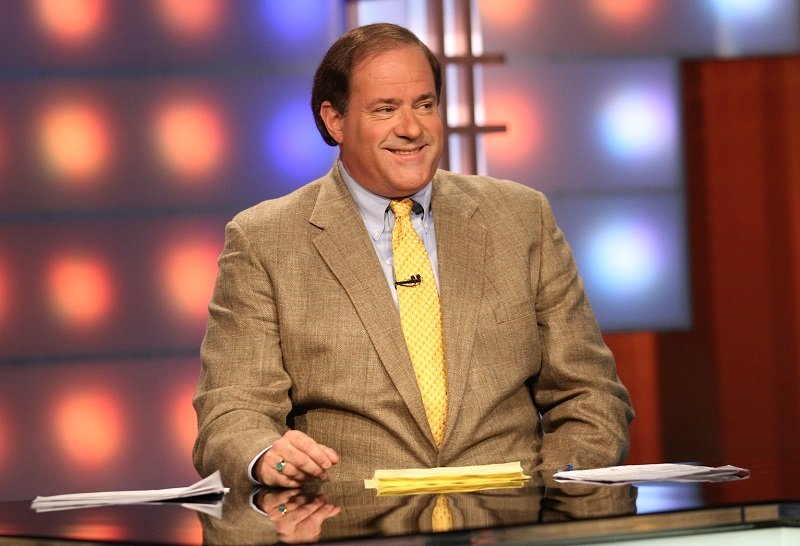 Chris Berman in Bristol, Connecticut on October 21, 2006 | Photo: Getty Images
CHRIS BERMAN'S WIFE ACCIDENT
Following their marriage, she stopped working as a teacher and focused her time on raising the couple's two children, Douglas and Meredith Berman. Apart from that, they moved to Cheshire to be close to Bristol, Connecticut, where ESPN's headquarter is.
Unfortunately, tragedy struck the family on May 9, 2017, when Katherine was involved in a car accident.
It was reported that the late mother of two spent some time at the Market Place Kitchen & Bar in Waterbury, Connecticut, where she was having lunch with her sister.
According to the police investigation, Katherine had a blood-alcohol level three times higher than the legal limit. While driving at approximately 82 miles per hour, her car rear-ended another vehicle driven by Edward Bertulis.
Edward, 87, was returning home after visiting his late wife at the graveyard. Unfortunately, neither Katherine nor Edward survived the crash.
Further investigations revealed that the car of Chris Berman's wife didn't stay in lane and that brakes were not applied.
CHRIS' REACTION TO KATHERINE'S DEATH
Months after her passing, the ESPN sportscaster revealed how he found out about his wife's accident and his reaction. Chris was in the middle of a New York Mets versus San Francisco Giants game in New York when he got the call.
Since he was in shock, he couldn't tell Douglas or his then-fiancée Clare what had happened. Eventually, they went to a quiet area of the stadium before Chris broke the news.
Shortly after the accident, Chris and his children released a statement addressing all the support that they got from people, claiming that it would have warmed Katherine's heart as much as it warmed theirs.
Losing his spouse was probably one of the hardest things in his life, especially because they were together for over 33 years.
However, realizing that the same could happen to Meredith, his daughter, must have been heartbreaking, as well.
In an interview that Meredith had with the WEEI/NESN Jimmy Fund Radio-Telethon in August 2019, she opened up about being diagnosed with tongue cancer.
MEREDITH BERMAN'S TONGUE CANCER
She made clear that her doctors couldn't explain how she got the disease because she neither was a smoker nor had the HPV virus, two of the main causes of her type of cancer.
Chris Berman's daughter explained that the first time she believed that something was not okay was during a trip with some friends as "out of nowhere," she felt that the right side of her tongue was swollen and painful.
After waiting for it to return to normal on its own, she went to a doctor who just prescribed painkillers. Since nothing seemed to work and she was more worried about it, she went to another doctor who immediately realized it was dangerous.
Meredith underwent surgery only days later, and after getting the results of her biopsy back, she was diagnosed with tongue cancer.
At the time of the interview, she was doing okay but still recovering. She mentioned that the last part of her treatment, her radiotherapy, had been completed about eight months before.
Meredith finally said that her prognosis was excellent as her doctors told her when they first started treating her that they could cure her cancer.
At the moment, Chris Berman is 65 years old and is very much focused on his career at ESPN. Even though he has stepped down from some of the roles that he used to have, he is still an important member of the company.
Please fill in your e-mail so we can share with you our top stories!