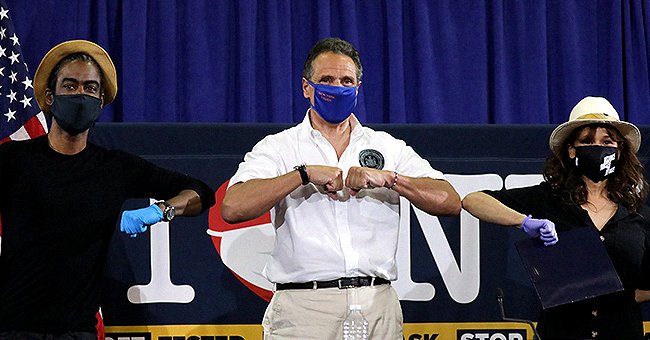 GettyImages
Andrew Cuomo Teams with Chris Rock and Rosie Perez to Urge New Yorkers to Stay Safe from COVID-19
As the fight against thee COVID-19 pandemic intensifies around the world, Governor Andrew Cuomo resorted to inviting two celebrities to his daily press briefing on Thursday, hoping people can realize how important it is to follow the guidelines.
New York governor Andrew Cuomo recruited comedian Chris Rock and actress Rosie Perez to join his daily press conference last Thursday while talking about the preventive measures to stop the spread of COVID-19.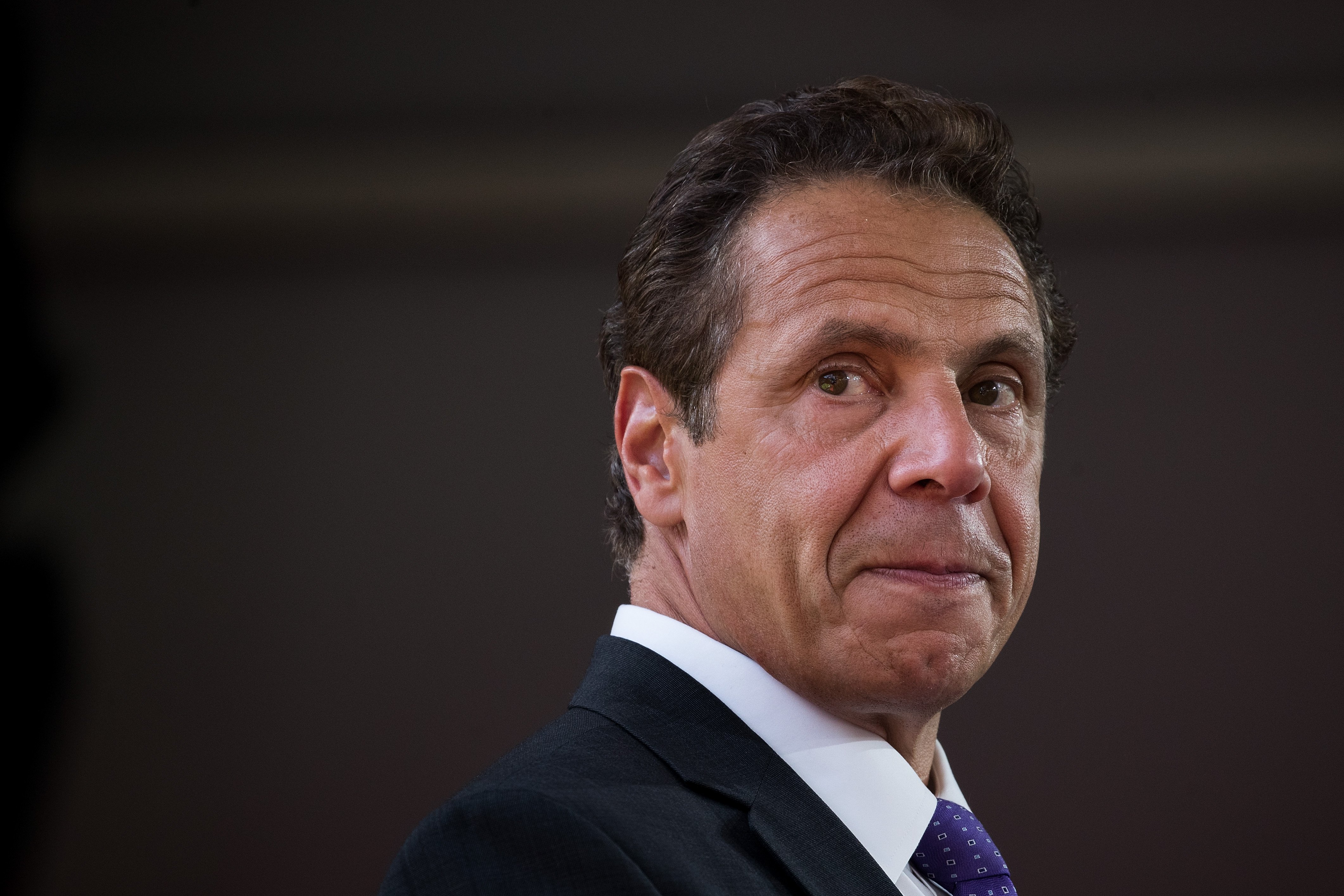 New York Governor Andrew Cuomo during a dedication ceremony to mark the opening of the new campus of Cornell Tech on Roosevelt Island, September 13, 2017 in New York City. | Photo: GettyImages
The governor has been reinforcing the idea of wearing masks, practicing social distancing, and getting tested in his briefings, but there are still many New Yorkers ignoring these calls.
The governor got tested during one of his briefings in early May.
So, in an attempt to get the attention of those that are still not getting the gravity of the situation, he enrolled Brooklyn natives Chris Rock and Rosie Perez to take part in a PSA campaign urging New Yorkers to wear masks and get tested.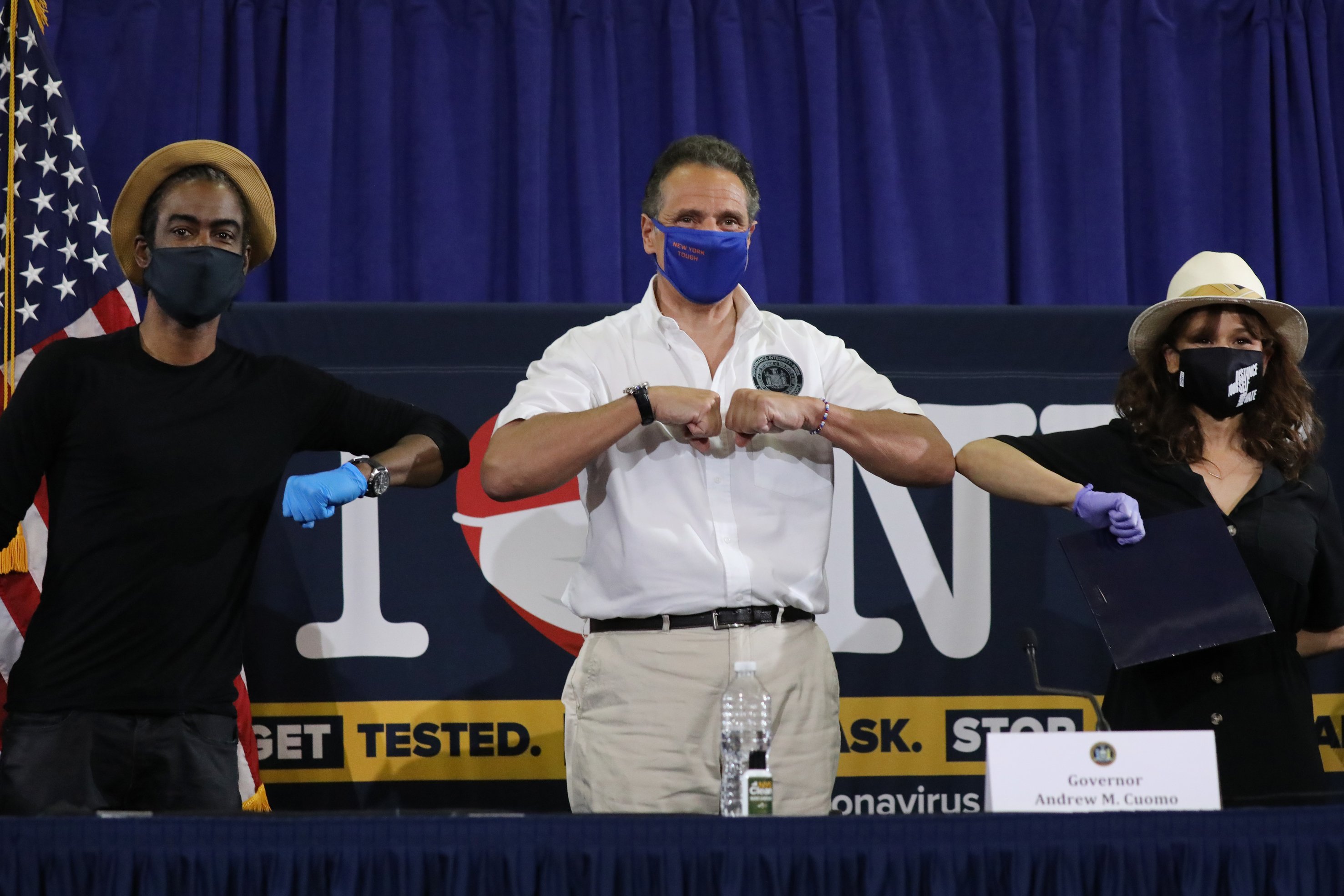 Governor Andrew Cuomo, Rosie Perez and Chris Rock at a press conference on May 28, 2020 in New York City | Photo: GettyImages
Perez, who was a co-host in "The View" in 2014, said it was an honor to have received the invitation from Cuomo.
She continued invoking a saying from Brooklyn that states, "Spread love the Brooklyn way," adding that the best way to spread love these days is by respecting your neighbors and communities. She added:
"And the way to do that is by getting tested, wearing a mask. That says, 'I love you, and you love me. I respect you, and you respect me back.'"
The 55-year-old star also stressed that the virus is not about politics; the important thing, no matter what party you're on, is to overcome the pandemic as quickly and safely as possible.
"This is not a joke. This is not a hoax. This is real," Perez said. "Get tested, wear a mask, and let's help fight this virus."
Rock, on the other hand, used his sense of humor to make things lighter. He mentioned that he had been tested before the press conference and joked he got a 65 and "barely passed the test."
The comedian then proceeded to appreciate his microphone, joking about how he missed performing and standing in front of a mic and stating he would never take performing for granted in the future.
Going back to more serious issues, Rock encouraged people to get tested if they love their grandmother or their elder ones. He even suggested making a party out of getting a test by inviting family and friends to do so.
Rock also called to keep practicing social distancing and made an easy comparison for people to understand.
He said that usually when a doctor prescribes antibiotics, they say if the patient stops taking them, whatever they had is going to come back worse.
"So social distancing is what was the prescription, and we need to take the whole dose, or else it's going to get worse," he concluded.
Cuomo, on the other hand, said that people have to get used to the new culture of wearing a mask. He also announced he would be signing an executive order that will allow businesses in New York to deny entry to people not wearing masks.
The governor got tested during one of his briefings in early May, as he demonstrated in live television that the test is quick and not painful at all.
Please fill in your e-mail so we can share with you our top stories!