Salma Hayek's New Family Pet Horse Is Too Adorable
Salma Hayek took to social media to announce that she's become a "Grandma once again" as she welcomes the latest addition to her family. 
Salma Hayek's pet collection is growing. The talented actress recently took to her Instagram page to introduce her fans to her new addition. She shared several photos of a mare and her foal.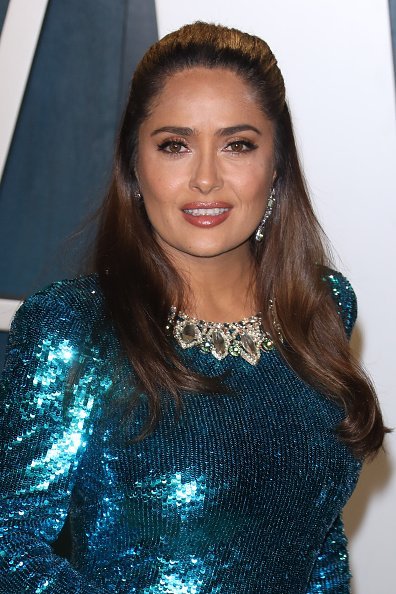 The foal seemed to be a few days old at best, and it stuck close to its mom. The mare itself looked majestic with its chestnut coat and mane. 
In her captions, Hayek revealed that she saved the mare from a slaughterhouse and has raised her ever since. She further added,
"She just thanked me by having this beautiful foal, and my heart is bursting with joy! I guess I'm a grandma once again!!!"
In the comments section, Hayek's fans commended her for saving the mare. Some wanted to know if she had decided on a name for the foal, while others praised her for always stepping up to care for helpless animals. One fan wrote, "You are awesome! God bless you for helping these beautiful creatures."
Hayek is well known for her love for all things furry, and though her fans are grateful for it, people closer to her might not be so comfortable.  
Hayek's love for Rambo knew no bounds.
Back in 2012, it was reported that Hayek's husband got upset with her because of her "pet obsession." According to Express, the actress already owns 20 chickens, nine dogs, five horses, five parrots, four rabbits, four alpacas, four turkeys, two fish, two guinea pigs and a cat with no tail.
However, when she decided to add a harmless little hamster, her husband, Francoine-Henri Pinault, a French entrepreneur, put his foot down, enough was enough. 
Hayek revealed what he said, "He couldn't believe it and said, Do we really need a hamster too?" Despite his disapproval, Hayek went ahead to keep the hamster. 
The actress' love for animals can be traced back to her childhood. She reportedly owned a pet tiger named Rambo when she was a child. She was reportedly besotted with the remarkable animal and would often play with him in her home. Before Rambo, Hayek had raised two other tiger cubs. 
She loved them all and was devastated when they died—the first tiger got caught in an air conditioner and passed away, another developed a cruel streak, and had to go. 
Hayek's love for Rambo knew no bounds, and till now, she has given no details on how he died. Aside from the tiger and the animals previously mentioned, the talented actress has a history of owning exotic and unusual pets. 
The 53-year-old actress who has a 5-year-old daughter named Valentina was once given two monkeys by her friend and famous actor, Antonio Banderas. In 2019, she revealed that she had adopted a pet owl. She took to Instagram with candid photos of her posing with the adorable bird. 
In the photos she shared with her page, the actress could be seen placing a loving kiss on her new feathered friend who was perched on her arm.
Hayek looked gorgeous in a nautical striped white top and stonewash jeans as she spent quality time with her new pet. The famous actress has made no secret of her love for adopting homeless animals, and it doesn't seem like she'll be stopping anytime soon.