911 Dispatcher Reportedly Called Supervisor While Watching George Floyd's Arrest
The Minneapolis Police Department released the recording of a call placed by a 911 dispatcher while she watched the live apprehension of George Floyd stating that it looked "different" shortly before he died.
It's been almost a month since George Floyd died during an incident that caused ongoing protests against racism and police brutality. When former Minneapolis police officer Derek Chauvin detained George Floyd next to a patrol car, he knelt on his neck for almost nine minutes.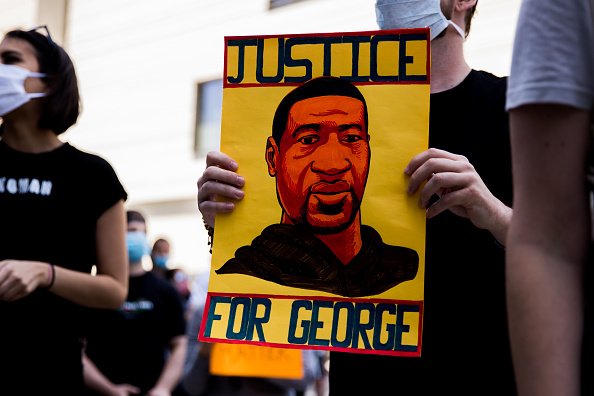 THE RELEASED CALL
George laid handcuffed on his stomach. He couldn't breathe and communicated as much to the police officers until he could tragically do neither. But as the shocking scene unfolded, a female 911 dispatcher decided to call her supervisor because it looked "different" to her. 
Now, the Minneapolis Police Department reportedly released the call's recording during which the female dispatcher welcomed her supervisor to call her a "snitch."  Unnamed, the 911 dispatcher felt compelled to contact her superior since she wasn't sure if the use of force was needed, especially because "all of them sat on this man."
This is the first time I've seen a cop charged with 2nd degree murder have a whole photo shoot before his first court appearance.

No seriously, they even took one at an angle, one with no filter, a wardrobe change (white shirt), and an iPhone 11 portrait... pic.twitter.com/ZiLopTO16m

— Larry Johnson (@2LarryJohnson7) June 9, 2020
The dispatcher wanted to know if someone had contacted her superior for additional information about the incident. However, her sergeant had nothing new to add, and when he offered to find out more, the dispatcher reportedly replied:
"No problem. We don't get to ever see it. So when we see it, we're just like, 'Whoa.' Ah, well? It looks a little different."
Scenes from the #GeorgeFloyd memorial on 38th/Chicago in south Minneapolis tonight. Full of community members making art, giving hugs and sharing their collective pain. pic.twitter.com/wBu9ueXYLV

— Liz Sawyer (@ByLizSawyer) June 17, 2020
WHY GEORGE FLOYD WAS ARRESTED
Derek Chauvin arrested George Floyd over an alleged fraudulent cheque for $20, and he since got charged with second-degree murder. With his bail set at $1.25 million, the judge offered an alternative of $1 million under certain conditions. 
Chauvin would have to turn in all his firearms and permits for any weapons. Additionally, he would not be allowed to contact George Floyd's family or work in any sector of law enforcement or security if he gets out on bail.  
For the first time, Portland protesters are taking over the Fremont Bridge. It's longest bridge in Oregon. We're keeping a close eye on the crowd as they move west#Portland #PdxAlerts #Traffic @fox12oregon #BlackLivesMatter #GeorgeFloyd @OregonDOT @PortlandPolice #Breakingnews pic.twitter.com/R7Ri1Om10I

— Bonnie Silkman KPTV (@BonnieSilkman) June 17, 2020
A TROUBLED LIFE
According to reports, Chauvin is experiencing trouble in other areas of his life as well. The day before his arrest for Floyd's murder, Chauvin's wife Kelly filed for divorce. Financially, things are not much better, and the woes carried over into Chauvin's career.
Personnel records released by the Police Department showed that Chauvin received several complaints against him during his 16 years on the police force, and it included at least 17 investigations for excessive force. 
Derek Chauvin reportedly still eligible to receive $1 million in pension benefits: https://t.co/bKsR0qHwcI pic.twitter.com/E4mdnztfqE

— Complex (@Complex) June 12, 2020
WHAT THE AUTOPSY REVEALED
Hennepin County's medical examiner released George Floyd's autopsy results earlier this month, and it had a few unexpected results. 
While the coroner determined his cause of death as "cardiopulmonary arrest complicating law enforcement subdual, restraint, and neck compression," it also showed that Floyd tested positive for COVID-19 on April 3.