Princess Broadus Shows off Her Fresh Manicure and Tattoo in New Instagram Story
Snoop Dogg's only daughter Princess Cori Broadus took to her Instagram Story to share cute snaps of herself flaunting her new manicure and tattoo.
The 20-year-old daughter of legendary rapper Snoop Dogg, Cori, never shies from sharing her pictures with her fans on social media. 
In her latest photo update on her Instagram Story, Cori, who goes by the name Princess Broadus on the social media network, shared an up-close snap of her newly done fingernails, which were in black.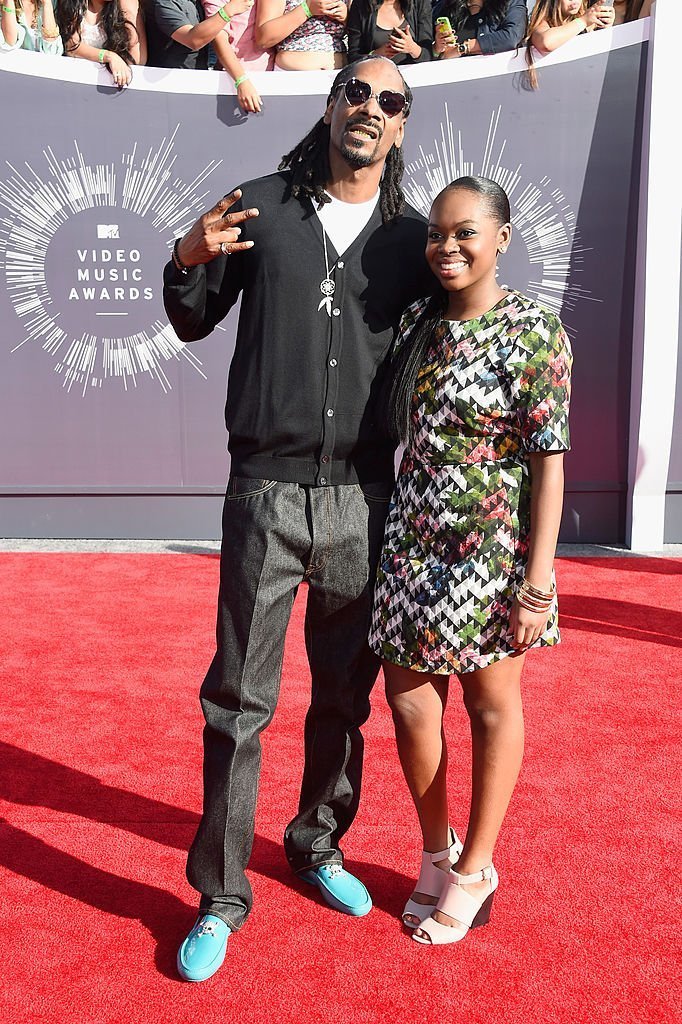 In the caption to the post, she revealed that she's never had nails that long before. Cori also posted another picture of the beautifully polished nails, showing off the tattoo on her left hand. 
The 20-year-old, who will turn 21 in a week, showed in February that she had stepped into womanhood when she shared some racy pictures that revealed parts of her body.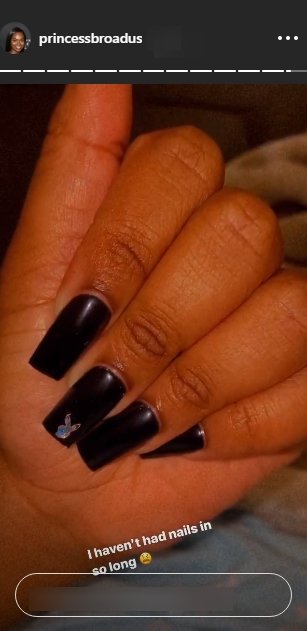 The photo showed Cori's progressive development into womanhood without her behaving in a way that is too far ahead of her age and making the world stop seeing her as a child. 
In the picture, Cori wore nothing but a crop top that bared the side of her cleavages and backside, showing that she was comfortable in her skin and had no issues flaunting it. 
In the caption, the then-teenager had some words for Marvel producers.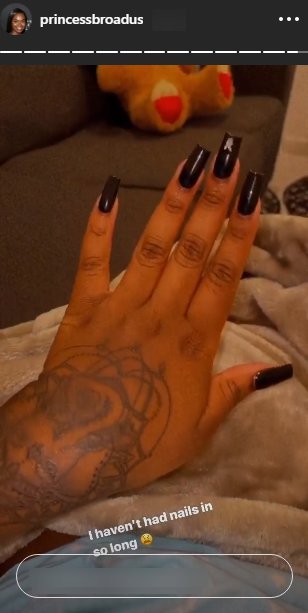 Cori graduated from high school in 2017 and had her family members present at her graduation ceremony. Her father was very much proud of her achievement and could not hide his happiness. 
Snoop Dogg took to social media to post loads of pictures and videos from his daughter's graduation. One of the photos showed a beautiful and smiling Cori in her graduation gown before she crossed the stage. The rapper captioned the post:
"Proud papa. Baby girl bout to walk the stage."
One of Cori's most prominent features is her low-cut hair. She first launched the hairstyle, which had since become her signature look, in 2018, when she revealed her big chop to her fans on Instagram. 
In one of the posts, Cori urged her fans not to be afraid to try new things, adding that her growth was real. Following the post, Cori, proud of her new look, shared a lovely picture of herself smiling happily. 
In the caption, the then-teenager had some words for Marvel producers, saying, "They should've cast me for Black Panther."  She may have the chance to be cast in the movie with a sequel on the way. 
Many of Cori's fans, including family members, reacted to the post, with her mom, Shante Broadus, commenting with multiple emojis, while Snoop Dogg wrote, "Wakanda 4ever."