Kobe Bryant's Wife Vanessa Wishes Daughter Capri Happy 1st Birthday in a Loving Post
Late Kobe Bryant's youngest daughter had her first milestone birthday, and widowed Vanessa Bryant paid a sweet tribute in celebration of the special day. 
Almost five months after Kobe Bryant and his daughter Gianna died in a helicopter crash, his youngest daughter, Capri, shared with the love of his life, Vanessa celebrated her first birthday.
CAPRI'S FIRST BIRTHDAY
While Vanessa posted a beautiful picture where Kobe and Vanessa cradled their little girl, her sincere caption tugged on the heartstrings.
"Happy 1st Birthday Capri! Mommy, Daddy, Nani, Gigi, and BB love you SO much!!! God Bless you, sweet princess," Vanessa reportedly wrote. "Capri Kobe Bryant, a.k.a. 'Koko-Bean' named after her dearly missed daddy, Kobe Bean Bryant ❤️."
CAPRI HAD ANOTHER RECENT MILESTONE
On Memorial weekend, Capri took her first steps much to mom Vanessa's delight, and she reportedly shared a video taken to capture the milestone moment with her fans. 
Experiencing milestones without her beloved husband is not easy, and in April, they would have celebrated their 19th wedding anniversary. But even after his passing, Kobe found ways to comfort Vanessa.
KOBE REACHED OUT TO VANESSA 
Shortly before Vanessa turned 38 in May, she came across a previously written letter Kobe wrote and addressed to her. The unexpected find gave Vanessa something to look forward to on her birthday, but it also made her miss "the love of [her] life and sweet little Mamacita" even more.
The "little Mamacita" is their nickname for Gianna, who would have celebrated her 14th birthday a few days before her mom, and in addition to Capri, Vanessa and Kobe also share daughters Bianka and Natalia. 
VANESSA IS TRYING TO HEAL
The legendary basketball player and his daughter's death remains in the spotlight even months after the tragic helicopter crash left all nine people on board dead. For that reason, Vanessa decided to make her, and her daughter Natalia's Instagram accounts private. 
"I have unfortunately had to block fan pages because it's been really hard to go online and constantly see pics of our beloved Gigi and Kobe under every single square of our explore pages," Vanessa reportedly explained.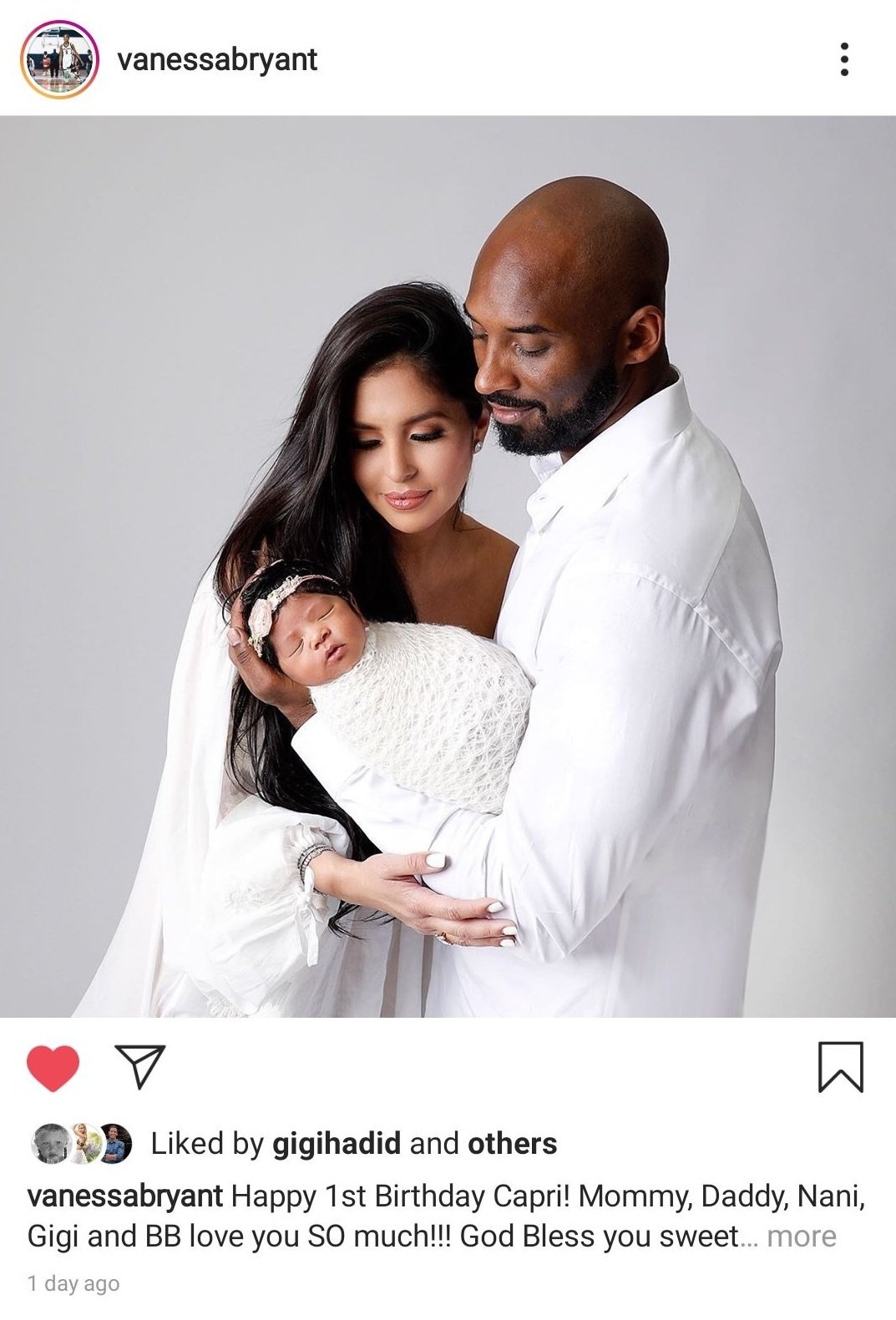 PRELIMINARY REPORT ON THE CRASH
Mid last week, the NTSB released its report into the helicopter crash wherein Kobe and Gianna Bryant, along with seven other people, died in January.
According to investigators, the pilot possibly "misperceived" his position in the air, as he contacted air traffic controllers shortly before the crash to say that he is climbing to a height of 4,000 feet. Seconds later, the helicopter crashed into a Calabassas mountainside.