'OutDaughtered' — Details about Deb Who Is a Helping Hand with Adam and Danielle Busby's Kids
"OutDaughtered" fans know her, but the details are scarce. Grandma Deb isn't a blood connection, but she's sure as helpful as the best of grandmoms.
The "OutDaughtered" cast is full enough with parents Danielle and Adam Busby and quintuplets Olivia, Ava, Hazel, Riley, and Parker as well as nine-year-old daughter, Blayke. 
Yet the fact alone that there are so many kids in one house means help is often welcomed. Over the years, a woman named Deb has consistently stepped in to assist the family. 
GRANDMA DEBRA SAVES THE DAY FOR GMA
Details about her are hard to find. During season two, she made her way to Manhattan, New York, where the Busby's would do their first in-person interview with "Good Morning America" (GMA).
The girls' parents tried to be prepared by bringing along an adult to care for each quintuplet, including Deb. But, of course, the unexpected occurred. 
The GMA crew wanted the girls to change into matching t-shirts branded with the name of the show. This would have been fine, except the girls were wearing dresses and had no pants to go with the shirts. 
Merely half an hour before going live, Deb stepped up by going to the hotel room to get some pants. "OutDaughtered" productions listed her as a "family friend" on the episode. 
CHURCH FRIEND WHOM THE FANS ALSO LOVE
In a 2017 tweet from Danielle, we learned that Deb is a member of her family's church. Not only is she beloved by the Busbys, but fans also greatly appreciate her. 
"Let us thank the brave souls of Deb, Lee, and Adam's parents for watching the ten kids," wrote a viewer back in October 2018. Indeed, Deb has shown that she's an essential part of the Busby team. 
DANIELLE AND ADAM'S HISTORY 
The team started coming together when Danielle and Adam met as co-workers at Target. It took months for a young Adam to build up the nerves to ask Danielle out. Six months later, the pair tied the knot in 2006.
The couple first welcomed Blayke in 2011. In 2015, they found out Danielle was pregnant with quintuplets after fertility treatments. They objected to doctors' advice not to have all the girls. 
The quints were delivered at 28 weeks and two days. Against the odds, they all survived. Danielle opted to stay home full-time to care for the girls while Adam continued to work. 
HOW ADAM BUSBY PROVIDES FOR FAMILY
According to LinkedIn, Adam previously worked at Intrinsic Solutions and Sprint Safety as a Key Account Manager. He now has his own business, Adam Busby Media, which is directed at large brands and family events. 
Over the years, the couple has managed to stay fit and even pull off date nights. Danielle credits her faith with getting her through the infertility struggles before the quints — and after.
Recently, the couple has been trying to move forward with relocation to their new home. In December 2018, the family moved out of their old house due to mold issues.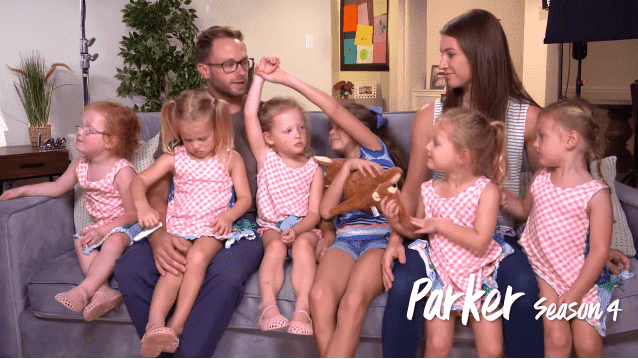 DANIELLE GIVES NEW HOUSE UPDATE
They've since taken up residence in an incomplete, temporary home, which has appeared to become permanent. In June 2020, Danielle gave a small update on renovations. 
Unconfirmed reports are that they purchased the new property and don't plan on going back. In many photos, we see that the family has gotten comfortable in the new location.
The girls, of course, would appreciate the swimming pool it came with. Furthermore, the area League city is often said to be among the safest places in Texas.