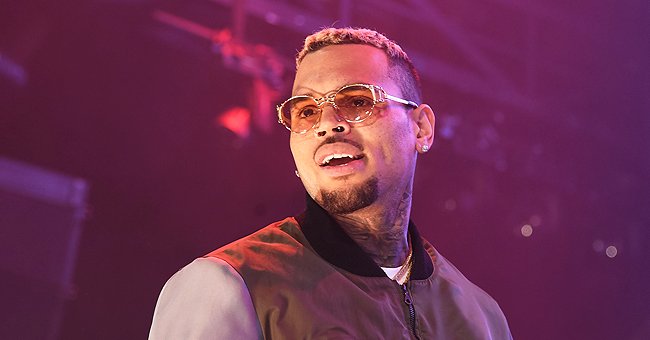 Getty Images
Chris Brown's Mom Joyce Hawkins Dotes on Her Darling Granddaughter Royalty on Instagram

Though the R&B singer has a long list on his criminal record, he is the father of two adorable children, and they are growing up so fast. Especially, Royalty, his oldest daughter, who is five years old already.
R&B singer Chris Brown's first child, daughter Royalty, has been growing as a charming and beautiful kid. Her grandmother, the singer's mother, Joyce Hawkins, recently posted a photo of the 5-year-old on her Instagram.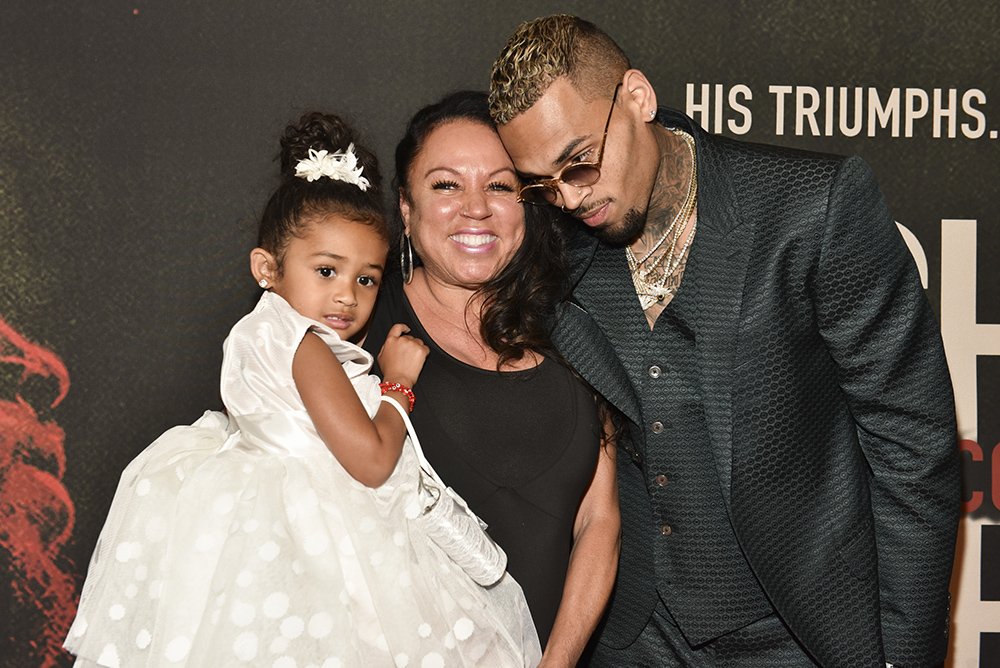 Chris Brown (R), mother Joyce Hawkins, and daughter Royalty Brown attend the premiere of "Chris Brown: Welcome to My Life" at Regal LA Live Stadium 14 on June 6, 2017 in Los Angeles, California. I Image: Getty Images.
Hawkins is very proud of her grandchild and always takes the time to take to her social media and share some of the moments she spends with her son's kid.
Royalty appears in the photo with her long wavy hair wearing a black sleeveless shirt and a necklace with hearts, while she is concentrated playing a game with her cellphone. The proud Hawkins captioned:
"I COULD NEVER FORGET MY ANGEL!! SO PRECIOUS AND HAS A HEART OF GOLD!!! ❤️❤️❤️❤️"
FATHER OF TWO
Brown is the father of two kids. Royalty, his first child, is the daughter he shares with his former girlfriend, model Nia Guzman. After being born in 2014, the couple went through many conflicts that led them to split. Fortunately, they made up and settle custody agreements.
The rapper's second child is a son named Aeko Catori Brown, who was born in November 2019. Aeko's mother is the 26-year-old model, and Brown's ex-partner, Ammika Harris. It was a surprise for their fans since neither of them had been open about their relationship.
They were seen together since 2015, in what was supposed to be an on-and-off relationship, however, they never made it official. In fact, neither Harris nor Brown had mentioned their soo-to-be-born child until November, when Aeko was welcomed and they both posted the same cute photo on their social media profiles.
CRIMINAL RECORD
Being the father of two beautiful children might change who Brown is today, but it certainly can not change his past filled with several legal troubles that he has been involved with.
It started in 2009, when the accomplished singer, who was dating superstar Rihanna, 32, at the time, was charged by her for felony assault and criminal threats. During the years ahead, he was implicated in brawls and altercations that included people injured or killed.
Besides being accused of hitting and threatening singer, Frank Ocean, outside of a West Hollywood recording studio, he has spent time in court, rehab and in jail, and has had his probation revoked several times. He has also been diagnosed with bipolar and post-traumatic stress disorder and accused of violent behavior.
More recently, the rapper posted a video showing a stalker while she was yelling and trying to get into Brown's property. But it was not the first time it happened since in 2016 another woman also invaded the singer's house on three different occasions.
Please fill in your e-mail so we can share with you our top stories!