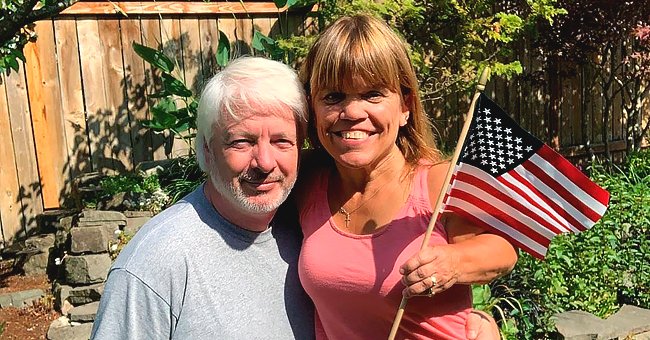 Instagram/amyjroloff
Amy Roloff Gives Fans a Glimpse of What Chris Marek Is Working on for Their Home in a New Pic

"LPBW" star Amy Roloff has been keeping busy during quarantine amid the novel coronavirus pandemic, and she proudly shared an update on the progress of her and Chris Malek's latest project.
On Thursday, Amy Roloff updated her fans on the progress she and fiancé Chris Malek made on their latest project for the house while keeping safe in self-isolation.
Amy Roloff visits Hollywood Today Live on December 13, 2016, in Hollywood, California. | Source: Getty Images.
TACKLING A NEW PROJECT
Malek asked Roloff to spend the rest of her life with him on their third anniversary on September 18, 2019, and to her, he is still just as "amazing." Posting a picture showing Malek doing some woodwork in the background, Roloff wrote:
"Yep working on another project for the house. I help, we'll maybe cheered him on more. And I got to use a power drill. Yippee! He's amazing ♥️."
ALREADY TOGETHER ALMOST FOUR YEARS
The couple officially dated by September 2016. The way their relationship unfolded, Roloff had no idea that the man she first met during a singles' night in Portland, would become an integral part of her future.
That first time, Malek and Roloff had little interaction as they didn't get paired together, but a few weeks later, they ran into each other again at a pool party. The two started talking, and at that point, Malek had never even heard of the reality show "Little People, Big World."
But then the conversation turned to motorcycles, and their shared passion soon had them going for a ride together - the beginnings of a relationship that soon blossomed into much more.
WHEN DO THEY PLAN TO MARRY?
When it comes to wedding plans, the reality star admitted that they "haven't set a date yet," and added that they would "work on that later in the year." The news made it clear to fans not to expect a wedding this year, and Roloff confirmed that fans would have to wait until next year.
The reason for the long wait comes purely because of packed schedules, as Roloff later shared during a wide-ranging interview and said:
"I think there's just so much going on. Getting settled into the new house, projects in the new house, and everything like that."
SHOWING OFF A FINISHED PROJECT
The couple also recently finished another project at home, and Amy Roloff proudly showed off their handiwork with a beautiful picture shared with fans.
Even though Roloff again gave Malek most of the credit, the glass-looking table they put together looked gorgeous and fitting for their vision of enjoying wonderful food and conversations with family and friends.
Please fill in your e-mail so we can share with you our top stories!