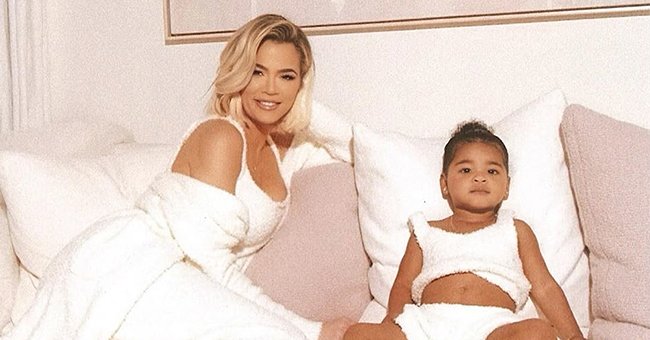 Instagram.com/khloekardashian
Check Out Khloé Kardashian's Daughter True Thompson Playing with a Kitchen Set in Her Play House
Khloe Kardashian and her daughter True seem to be having all the fun in the world as she recently shared a video of the toddler playing around their enormous house.
Most times, it is always fun and interesting to be around kids. Their creative imagination and ability to elicit a good laugh from the belly can be freeing for most people.
Khloe Kardashian is having all the fun in the world with her daughter True, and she recently shared several videos of the tot running around and having a good time.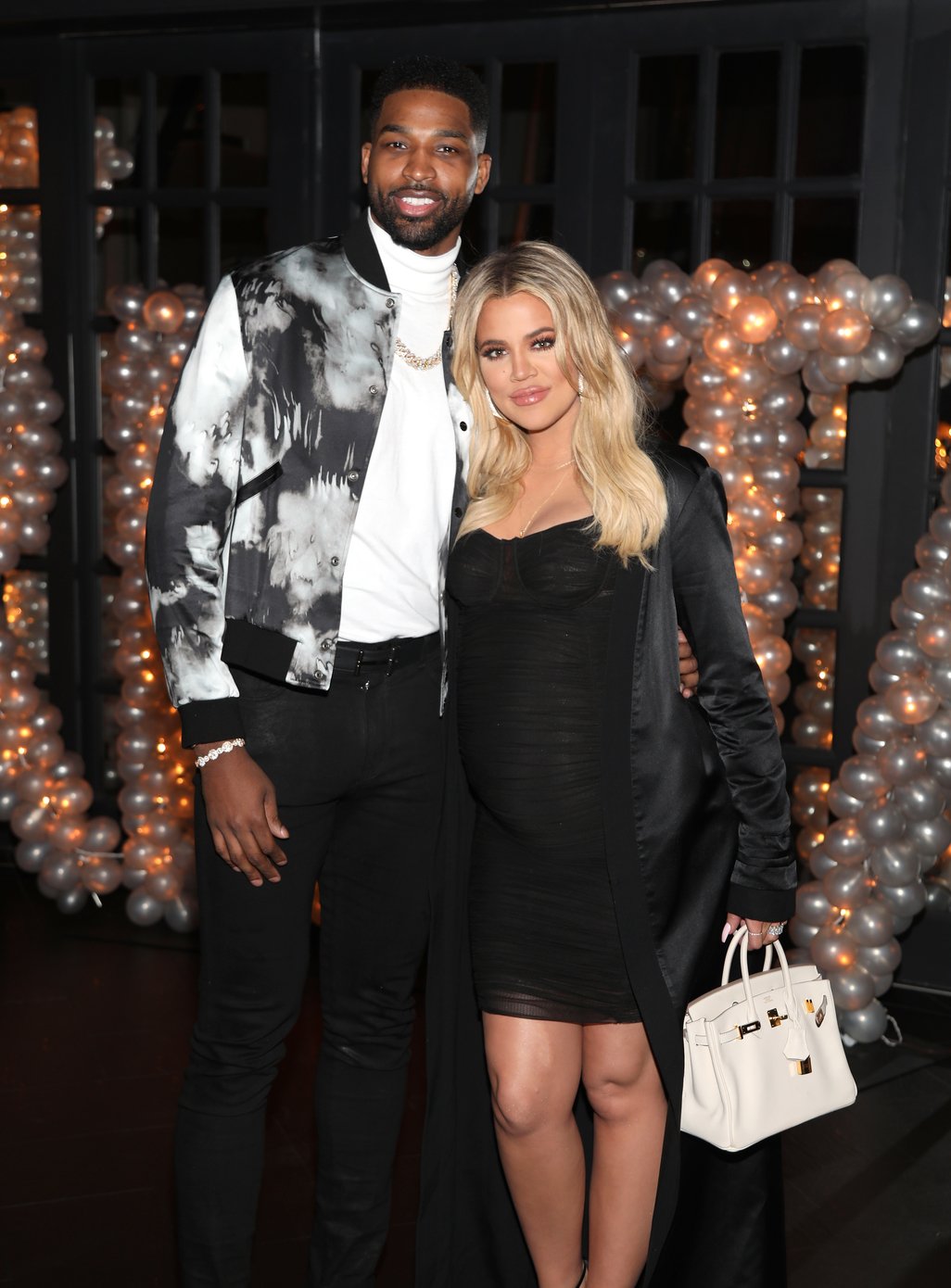 Tristan Thompson and Khloe Kardashian celebrate Tristan Thompson's Birthday at Beauty & Essex on March 10, 2018. | Photo: Getty Images
In a screenshot from one of the clips, True can be seen wearing an adorable red and white striped one-piece swimsuit. The toddler was moving around in what looked to be her gigantic dollhouse.
Another shot from the videos showed True squatting to pick something that looked to be a fridge, and another was of her trying to open a door. In a separate story slide, Khloe said:
"I thought 2020 would be the year I get everything I want. Now I know 2020 is the year I appreciate everything I have."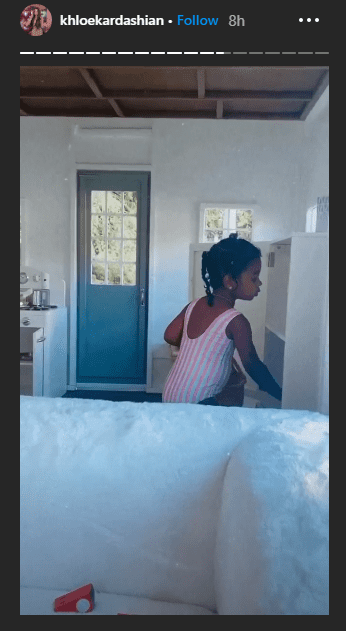 A photo of True playing around her doll house. | Photo: Instagram/Khloekardashian
From the videos, it was evident that Khloe is a doting mother as she could be seen following True everywhere she went and responding to her call for help at each time.
Besides playing house and spending time together, Khloe has found a way to incorporate True into her work out routine sessions, and it is quite adorable.
She was surprised at how well she and Tristan were co-parenting.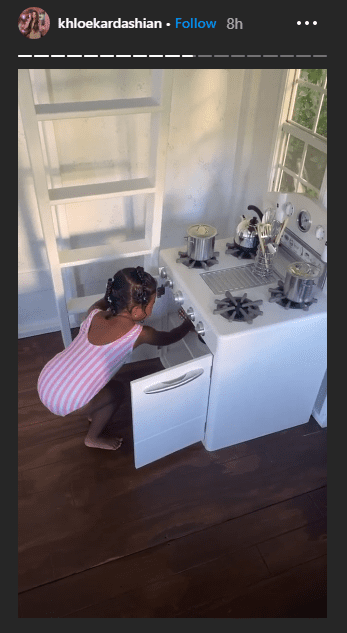 A photo of True squatting to pick an item. | Photo: Instagram/Khloekardashian
True recently played a vital role in her mother's workout session by sitting in a wagon harnessed to her mother's waist as she ran up the hill.
Khloe, who often takes to her social media platform to share amazing moments between herself and her daughter, showed how difficult it was to run while dragging a toddler in a wagon as she kept panting heavily each time she stopped to catch her breath.
During the lockdown, Khloe got her exercise on by working with her trainer Don-A-Matrix, and the input of True made it all the more fun.
While some fans are appreciative of the workouts, some are skeptical and wonder if all her fitness comes from surgery and filters.
True, who recently turned two during the quarantine, has a big fan in her mother who revealed that she was obsessed with the toddler. Khloe has also admitted that True is her entire world, and there is nothing she would not do for her daughter.
Just as Khloe is enjoying a good time with her daughter, she is also having a good time co-parenting with her ex and True's father, Tristan Thompson.
She once admitted that she was surprised at how well she and Tristan were co-parenting. She added that she came from a home where everyone had to get along with their exes for the sake of their children, and her parents set that example for her.
Khloe's mother, Kris Jenner, and her dad, late Robert Kardashian Sr., were able to easily co-parent Khloe and her sisters despite their years of separation and marriage to new spouses.
Please fill in your e-mail so we can share with you our top stories!