Richard Gere Converted to Buddhism — Glimpse into the Story behind His Transformation
Actor and producer Richard Gere, best known for "Pretty Woman" and "Chicago," has been a Buddhist for most of his life. His current wife, Alejandra Silva, converted, too.
Born in August 1949, Richard has been involved in the entertainment industry since the 70s when he landed small acting gigs in the film "Chelsea D.H.O." and "Report to the Commissioner."
[Richard and Alejandra] announced that they were expecting a child only after telling the Dalai Lama.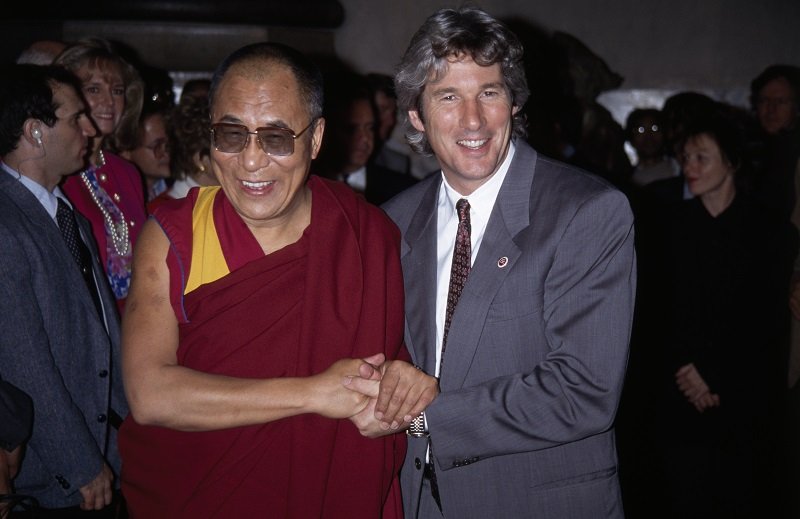 RICHARD GERE ON BUDDHISM
His big break came in 1978 when he was cast to play Bill, a manual laborer from Chicago who fled to the Texas Panhandle after killing one of his bosses, in "Days of Heaven."
The film was so good that it took home an Academy Award for Best Cinematography in 1979. It was also nominated for Best Sound, Best Costume Design, and Best Music, Original Score.
It was also in 1978 that Richard Gere made one of the most significant decisions of his life: he converted to Buddhism following a tour to Nepal. Back in 1999, the actor opened up about his journey as a Buddhist.
One of the things that Richard said was that his first encounter with Buddhist dharma happened in his early 20s. At the time, he was not "particularly happy" and had existential questions like, "Why anything?"
RICHARD GERE MET THE DALAI LAMA
For that reason, he started reading plenty of books trying to find answers, and the ones written by Walter Evans-Wentz, an anthropologist also known as the pioneer in the study of Tibetan Buddhism, deeply impacted Richard's life.
Eventually, he found a teacher, Sasaki Roshi, who made him realize that Buddhism was not about "any of the magic or romance" but the serious work on his mind.
About five or six years after Richard Gere started studying Zen, he met the Dalai Lama for the first time. His Holiness, as he called him, was curious about Richard's acting and wondered if he really felt the emotions that he displayed in front of the camera.
Richard then explained that the performance is more effective if the actor actually believes in the emotions. The Dalai Lama looked at Richard, and hysterically laughed at the idea that Richard would believe that emotions were real.
From that point on, the actor has kept a close relationship with the Dalai Lama. In fact, back in September 2018, Richard and his current spouse, Alejandra Silva, announced that they were expecting a child only after telling the Dalai Lama.
In a now-deleted Instagram post that showed the Tibetan Buddhist blessing her bump, Alejandra revealed that she couldn't share the baby news before telling His Holiness. The baby, Alexander, was born in February 2019.
RICHARD GERE'S WIFE, ALEJANDRA SILVA
Speaking of Richard Gere's wife, she was born in February 1983 in Spain. Her father is none other than Ignacio Silva, a businessman and former vice-president of the Real Madrid Football Club.
Throughout her life, Alejandra has been linked to different charitable and nonprofit organizations, including the Beautiful Life Fund and the Rais Foundation for the Homeless.
Richard and Alejandra have known each other for most of her life as the actor has been a friend of the Silva family for years. As adults, they were re-introduced to each other when she was managing a hotel in Positano, Italy.
Their love story started in 2014, and four years later, the couple tied the knot. Alejandra converted to Buddhism when her and Richard's relationship became official, reported Hola! USA.
After having Alexander in May 2019, they kept a low profile. However, in April 2020, it was reported that they welcomed their second child at their home in New York. At the moment, neither Alejandra nor Richard have confirmed or denied the baby news.
But even if it wasn't real, the couple is very likely to be quite busy raising one-year-old Alexander and seven-year-old Albert (Alejandra's son from her previous marriage). Richard Gere's child from his previous relationship to actress Carey Lowell, Homer, is 20 years old.