Check Out This Adorable Picture of Tia Mowry's Daughter Cairo in a Bright Pink Top
Tia Mowry from 'Sister, Sister' got a little help from her adorable two-year-old daughter as she shared a cheerful message for her followers at the start of the week.
Mondays are not usually filled with cheer, especially for people who are dreading the start of the long week ahead of them. However, "Sister, Sister" star, Tia Mowry decided to spread a little cheer this week.
The actress commissioned her two-year-old daughter, Cairo Hardrict for an adorable picture of her smiling. In her caption, Tia wished her followers a happy Monday.
Tia's post had a positive effect on one fan who gushed, "she just made my day. Good morning pretty girl happy Monday"
A commenter admired Cairo's smile and wrote, "awwww good morning !!! Baby girl contagious smile is so adorable."
Cairo was dressed in a bright pink top with a yellow bow in her hair. Some of Tia's fans commented on how cute she looked.
Tia and her brother, Tavior Mowry shared an exchange over how they both agreed that Cairo looked like her in the photo.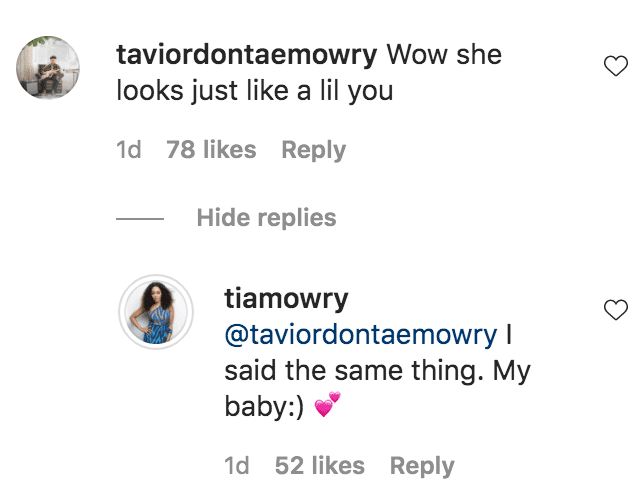 Getting Cairo to display her beaming smile took a little bit of practice. Over a year ago, Tia shared the secret to getting her toddler
to show off the perfect smile
.
The actress said she discovered that asking Cairo to show her teeth got her to smile and to hold the smile for a long time.
Tia also got a great start to her week when the actress shared that she and her husband Cory Hardrict were partnering with HBO for a date night.
She revealed that they would be watching the show "Perry Mason" while dressed in outfits inspired by the 1930s. To top their night off, the couple also mixed a few drinks that matched the prohibition era theme.
Checking out one of my favorites shows @perrymasonhbo, Sundays at 9pm on @HBO, and eating a deliciousness dinner with the wife from Musso and Frank #HBOPartner pic.twitter.com/4CR7z3CIUn

— Tia Mowry (@TiaMowry) July 27, 2020
Tia has been keeping her family occupied with various activities amid quarantine. The family has enjoyed things like staying active and swimming regularly.
In an unexpected activity, Cairo occupied herself with Tia's panty liners and stuck them all over the glass door of her shower. The activity was unconventional, but Tia joked that it kept her toddler busy.