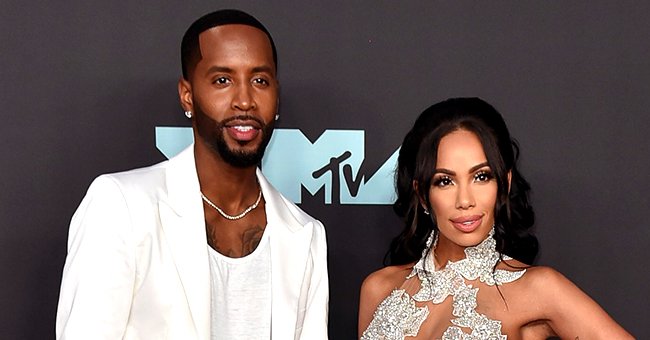 Getty Images
See How 'Love & Hip Hop' Star Erica Mena Is Enjoying Summer in This New Picture
"Love and Hip Hop" star Erica Mena revealed how she was enjoying her summer as she posed in a white cut-out bikini after enjoying a morning swim.
Erica Mena from "Love and Hip Hop" is one reality star who is always dedicated to her fitness. After giving birth to her daughter almost six months ago, she looked gorgeous flaunting her post-baby body.
Despite having a newborn, Mena has been keeping up with a regular workout schedule. A month ago, she admitted that she didn't always feel motivated but the love she has for keeping her body fit pushed her to work out even on her worst day.
It's not all exercise for Mena, though. She recently posted a photo of herself enjoying the summer as she relaxed by her swimming pool after a morning swim.
Mena was dressed in a white cut-out bikini. She showed off a sultry pose with her wet hair running down the side of her face.
The photo got the attention of many of her fans who pointed out how beautiful she looked. One fan asked for some post-partum beauty tips and wrote, "what did you use if anything after birth to tighten your skin back?"
One person questioned if she was expecting another baby and commented, "you look like you have a baby bump coming through." Another fan gushed over the star's success and budding love life.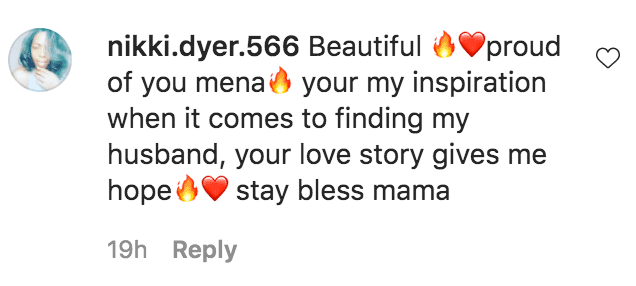 A fan commented on a photo of Erica Mena sitting poolside after a morning swim | Source: instagram.com/iamerica_mena
Mena and her husband,
Safaree Samuels
have a lot to celebrate lately. The couple wed in a lavish wedding in 2019. They welcomed their first child together and to top it off, they just bought their dream home.
According to BET, the mansion comes complete with a minibar, a mirrored gym, a multicar garage, and a golf course in their backyard.
Mena and Samuels gave cameras a look into their lavish home. However, their daughter is one aspect of their life that they are keeping private.
The couple has not announced her name. Mena also made it clear that because of the negativity she has endured on social media, she would not be showing her daughter's face in any of the photos she posts of her.
Meanwhile, according to Page Six, Mena and Samuels have been giving fans a more intimate look into their lives with the launch of their OnlyFans account.
The couple has been promoting teasers of their content on Twitter and encouraging fans to sign up for the $50 subscription fee.
Please fill in your e-mail so we can share with you our top stories!