Check Out Drake's Two Tupac Shakur Chains (Photos)
Drake's home in Toronto has been compared to a museum after the rapper has shared details from the interior of his mansion over the years, showing his big collection of mementos and little treasures.
33-year-old Canadian rapper Drake is known for having a special place for hip-hop heroes not only in his heart but in his home. Among them are rappers like Snoop Dogg and the late Tupac Shakur, one of the most influential recording artists of the genre.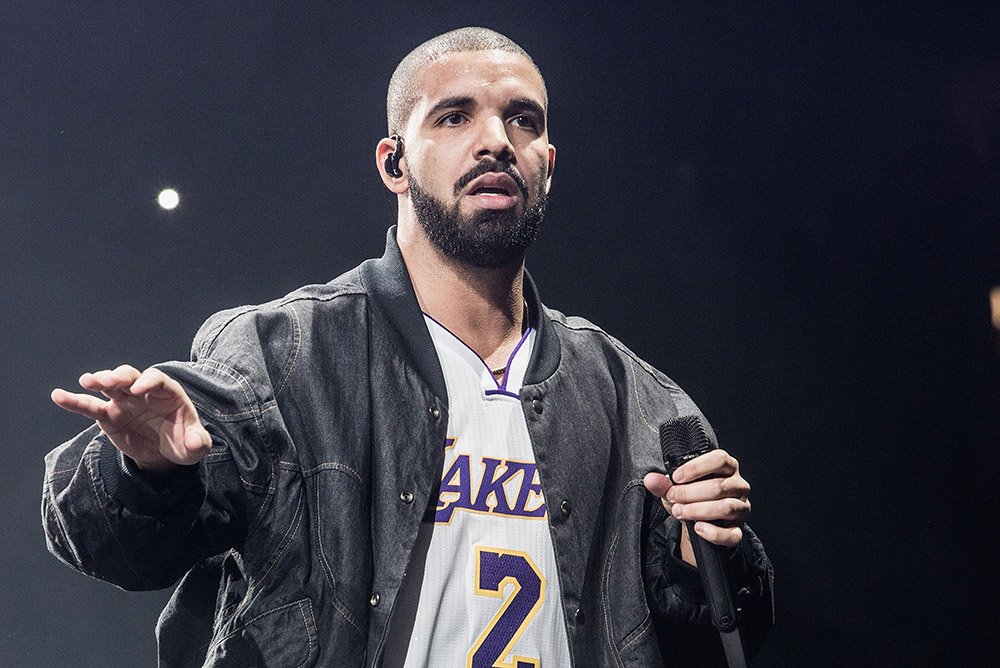 Early in 2020, Drake gave his fans a glimpse of the interior of his spacious home and the commemorative pieces of his fellow rappers were the subject of a multitude of comments among Drake's fan base.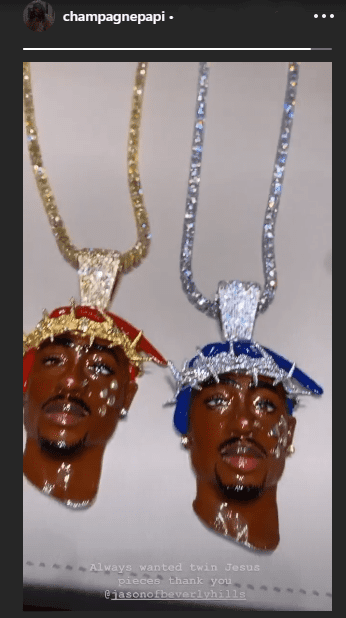 But on July 30, Drake took to social media to showcase his latest Shakur-themed jewelry, once again proving that he holds Shakur in the highest esteem, to the point of likening him to no other than Jesus Christ.
In a couple of since-deleted Instagram Stories, the "Hotline Bling" singer shared pictures of two "twin Jesus pieces," depicting Shakur with a crown of spines and tears running down his cheeks as a modern Jesus.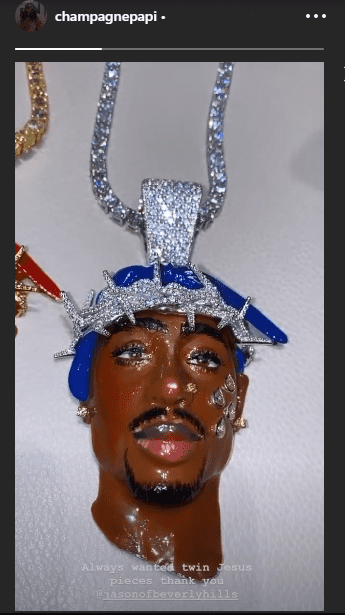 As Drake let his fans know in a caption over the images, the necklaces were created by the jewelry brand Jason of Beverly Hills.
"Thank you @champagnpapi for trusting us with this project. Unbelievable honor to help pay homage to the legend Tupac Shakur," read the caption of a post on Jason of Beverly Hills' Instagram account featuring the pieces.
FLAUNTING HIS COLLECTION
It was back in January 2020 when Drake seemed to have woken up particularly proud of the collectible items with which he decorates his Toronto mansion, and not only some of them are of high personal value for the artist, but also are worth a lot of money. 
On January 15, Drake used Instagram's Story feature to showcase some of his favorite items from his collection which includes a vinyl of Michael Jackson's "Thriller" and action figures of the Joker and Harley Quinn.
There where, of course, several pictures of both Snoop Dogg and Tupac Shakur, apart from a letter from Barack and Michelle Obama and an autograph from singer Sade Adu.