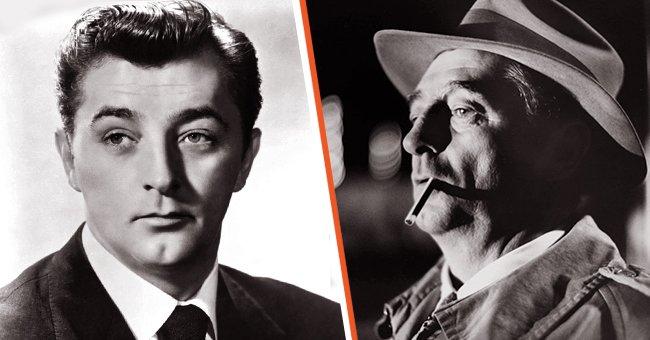 Getty Images
Legendary Hollywood Antihero Robert Mitchum Raised Vagrant and Even Was Sentenced for Marijuana
Robert Mitchum started his career by becoming an actor but also ventured into music at a later stage. One town where he filmed a movie now wants to honor him with a statue.
On August 6, 1917, James Thomas Mitchum and Ann Harriet Gunderson welcomed their son Robert Charles Durman Mitchum. The future star was born in Bridgeport, Connecticut.
Robert's mother was a Norwegian immigrant, while his father worked as a railroad/shipyard employee. Sadly, the future actor never got to know his father long as he died when Robert was two, from a train accident.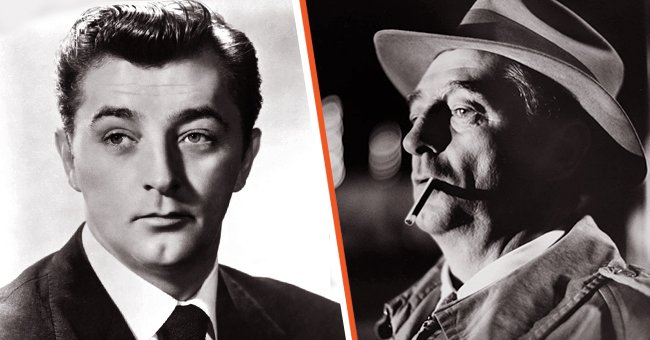 Robert Mitchum | Photo: Getty Images
ROBERT'S UPBRINGING
After his father died, Robert was raised by his stepfather, an army major for Britain. The future star spent years being brought up in Delaware, New York, and Connecticut but struggled as a teenager with discipline issues.
He also spent a lot of his time on the road. When he was 14, he was "charged with vagrancy" and sentenced to a Georgia chain gang. Somehow, Robert managed to escape.
WORKING HIS WAY TO ACTING
Robert didn't just find fame immediately and had to work different jobs to get there. He initially worked as a ghostwriter for an astrologist, Carroll Righter, and had another job at Lockheed Aircraft.
While working at the aircraft, Robert experienced job stress that eventually led to his temporary blindness. He discovered acting at a Long Beach, California, amateur theater company.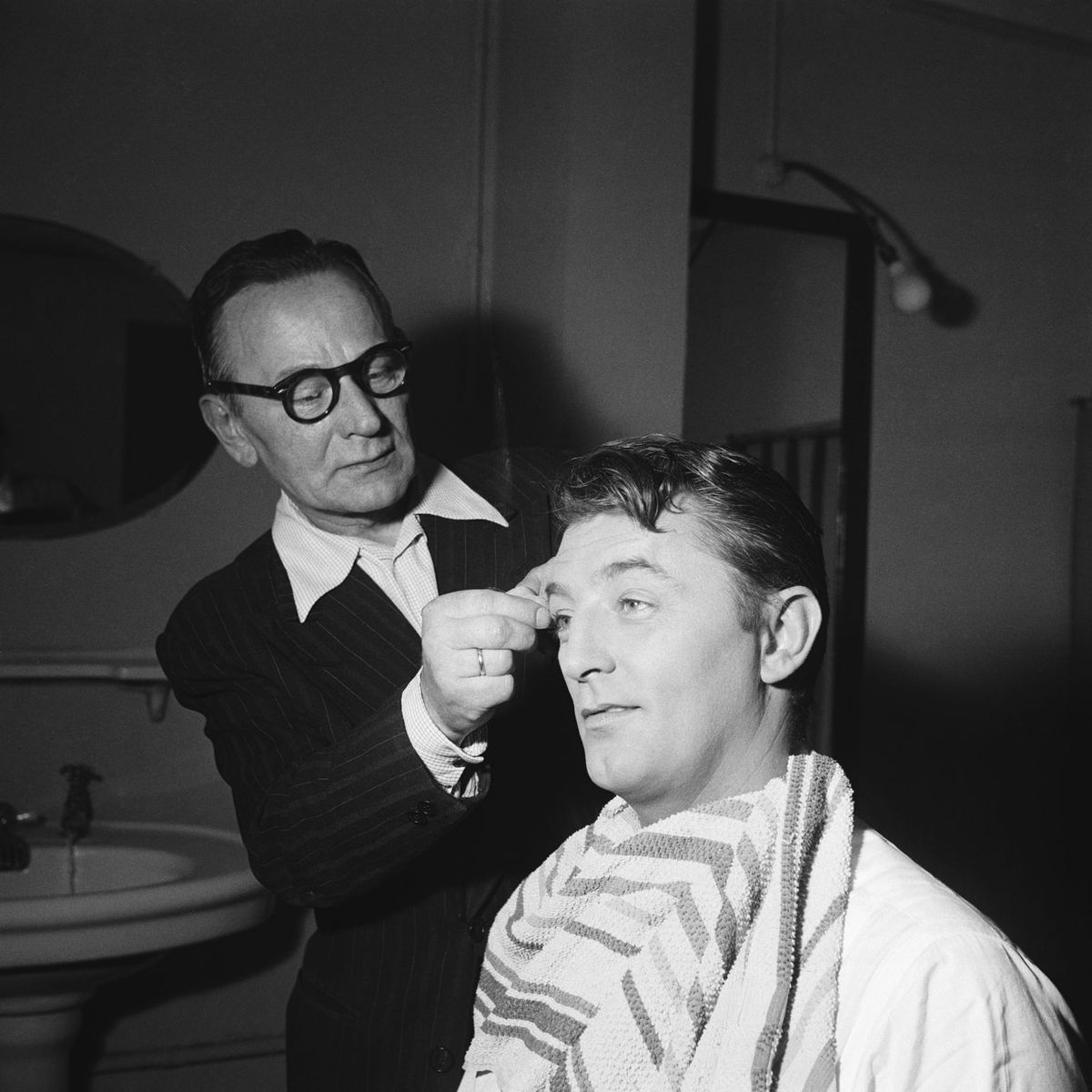 File pictures of Robert Mitchum in the 1950's | Photo: QUINIO/Gamma-Rapho/Getty Images
CLIMBING UP THE ACTING LADDER
While going through blindness, Robert started acquiring minor acting roles in movies. He was inspired to go in that direction by his sister, Julie, who made her money as a stage actress.
In 1945, he featured in the role of Lt. Walker in "Story of G.I. Joe" and was awarded a Best Supporting Actor Oscar nomination for the role. During the 1940s, he became a film noir icon and found his stardom in the 1950s.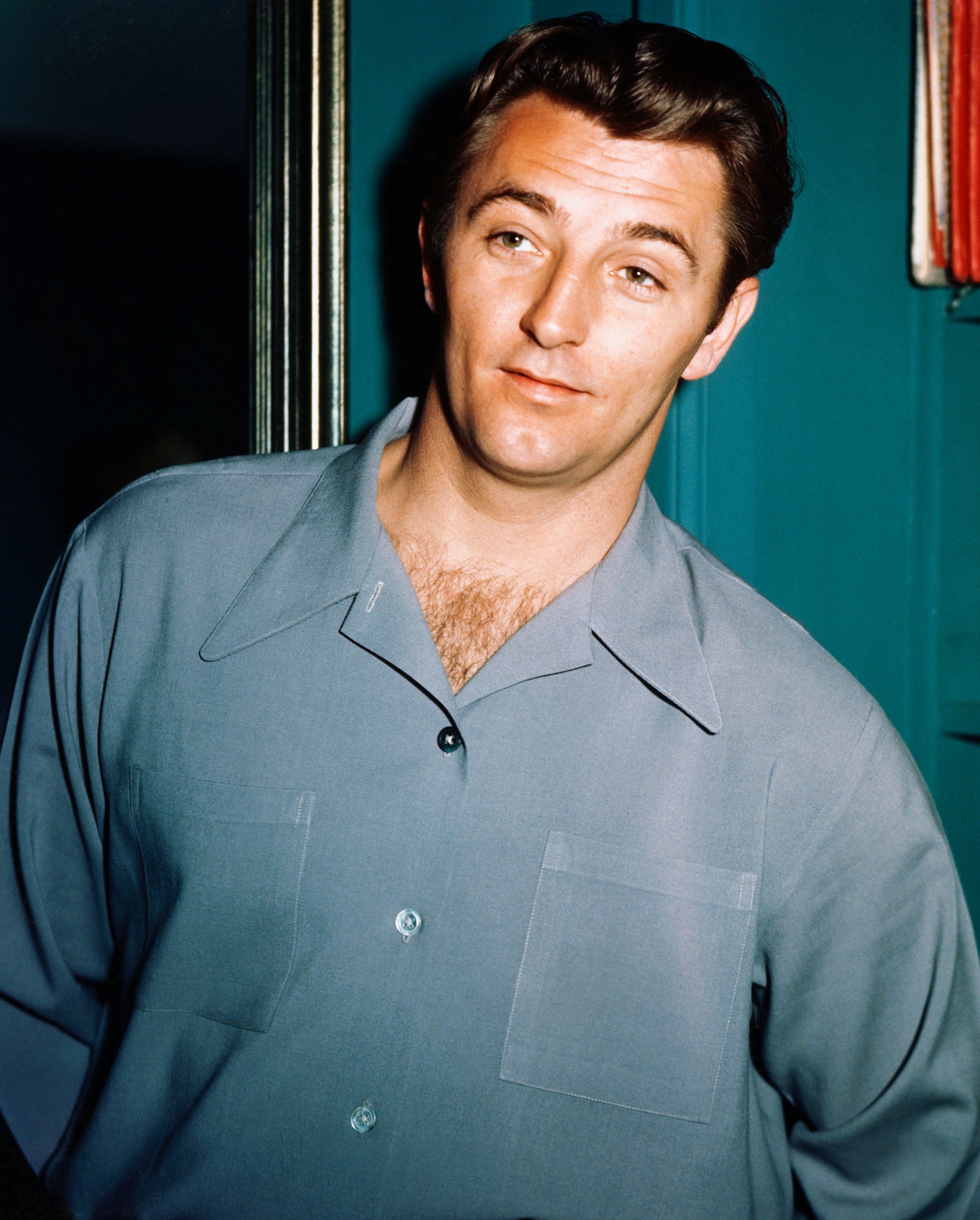 Robert Mitchum. Image uploaded on January 01, 1940 | Photo: Herbert Dorfman/Corbis/Getty Images
ROBERT'S BRIEF IMPRISONMENT
Robert had an image as a bit of a bad boy, and it was cemented when he was arrested in a midnight police raid on September 1, 1949. The arrest was made at a 20-year-old starlet's Los Angeles home, with the star stating:
"I've been smoking marijuana for years. I knew I would get caught sooner or later. I'm ruined."
The star, 31 at the time, was charged with smoking marijuana and imprisoned for a brief time. He was separated at the time from his wife, Dorothy Mitchum, whom he'd married on March 15, 1940.
Dorothy showed Robert her support by returning to Los Angeles with their two children to stand by his side. The prison time enhanced his "bad boy" image, and in 1955 he found a role on "The Night of the Hunter."
Robert also went on to compose and co-write an oratorio produced at the Hollywood Bowl. However, his "ladies man" image followed him and was even documented in a book.
MITCHUM'S AFFAIR
Shirley MacLaine wrote her memoir, "My Lucky Stars," in 1995, where she recalled the affair she had with Robert. In the book, she claimed they hooked up when they starred together in 1962's''Two for the Seesaw," writing:
''He saw himself as a common stiff, born to be lonely, who should expect nothing from life except that the roof doesn't leak."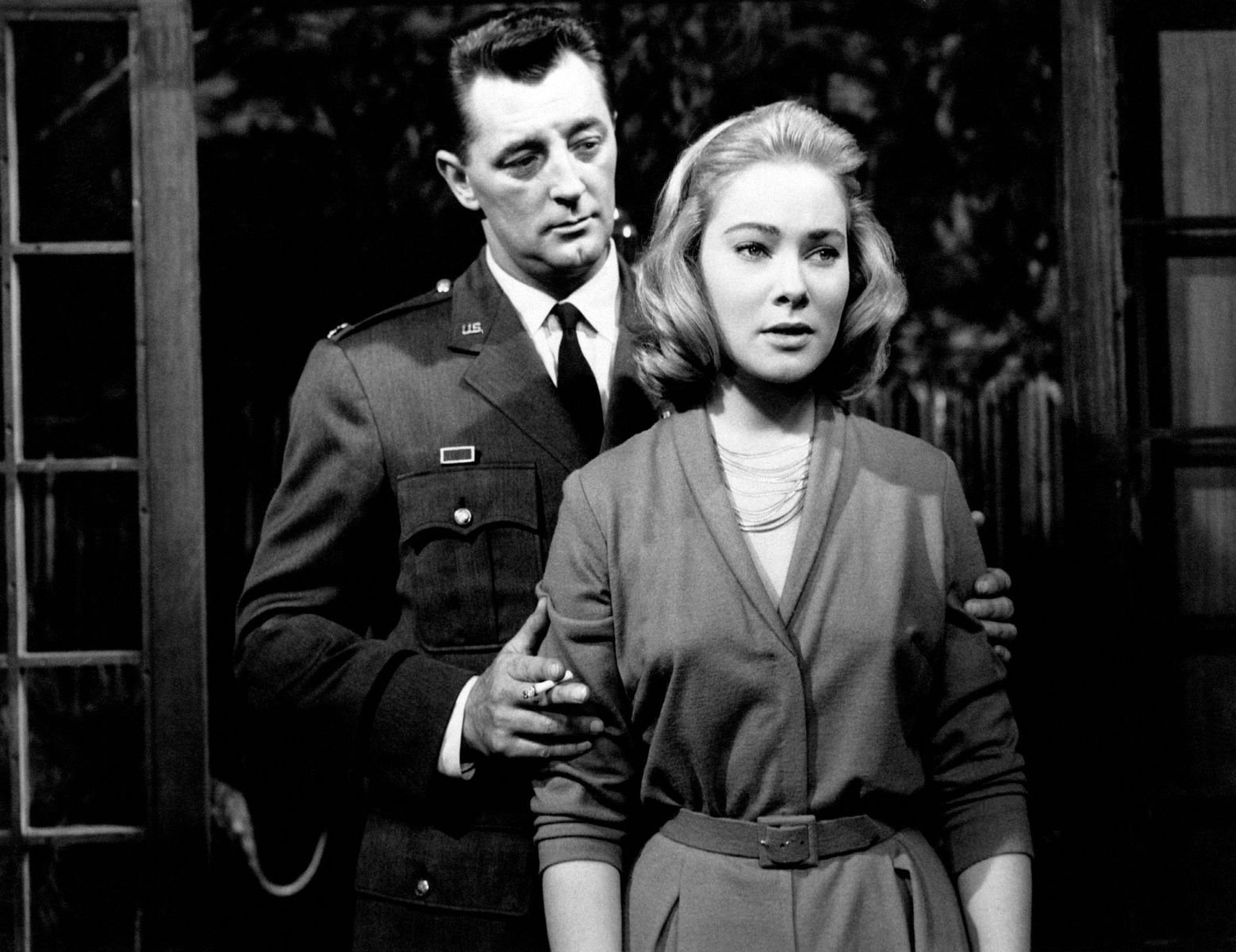 Robert Mitchum acting with Swedish actress May Britt in the film "The Hunters" in Los Angeles, 1958 | Photo: Mondadori/Getty Images
ROBERT'S MUSICAL CAREER
At one point, Robert realized he was great at mimicking accents leading him to star in forgettable and unforgettable films. In the 1980s, he began his television appearances due to the waning of movie roles.
He also branched into music and worked as a recording artist. The actor worked as a calypso performer and later a singer and co-writer of "The Ballad of Thunder Road," a film theme song.
In 1957, he released a new album titled "Calypso--is Like So..." It took him some years to find musical success when in 1967, he released "Little Ole Wine Drinker Me," which landed in the Top 10 of the country charts.
The song came from his second album called "That Man Robert Mitchum... Sings." In 1983, he won new fans with his role in "The Winds of War" and in 1988 with "War and Remembrance."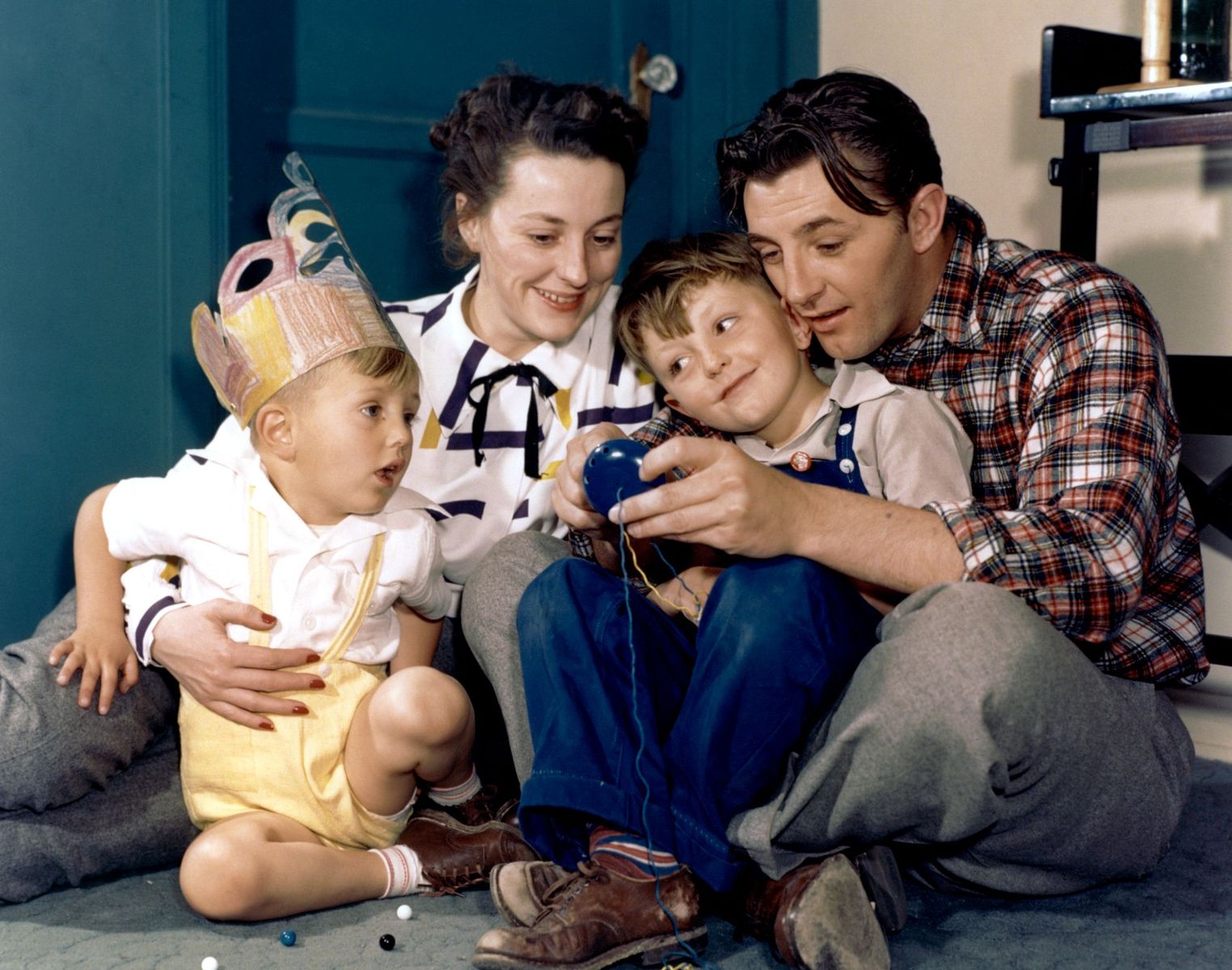 Robert Mitchum, his wife Dorothy Spence, and their two sons, Christopher and James Mitchum. Image uploaded on January 01, 1945 | Photo: Sunset Boulevard/Corbis/Getty Images
MITCHUM'S CHILDREN
When Robert wasn't making music or films, he played a parental role to three children with his wife, who stayed with him until his death. His sons were Christopher and James Mitchum.
The couple only had one daughter, Trina Mitchum. Robert's sons became actors too, and his grandchildren, Carrie and Bentley Mitchum, followed in his acting footsteps, while Kian Mitchum became a model.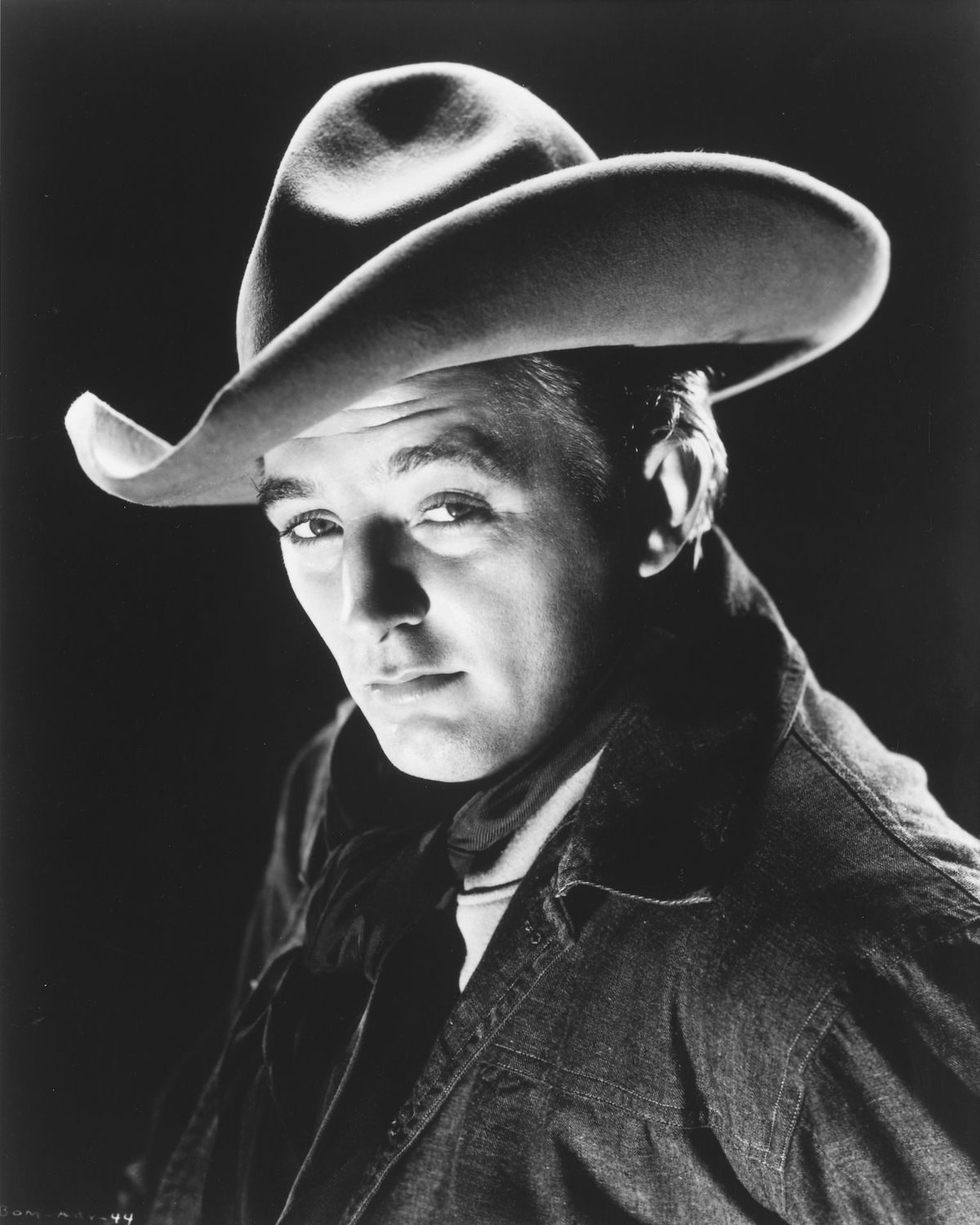 Robert Mitchum circa 1945 | Photo: Silver Screen Collection/Hulton Archive/Getty Images
HIS LAST MOVIE
Robert's last film role was in 1997's "James Dean: Race with Destiny," the same year he passed on at age 79. Bruce Weber also featured the late star in 2001's autobiographical film "Chop Suey."
The actor's [Robert Mitchum] son, Christopher, thought it was a great idea and even offered to fly in for the unveiling.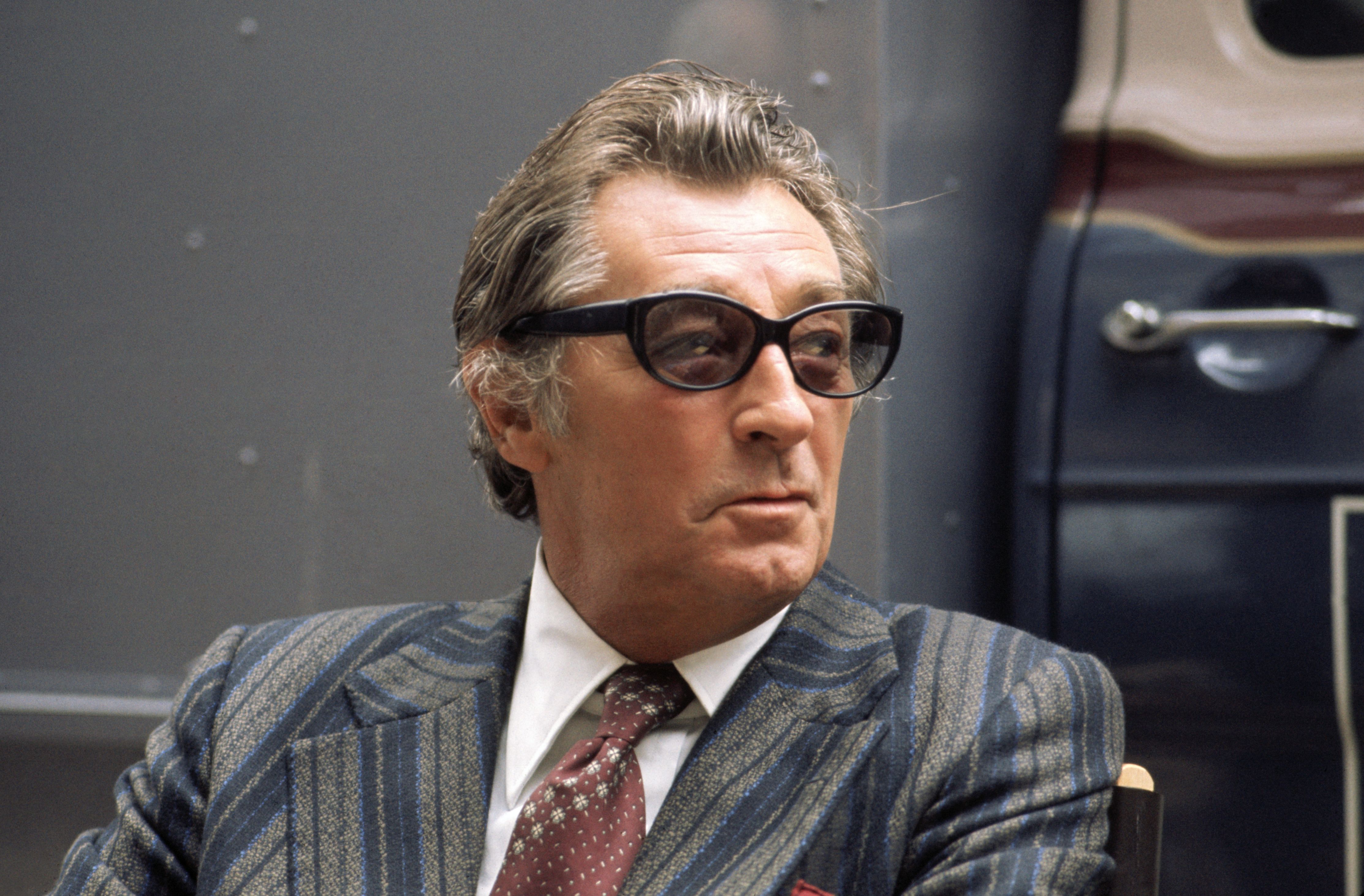 Robert Mitchum in London, England. Image uploaded on August 07, 1977 | Photo: Getty Images
Some of the accolades he collected in life included a lifetime achievement award from the National Board of Review and the Cecil B. DeMille Award from the Hollywood Foreign Press.
On July 1, 1997, Robert passed away from lung cancer and emphysema in Santa Barbara, California. Now a small town he once worked in wants to honor the late star with a statue.
A STATUE FOR ROBERT
In 2021, a Dublin pensioner named Maurice Colgan, 79, revealed that he wanted a bronze statue erected of Robert in Dingle, County Kerry. The late star spent time in the Irish town filming 1969's "Ryan's Daughter."
Colgan, known in Ireland for his Elvis Presley Story Museum, thought Robert's statue would be a great tourist draw. The actor's son, Christopher, thought it was a great idea and even offered to fly in for the unveiling.
Please fill in your e-mail so we can share with you our top stories!
The information in this article is not intended or implied to be a substitute for professional medical advice, diagnosis or treatment. All content, including text, and images contained on news.AmoMama.com, or available through news.AmoMama.com is for general information purposes only. news.AmoMama.com does not take responsibility for any action taken as a result of reading this article. Before undertaking any course of treatment please consult with your healthcare provider.