Kate Middleton Wears Belted Floral Midi Dress for the 1st Time since Fall 2019 – See Her Gorgeous Outfit
Kate Middleton recently sported a gorgeous floral dress which she once rocked last summer, and the Duchess looked quite stunning in the outfit.
The Duchess of Cambridge, Kate Middleton, was recently spotted in Wales with her husband, Prince Williams, and she opted for one of her tried-and-true style favorites. In an Instagram post, the Duchess was pictured wearing a floral midi dress accessorized with a belt at the waist.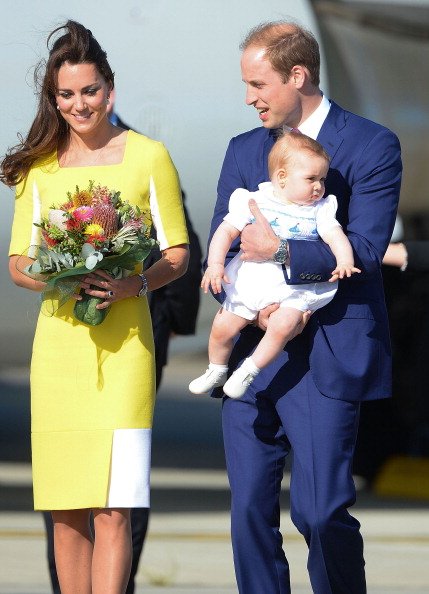 The dress, which was designed by British designer Emila Wickstead, was paired with two-tone wedges that had a tie strap at the ankles.
The couple's visit came as part of their royal engagements following the easing of COVID-19 lockdown measures in the United Kingdom. The Instagram post, which captured their visit, was captioned:
"Their Royal Highnesses firstly visited Barry Island where they heard from local business owners."
In addition to their meeting with local business owners, Middleton and Williams also paid a visit to an arcade that had just reopened. There they spoke about how the arcade's staff are working to keep themselves and others safe amid the global pandemic.
The Duchess has consistently proved herself to be a style icon.
Apart from her visit to Wales, the Duchess has also been on solo royal engagements following months of being in quarantine at their Anmer Hall home in Sandringham estate.
On Tuesday, she reportedly went to a baby bank In Sheffield, where she joined in packing donations from 19 British based retailers to be sent to low-income families across the country.
Middleton's recent Wales visit is, however, not the first time she has been seen donning the gorgeous floral dress. Last fall, Middleton rocked the outfit alongside neutral wedge pumps during a public visitation to the Royal Horticultural Society located in Wisley.
 At the venue, the Duchess celebrated the debut of another rendition of her Back to Nature play garden, which she had initially helped design the previous May.
This rendition was reportedly made up of features from past iterations, alongside two connected tree houses for children and families to relax and have fun.
A mini-festival was also organized in the garden to celebrate the new launch. Families and representatives of organizations that Middleton had collaborated with were in attendance at the event.
Since Middleton's marriage to Prince Williams in 2011, the Duchess has consistently proved herself to be a style icon, and her recent outfit was no exception. Time and time again, she has lived up to her reputation!