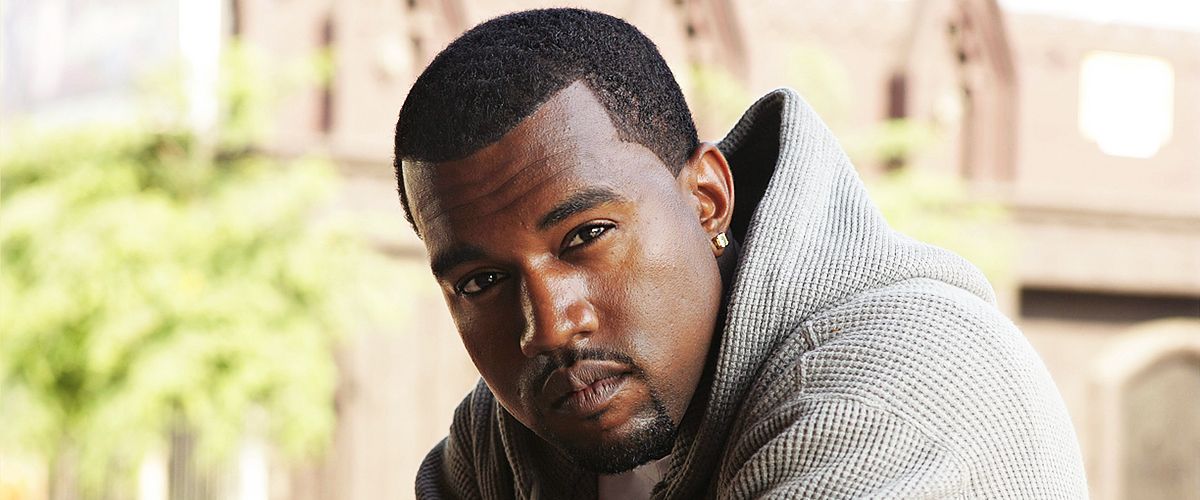 Getty Images
Kanye West's Drama-Laden Struggles with Bipolar Disorder — inside His Issues with Mental Health

Kanye West lashed out at his family on Twitter and accused his wife of infidelity, and it is all due to his bipolar disorder.
Rapper and presidential candidate Kanye West has been going through a very public breakdown, during which he has lashed out at his wife, spoken about divorce, and exposed their private lives at a political rally.
The crisis, a symptom of his ongoing struggle with bipolar disorder, has highlighted a problem that officially afflicts the lives of over 2.3 million Americans, and many more remain undiagnosed.
West had spoken openly to David Letterman about his mental health issues, and described his condition as a "sprained brain"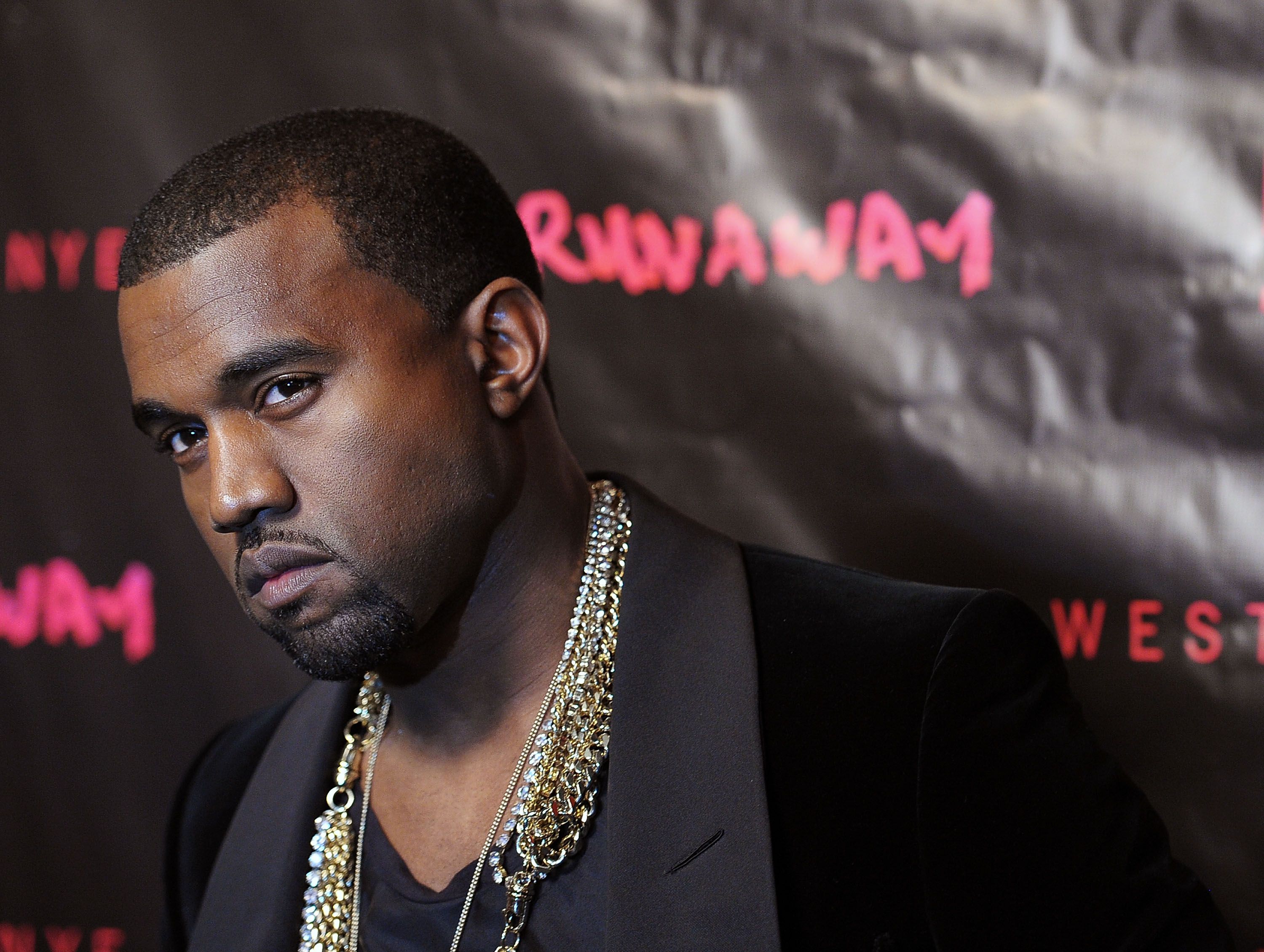 Kanye West at the New York premiere of "Runaway" in 2010 in New York City | Source: Getty Images
KANYE WEST'S DIAGNOSIS
In 2016, Kanye was hospitalized for the first time for hallucinations and paranoia. It was surmised that the rapper was suffering from depression, brought about by the death of his mother, Dr. Donda C. West, who passed away in 2007. Donda succumbed to complications following cosmetic surgery, and West never recovered from losing her.
In 2019, Kanye revealed that he was suffering from bipolar disorder, a condition characterized by extreme and sudden mood shifts, from manic surges of energy to the depths of depression.
TO MEDICATE OR NOT TO MEDICATE
Most bipolar sufferers can be helped by a combination of psychotherapy and medications, which usually consists of mood stabilizers and antipsychotics.
The catch is that patients often refuse to give up the "high" of the manic phase of their illness, and complain that the medication "deadens" them.
Kanye has revealed that he refuses to medicate because he feels that it changes who he is, and dampens his creativity. But the price for those surges of energy and inspiration can be very high, as has recently become apparent.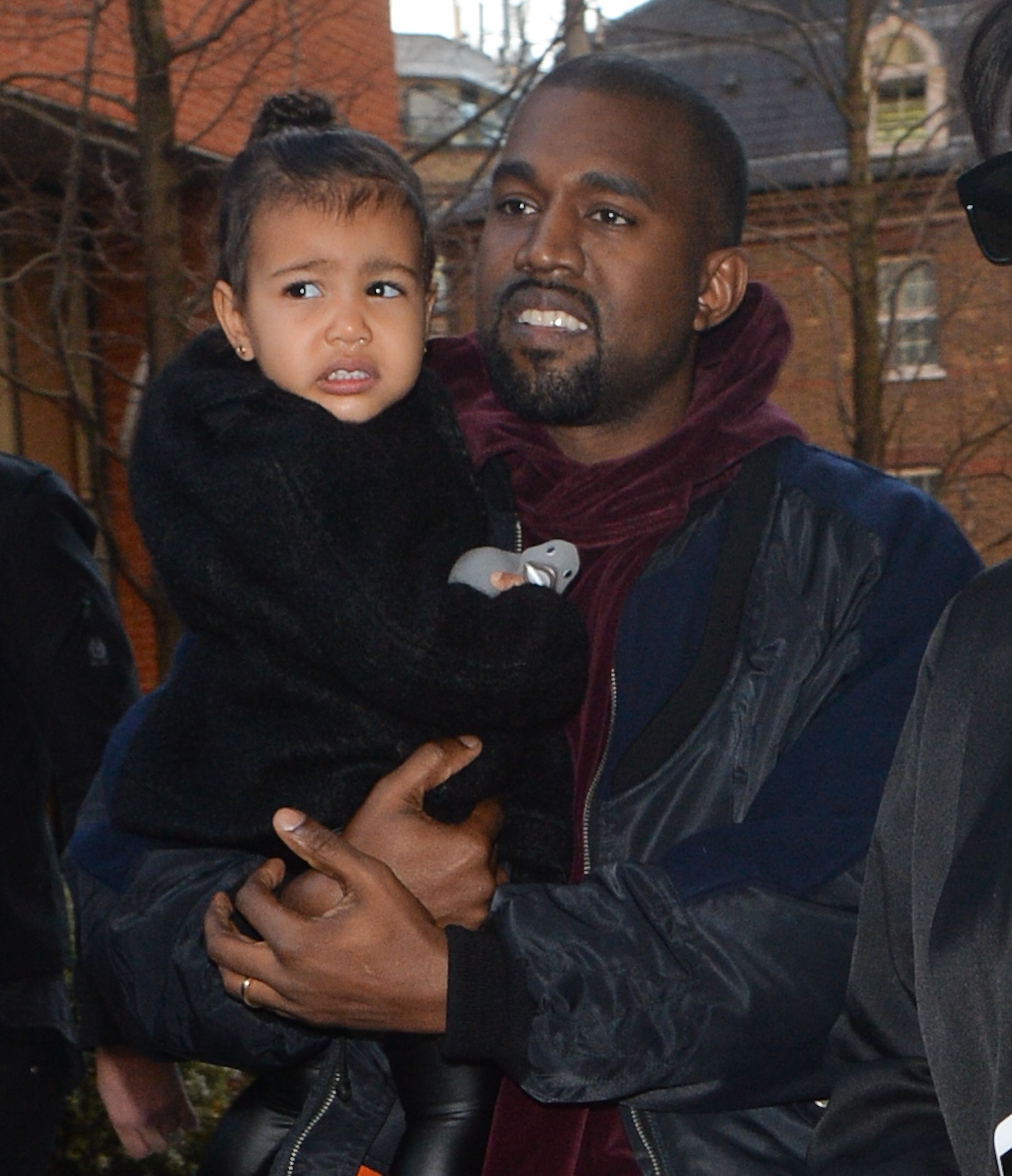 Kanye West with daughter North in Battersea in London, England in 2015 | Source: Getty Images
RUNNING FOR PRESIDENT
On the Fourth of July 2020, Kanye announced on Twitter that he would be running for President of the United States in the 2020 elections. Two weeks later, at a political rally in Charlotte, North Carolina, Kanye fell apart while speaking to his supporters onstage.
Weeping, he revealed that he had wanted his then-girlfriend Kim Kardashian to abort an unplanned pregnancy. Kardashian had refused and subsequently gave birth to their first child, North West. The tearful Kanye confided that he had "almost killed my daughter."
His exposure of their private lives in such a public manner -- especially since it could profoundly wound their daughter -- did not sit well with Kardashian, Kanye's wife of 6 years, and mother to his four children.
TWITTER OUTRAGE
But worse was to follow. Kanye then proceeded to post a series of messages on Twitter in which he accused his wife of cheating on him with rapper Meek Mill and wanting to have him committed. In one of the tweets, since deleted, Kanye claimed:
"Kim was trying to fly to Wyoming with a doctor to lock me up like on the movie Get Out because I cried about saving my daughters life yesterday."
Kanye tweeted that he intended to divorce his wife and referred to his mother-in-law, Kris Jenner, as "Kris Jong-Un." The next day, his wife posted a statement on Instagram explaining that people with bipolar disorder often say things they don't mean. Kardashian expressed her unconditional support for Kanye and asked for respect and understanding of his situation.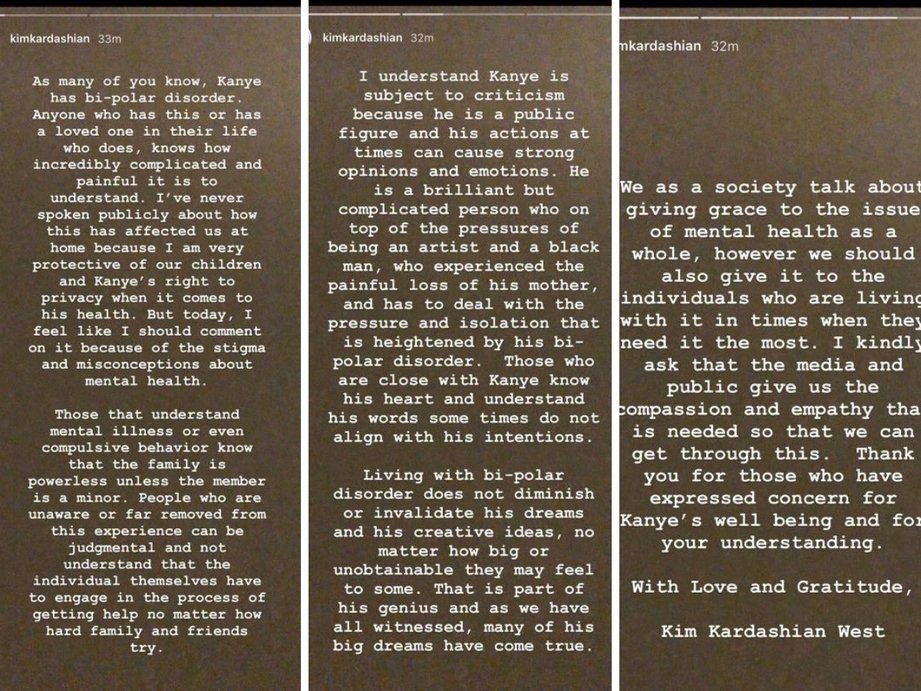 Statement on Instagram by Kim Kardashian-West | Source: Instagram/Kim Kardashian
PUBLIC APOLOGY FOR PRIVATE PAIN
Kanye apologized to his wife as publicly as he had maligned her. He shared a heartfelt post on Twitter in which he admitted that he had not been there for Kardashian, the way she had been there for him, and lamented that his outburst at the Charlotte Rally had hurt his family.
Kanye had previously announced the imminent release of his new album dedicated to his deceased mother, titled "Donda." Dr. Tara Narula who collaborates with "CBS This Morning" spoke about bipolar disorder, saying:
"One in five Americans, our husbands, our children, our friends are dealing with this. (...) They're suffering alone, and they're not getting the care and the treatment that they need."
Kanye had spoken openly to David Letterman about his mental health issues and described his condition as a "sprained brain." He commented:
"If someone has a sprained ankle, you're not gonna push on him more. With us, once our brain gets to the point of spraining, people do everything to make it worse."
THE BALANCING ACT
Kanye refuses medication, and so, like so many others, he is constantly walking the tightrope between mania and depression, and without a net. Like other sufferers of bipolar disorder, Kanye has occasionally suffered breakdowns, especially during particularly stressful times in his life.
But even while battling his own private demon, Kanye's courageous revelation of his condition has helped millions and raised public awareness of a disorder that has been a shameful secret for centuries. His outspokenness has encouraged many more celebrities to open up about their own mental health issues, and inspired others to seek help for their secret pain.
Please fill in your e-mail so we can share with you our top stories!
The information in this article is not intended or implied to be a substitute for professional medical advice, diagnosis or treatment. All content, including text, and images contained on news.AmoMama.com, or available through news.AmoMama.com is for general information purposes only. news.AmoMama.com does not take responsibility for any action taken as a result of reading this article. Before undertaking any course of treatment please consult with your healthcare provider.