Jada Pinkett Smith and Queen Latifah Met as Teens — inside Their Friendship of over 30 Years
Queen Latifah and Jada Pinkett Smith starred in their first movie together in 1996, but by then, they'd been friends for years.
Iconic actresses Jada Pinkett Smith and Queen Latifah have an incredible on-screen chemistry that flows from a real-life friendship that goes back to their teens.
Back in the day, the "Girls Trip" stars were just starting out in showbiz, Jada as an actress, and Latifah as a rapper when a chance encounter brought them together.
Will Smith, the man who was to change Jada's life by marrying her changed Latifah's by giving her her first role on TV, on "The Fresh Prince of Bel-air"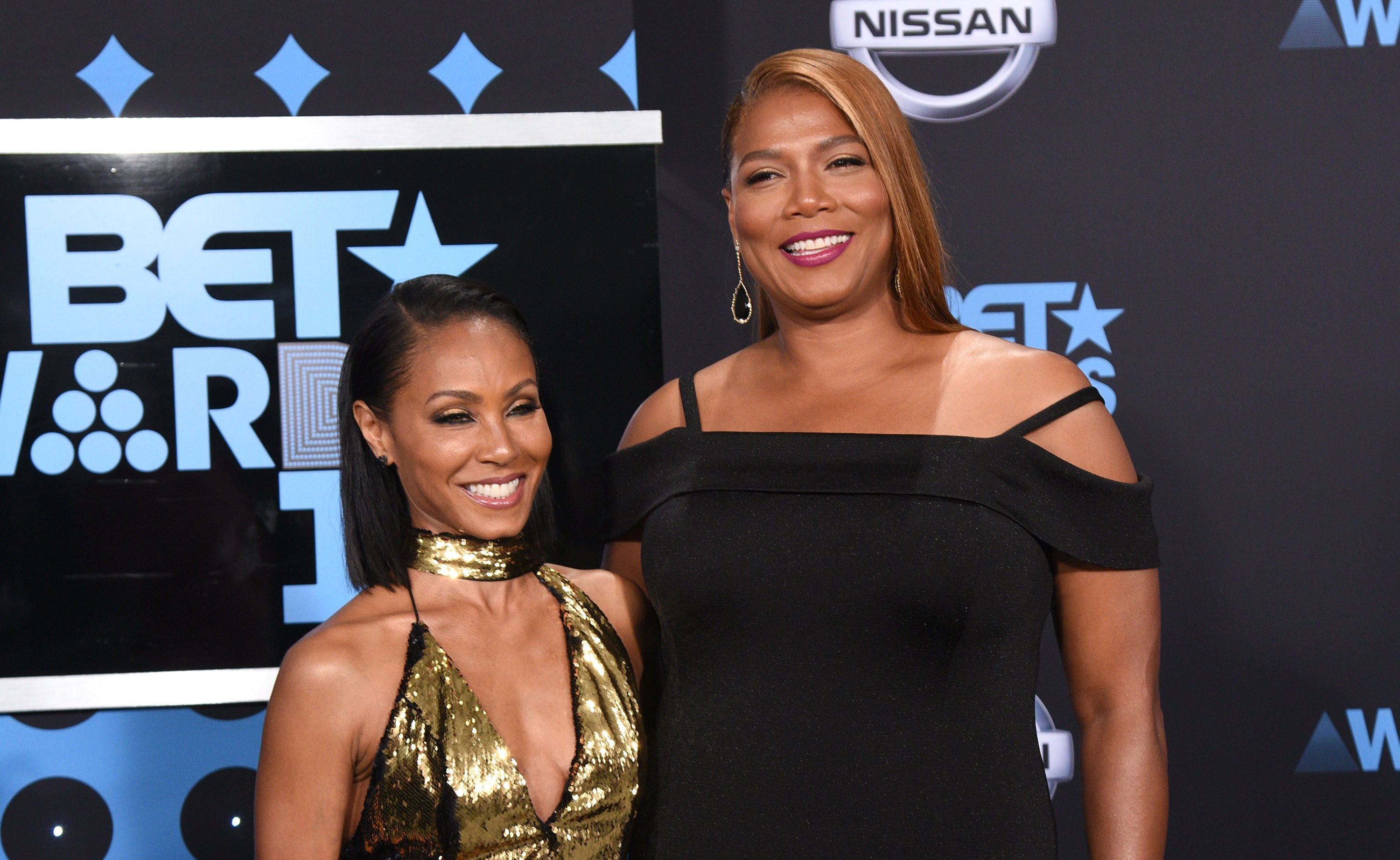 FRIENDS FOR LIFE
Jada recently reunited her "Girl's Trip" co-stars, including her friend of thirty years, Latifah, in a group video chat -- their first reunion since the beginning of the COVID-19 pandemic.
It's been three years since the release of the iconic "Girl's Trip," and the two BFFs and  Regina Hall and Tiffany Haddish shared a few moments of levity. While Jada had met Haddish and King in Hollywood, Latifah she'd met in her native Baltimore.
Jada had gone to a club to see Latifah perform, and persuaded the promoter to introduce her to the 17-year-old rapper. Jada was 15, and the two girls struck up a friendship, never imagining that one day they'd be movie stars and making movies together.
FIRST FILM TOGETHER
In 1996, Jada and Latifah, who had been friends for 9 years by then, were brought together to film "Set It Off." The  F. Gary Gray movie co-starred Vivica A. Fox and Kimberly Elise and told the story of four women who pull off a daring heist. It became a huge hit and cemented the stars' career.
REUNION ON SCREEN
It was to be 21 years before Latifah and Jada had a chance to work together again. That opportunity came with "Girl's Trip." Smith said:
"I haven't seen women of color portrayed like this in a long time but it has universal themes. La and I were like, 'We're in!' "
The intervening 21 years had brought a lot of changes into the lives of the two women. Jada married mega movie star Will Smith the year after "Set It Off," and the couple welcomed their two children in quick succession over the next 3 years.
Latifah's career gained momentum, and she was nominated for an Oscar as Best Supporting Actress for her incredible performance in the hit musical film, "Chicago." She has since garnered a Grammy Award, an Emmy Award, a Golden Globe Award, three Screen Actors Guild Awards, and two NAACP Image Awards.
QUEEN LATIFAH'S LOVE
Latifah has always kept her private life out of the limelight, but she is known to be in a long-time romance with dancer Eboni Nichols. Fans were excited when paparazzi snapped Nichols sporting an engagement ring and a baby bump in early 2020. 
In May 2020, rumors surfaced that the actress was now the mother of a baby named Rebel. Latifah has neither confirmed nor denied the rumors, and there is no information on her presumably changed status on her social media accounts.
If she has indeed become a new mother, she can count on Jada for that mom-to-mom advice, especially seeing how incredibly well the Smith kids, Willow and Jaden have turned out. We might yet see Latifah opening up on Jada's hit talk show, "Red Table Talk," which she hosts with mom  Adrienne Banfield-Norris and daughter Willow Smith.
THE WILL SMITH FACTOR
Curiously enough, Will Smith, the man who was to change Jada's life by marrying her changed Latifah's by giving her her first role on TV, on "The Fresh Prince of Bel-air." And this was before Will met his future wife.
Jada auditioned for "Prince of Bel-air," too, back in 1994. She didn't get the part, but she did catch Will's eye. The actor was married, but as soon as his divorce came through, he called Jada. He  asked her if she was seeing anyone, and when she answered "no," he told her: 
"Cool, you're seeing me now." 
Latifah and Jada's friendship has stood the test of time, and we look forward to seeing them together again on screen, ASAP.