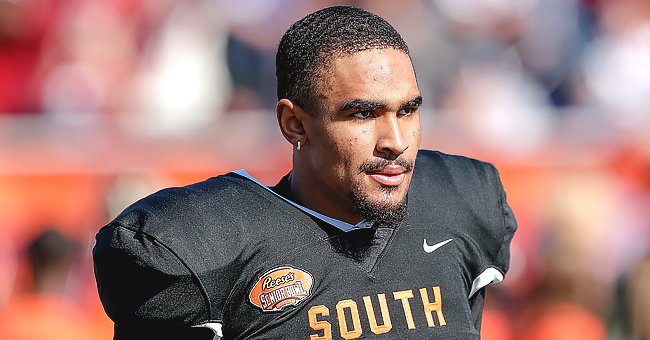 Getty Images
Jalen Hurts' Young Fan Alexander Gets the Attention of the Athlete – Inside Their Adorable Story

Eagles' 22-year-old quarterback Jalen Hurts discovers that he has a special young fan, 6-year-old Alexander, after a photo of the young boy's backpack with Hurts' name and number went viral.
Football quarterback Jalen Hurts has become a favorite NFL player for many, but he is much more for 6-year-old Alexander August. On July 26, a Twitter user, Nikki Godfrey, shared a photo of a cute vibrant blue backpack on her account and wrote:
"When everyone thinks your kid's name is #JalenHurts bc he loves @JalenHurts and had to have a backpack with his name on it ??‍♀️ #BoyMom."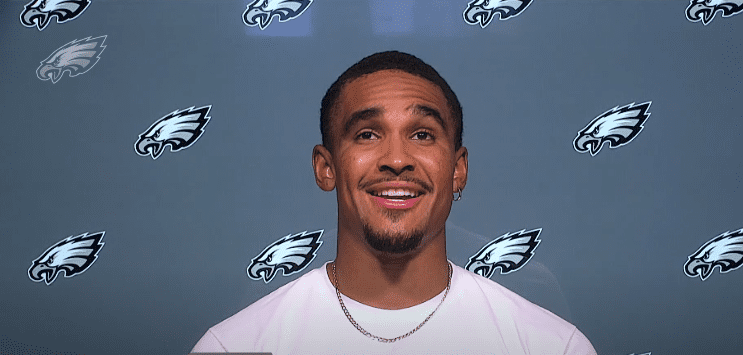 Photo of Jalen Hurts during an interview | Photo: Youtube / Philadelphia Eagles
The blue backpack was pretty regular if anyone wanted to ignore the fact that the Eagles quarterback's name and player number were boldly emblazoned on it.
Alas, the name on the backpack could not be ignored and soon caught the eye of Hurts himself. The 22-year-old sportsman became a fan of the 6-year-old and responded to Godfrey's tweet with a snap of his own blue backpack with Alexander's name boldly printed on it.
The mom of three boys replied to Hurts' tweet with a snap of Alexander and Brayden all smiles with the younger boy holding up a thank you card for the quarterback.
Hurts expressed how flattered he felt that he was able to touch the lives of many other young people like the charming Alexander.
Now, they were backpack twins and everyone was dying to know the story of the vibrant blue backpacks filled with love and adoration.
With the new school year setting in, Alexander's parents asked both of their sons, Alexander and Brayden, what kinds of backpacks they wanted.
Brayden, a die-hard Cam Newton fan, said he wanted a backpack that featured Newton, but his 6-year-old baby brother had something else in mind.
Veering from his brother's choice, Alexander asked his parents for a Jalen Hurts backpack. That would not have been an issue except for one tiny problem: Godfrey could not find one of such backpacks anywhere.
Determined to make sure her son got a backpack featuring his new favorite player, the mom asked their grandma for help, and together, they were able to make a custom backpack for the 6-year-old with a Cricut machine.
The little boy loved his backpack so much that he could not wait for school and debuted it as soon as he could during a family trip to the New Orleans Louisiana Children's Museum.
The snap of the backpack that went viral was taken at the museum when Godfrey noticed that everyone was referring to her young son as Jalen.
She found it funny, took a quick snap, and shared it with her 160 or so followers. And thus, the tale of two backpacks began.
On the Eagles' website, Hurts expressed how flattered he felt that he was able to touch the lives of many young people like the charming Alexander.
He was stunned to find out that his 6-year-old fan said he chose him as a role model because of his fighting spirit.
Hurts, who got benched at halftime during the 2017 National Championship Game, came back stronger and better two years later when he got a shot as a starter all over again at Oklahoma.
The grit and determination that Hurts exhibited made Alexander gravitate towards him and Godfrey could not be any happier that her son was able to identify with those qualities even at his age. For every parent, having their kid seek out good qualities and follow them is a blessing.
For popular figures like Hurts, knowing how much positive impact they make on other people means the world. Through this particularly brilliant 6-year-old, Godfrey and Hurts got to experience these feelings.
Please fill in your e-mail so we can share with you our top stories!