9 Awesome Classic Looks from Serena Williams for 2020 So Far
Serena Williams is not only known for her skillful play on the lawn tennis court, but she is also a fashion icon who keeps on serving amazing looks. Here are nine awesome looks from Serena Williams this year.
Having a good and fit body is a plus for anyone. While it is good to have the body, it is also important that one has a fashion style that is unique to them. Serena Williams might be known for her feats in tennis, but one thing cannot be ignored, and that is her high sense of fashion.
Over the years, she has served looks that are unique and personal to her, and in the year 2020, she has not failed to look as stunning and fabulous as she always does. Here are nine awesome looks from Williams this year.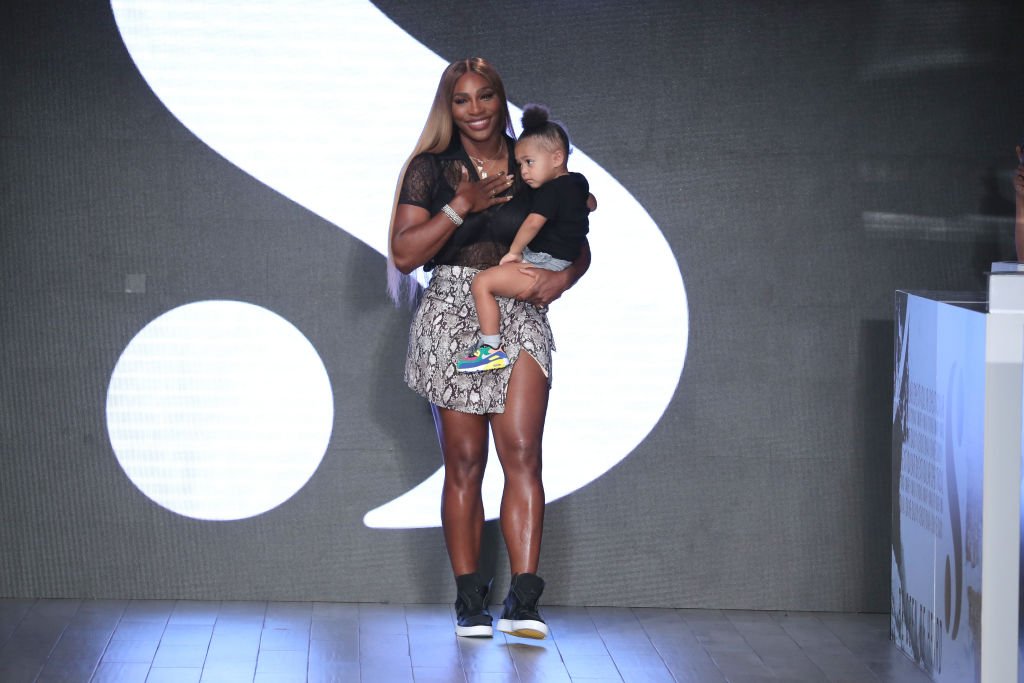 FLAWLESS IN WHITE
Different shades of color suit different skin tones, but it is almost impossible to go wrong with white. Williams shared a picture of herself donning a flowing white gown that hugged her fit body. 
The dress was a long white gown with a high slit up to her mid-thighs, and it was also long-sleeved. She finished off the look with silver stilettos and her long brown weave was packed in a ponytail.
MOTHER AND DAUGHTER
There is nothing as beautiful as a mother and daughter looking fabulous in similar outfits. In a picture she posted earlier in the year, Williams and her daughter Olympia looked great in their office outfits.
Williams wore a gray plaid outfit and leaned against an office desk while Olympia looked cute in her polka dot gown while sitting pretty on a chair close to the desk.
BOSS LADY LOOKS
Aside from rocking flowing gowns and sport outfits, Williams is also a pro when it comes to giving Boss Lady Vibes. She gave off this look while wearing a black and white patterned dress and posing with a telephone close to her ear.
LOOKING GOOD IN PRINTS
One interesting look from Williams this year was when she wore her stylish leopard-patterned print dress. The short dress was a tight, figure-hugging one that flaunted her curves in the right places.
MINI DRESSES ARE GREAT
Judging from the wide range of outfits and looks Williams has given, it is no wonder that she would pull off looking awesome in a mini dress. She rocked a wine and black polka dot mini dress, and her hair fell in beautiful tresses down her shoulders. 
RED AND BLACK
Last month, Williams shared a picture of herself looking chic as she rocked a red mini skirt and black top. The look was completed with high black boots and a red clutch purse.
SERENA UTILITY PANTS
Williams looked fabulous in her army green Serena Utility Pants. She paired the pants with a white long-sleeved blouse and finished off the look with her patterned heels.
SERENA WILLIAMS JEWELRY DRESS
Williams, who has her fashion brand, also models for it. In a crisp image posted to Instagram, she looked great in a purple and black dress. She accessorized the look by wearing a silver bracelet and a silver neckpiece.
BLACK AND BOLD
There is something beautiful about the color black and Williams proved that when she wore an all-black jumpsuit while giving off a cat-like pose.
The jumpsuit hugged her tight frame, and her golden brown weave fell to the back as she stretched out on the floor while posing for the camera.
Through it all, Williams has proven that there is no room for stereotypes, and one can look as amazing as they want to, provided that they are confident in who they are as a person.