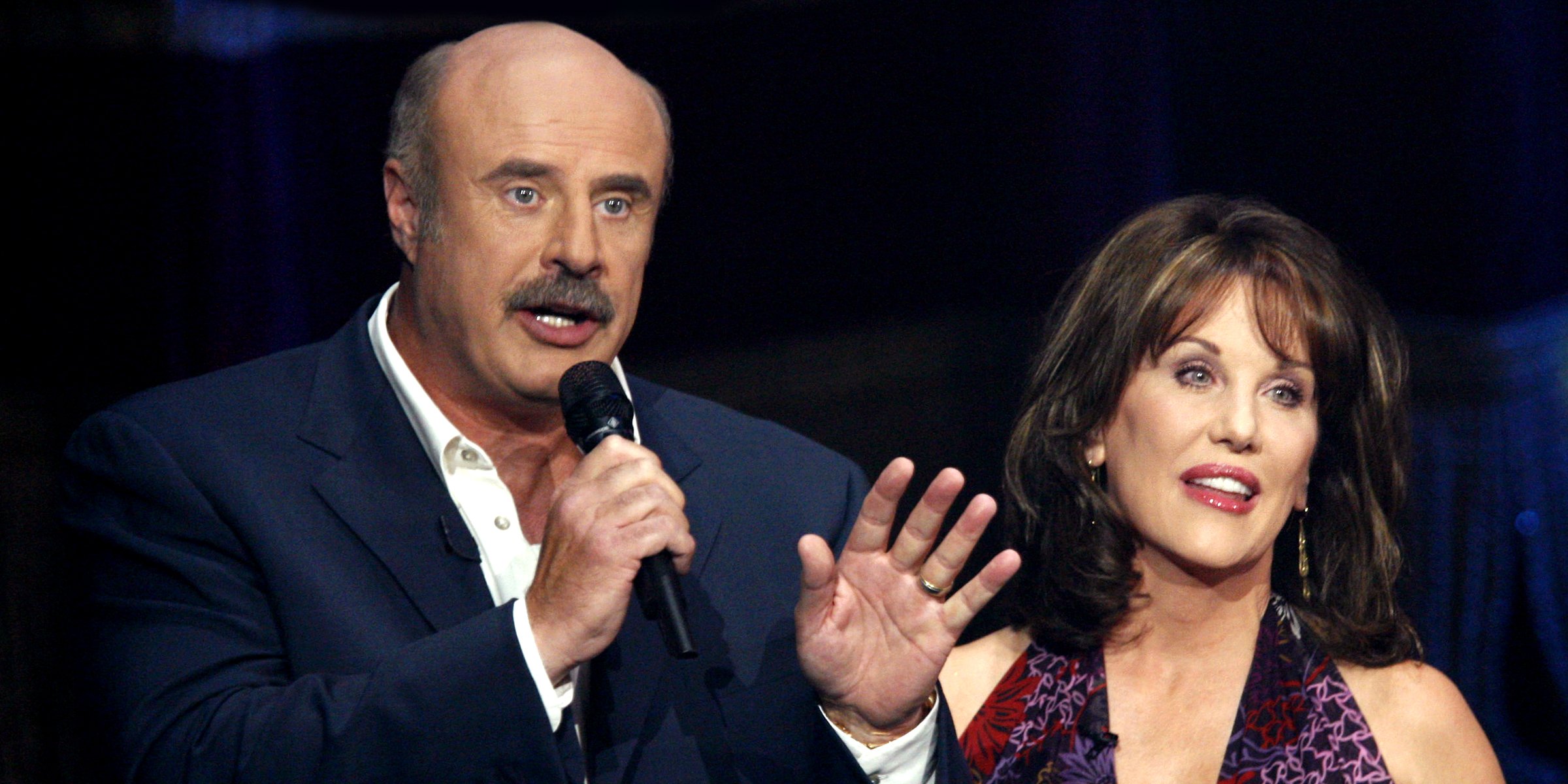 Dr. Phil and Robin McGraw, 2006 I Source: Getty Images
Why Is Robin Always on Dr. Phil's Show? The Famous Psychologist's Wife Has Never Missed a Taping
His decades-long career as a television therapist and life advisor has made him very wealthy, and now he gets to spend his days in a massive mansion with many amenities for him and his longtime wife to enjoy.
TV personality and psychologist Phil McGraw, known as Dr. Phil, has been a universally recognized figure for over two decades, and his career success has helped him make millions over the years.
His personal life is just as great with his wife of over four decades, Robin McGraw, who has stuck with him personally and professionally while building her career and making a name for herself.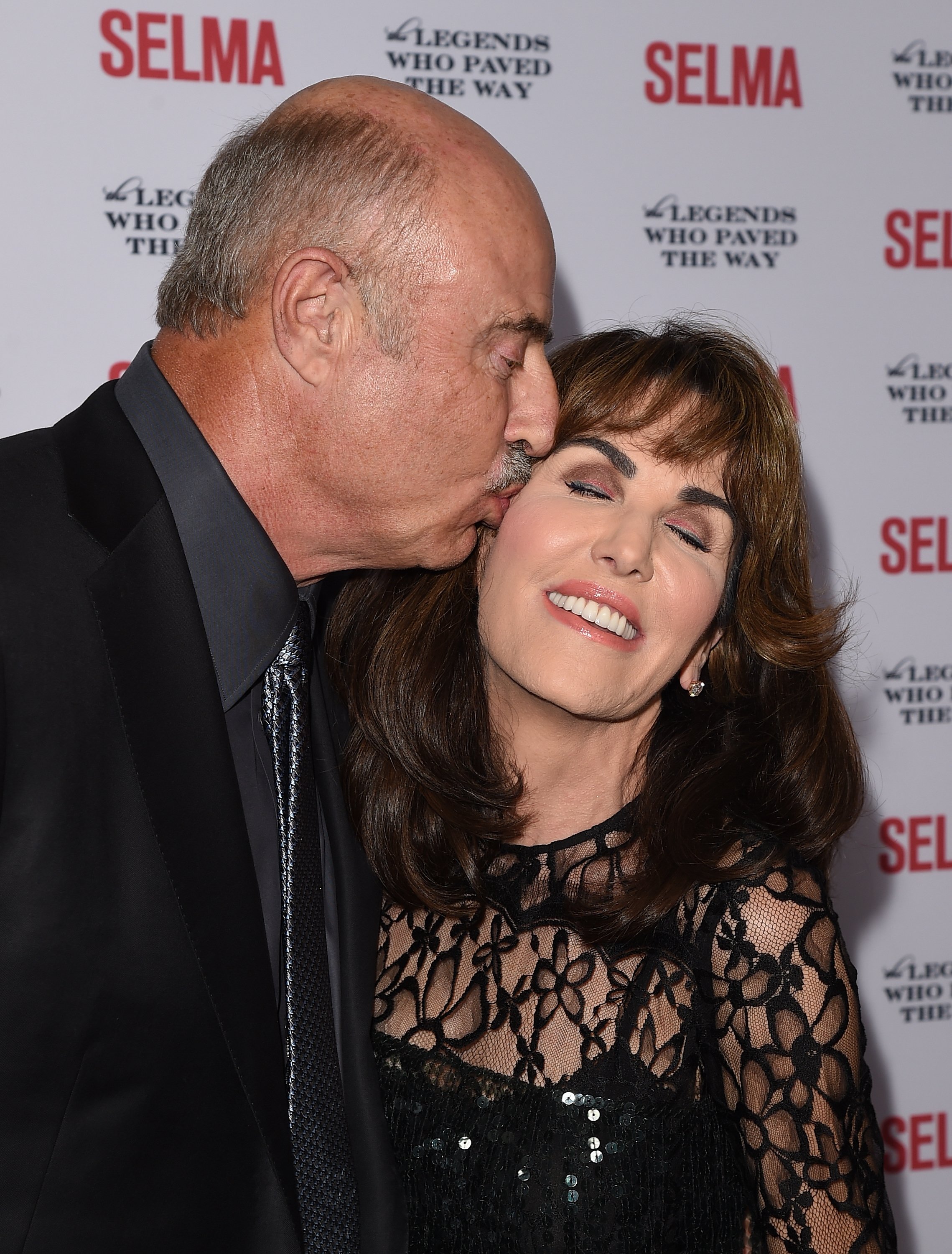 Phil McGraw and his wife Robin McGraw at Bacara Resort on December 6, 2014, in Goleta, California. I Source: Getty Images
Robin McGraw Has Been on "Dr. Phil" since the Very Beginning
Robin McGraw has been part of her husband Phil McGraw's popular "Dr. Phil" show from the start. The show has been around for two decades now, after airing its first episode in August 2002.
Robin has made it her mission to be an inspiration to women. Her role on the show has been to advocate for women, and her presence has benefited most viewers.
She usually shares her experiences as a wife and a parent with children and grandkids. Robin also offers women advice on the issues they face in the different phases of their lives.
Dr. Phil McGraw's wife is always by his side because she's "so proud" of him and could never miss a show. The talk show host also revealed on his website another routine that the husband and wife do on the show. He explained how the two always walking off the stage together came about. Dr. Phil explained:
"There's no big story. We were actually doing the first show ever, and they asked me, 'How are you going to get off stage? Well, why don't you walk down there and turn, right?' And I did. And Robin was sitting right there."
He further stated that it seemed "unnatural" to walk past his wife like he didn't know her, so he "instinctively" grabbed her and walked off. After that episode, they said he should keep doing it "because it looks normal."
The other thing he revealed about them walking off the stage together is that people usually asked him why he was "dragging" Robin so fast off the stage. Robin explained that she walks fast off the stage because she's "uncomfortable in front of the camera," so she wants to leave as quickly as possible.
Who Is Robin McGraw?
Robin McGraw was born in Los Angeles, California, on December 28, 1953. She's a philanthropist, TV personality, and bestselling author. Robin was also an actress and is known for her role in "The Bold and the Beautiful" in 1987. She also appeared on "Entertainment Tonight" in 1981 and "The Insider" in 2001.
She has built an impressive list of appearances in her career. Robin has been on other popular shows, including "The Doctors," "The Oprah Winfrey Show," "White House Christmas," "Larry King Live," "Late Show with David Letterman," "Access Hollywood," and more.
Being a sought-after public speaker is another thing to add to Robin's resume. Her most notable appearance was in 2012 when she spoke at Oprah Winfrey's O You! event, where she discussed hormones and other female health issues. She also headlined a year-long tour for the Women of Faith presentations.
The 68-year-old's also an author that has written two #1 New York Times bestselling books. She released her first book in September 2006, titled "Inside My Heart: Choosing to Live with Passion and Purpose." Some of her other books are "What's Age Got to Do With It?," "Christmas In My Home and Heart," and "Living Your Healthiest and Happiest Life."
Robin also started a podcast in September 2019 called "I've Got a Secret." She speaks to celebrity guests on various topics, from beauty to being an entrepreneur, and some of the guests she has featured include Carson Kressley and Daphne Oz. Plus, the 68-year-old's a philanthropist.
Her focus is on causes that help improve the lives of children and women. She's a board member of The Dr. Phil Foundation, a spokesperson for Court Appointed Special Advocates for Children, and worked with the American Red Cross National Celebrity Cabinet. Robin received recognition for her work with Starlight Starbright Foundation and the Westside Children's Center.
The Marriage
While Dr. Phil's marriage to Robin, his second wife, has gone on for 46 years and counting, his first marriage to Debbie Higgins only lasted for three years, which he attributed to being very young on his first attempt at a long-term relationship.
According to Higgins and she and Dr. Phil's friends and neighbors, he wasn't as invested in the marriage as Higgins was, and this is something he also came to realize, agreeing to divorce to let the two be free to pursue a better romantic life.
Dr. Phil returned to his hometown, Kansas City, where he soon fell in love with Robin, his sister's friend. However, he only found the courage to ask her out when he overheard her telling his sister that she also liked him.
Nevertheless, as things started to get serious between them, Robin was ready to make things official by marrying, something Dr. Phil was initially reluctant to do, which left her no alternative but to give him an ultimatum.
Dr. Phil and Robin finally exchanged vows in 1976, welcoming their son Jay in 1979, followed by Jordan, born in 1986.
The couple continues to live a happy life together, despite facing their ups and downs like any other couple. They have repeatedly proved the many ill-intentioned rumors about their marriage wrong again and again.
Robin and Dr. Phil revealed that the two met by chance in the 1970s. The husband and wife spoke about how they first met and shared exciting details about their first date.
They revealed that their first date was in a plane, which Dr. Phil was flying. Dr. Phil expressed at the time:
"She said she had never been up in an airplane, which I took as a dare. So I thought, 'Well, she wants to get her feet off the ground; we'll get her feet off the ground.'"
Robin said she believed in love at first sight and stated she "fell in love" the first night she met him. Dr. Phil opened up to Closer Weekly in 2018 about how they make their marriage work. He said they keep their marriage strong by him always saying, "Yes, Dear!"
On the other hand, his wife credits their shared values and openness for their long-lasting marriage. She further explained:
"I told him I don't live in a fairy tale, but I needed to be treated with dignity and respect."
Robin and Dr. Phil have since become proud grandparents to their three grandkids. Their first son Jay is a father to two kids, Avery and London, while their second born, Jordan, has a daughter named Row.
Dr. Phil and Robin have their dream home in Beverly Hills valued at around $30 million. He has shared it with his wife and the mother of his two grown children since 2011.
The 12,000-square-foot property sits on a large hill that, while keeping the couple away from Hollywood's rush, still offers a beautiful panoramic view of Los Angeles.
The house's interior has a European aesthetic, with a terracotta roof, massive columns, and wrought-iron balconies. It includes five bedrooms, nine full bathrooms, two half-bathrooms, a spacious kitchen, a home office, and several living areas.
The estate's outdoor area has a pool, beautiful landscaping, and a tennis court, so Dr. Phil and Robin have had lots of room to move around during the months the two have spent during the quarantine.
Spending so much time at home due to the COVID-19 pandemic made Dr. Phil appreciate it much more, and he has taken to his Instagram account many times to offer his fans a glimpse of his lavish home.
Please fill in your e-mail so we can share with you our top stories!