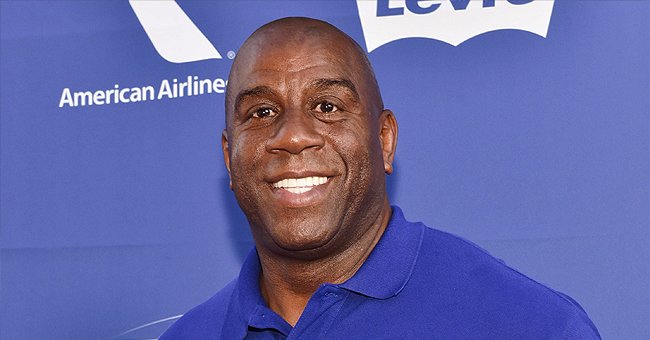 Getty Images
Magic Johnson's Son EJ Celebrates Friend's B-Day with Throwback Pic of Himself in Sheer Jumpsuit
Former basketball player Magic Johnson's son, EJ, looked smashing in a recent photo of him wearing a stylish sheer jumpsuit and posing with a friend.
Former basketball player Magic Johnson's son, EJ Johnson recently stunned fans in a new photo posted on his Instagram story. Donning an all-black ensemble, the smashing EJ wished his friend a happy birthday and wrote:
"Happy birthday to my soul sista girl @ezrajwilliam thank you for always filling my life with love, light and beauty I love you ?❤️?."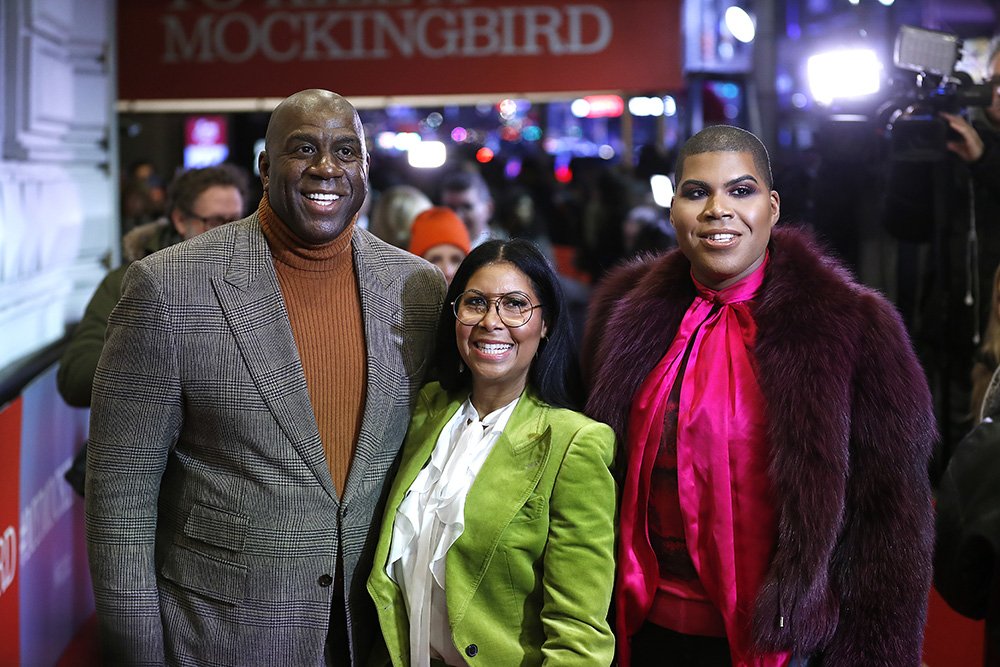 Magic, Cookie and EJ Johnson attend the Broadway opening night of "To Kill A Mockingbird" on December 13, 2018 I Photo: Getty Images.
EJ wore a stylish black jumpsuit that showed off a daring amount of skin. He paired the sheer number with a barely-there pair of matching black shorts and a black belt.
The shoes of the day were a stunning black pair of heels and accessories were kept at a bare minimum. With a made-up face, EJ looked fabulous.
Beside him stood his friend, Ezra William, whose birthday was being celebrated. William was also dressed in black with polka dot details to elevate the look. Both friends looked great.
EJ admitted that most of the men he met were not particularly as crazy about him as they were about meeting his celebrity father.
EJ seemed to be having a great time and from the looks of his social media, he is also surrounded by great friends that he loves and appreciates very much.
Years ago, the 28-year-old came out as gay. In a tell-all conversation on "Red Table Talk" hosted by Jada Pinkett Smith, he revealed that dating had been challenging for him in the past couple of years. He said:
"...There's [sic] so many factors. First of all, the celebrity thing — who are you here for, are you dating me or are you trying to date my dad?"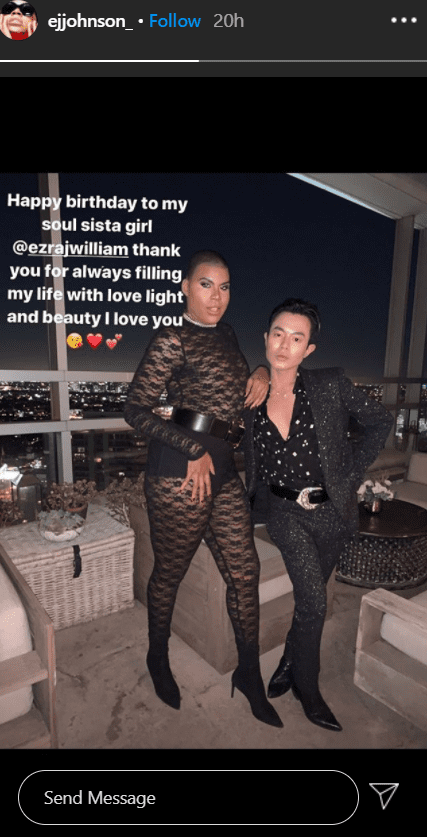 EJ Johnson poses with his friend, Ezra William. | Photo: Instagram: Instagram/ejjohnson_
EJ admitted that most of the men he met were not particularly as crazy about him as they were about meeting his celebrity father, the iconic basketball legend, Magic Johnson. In the end, they ended up wanting to ride that wave and not stick around for a real relationship.
He also revealed that dating so far had never gotten to the point where he felt like his partner needed to meet his family. Anytime things seemed to be getting serious, something would always happen and cut that hope short.
EJ's mom, Cookie, who was also present in the episode, revealed that when she found out that her son was gay, it was tough to have her husband accept it.
Cookie admitted that they first tried to keep it away from Magic until they had to tell him. The former athlete's wife described him as a person who reacted quickly and said everything that came to him right off the bat.
He just let it all out and in the process, hurt everyone's feelings. Cookie had a heart-to-heart talk with her husband and told him how wrong he had been.
The next day, he walked into his son's room and embraced him with all the love and support in the world, and they even cried happy tears together. Years later, the bond between both parents and their son has strengthened beyond measure.
As for EJ, he believed that he did not need to transition because he was in the right body. He has become an epitome of self-confidence and true fashion, and he would not have that any other way.
Please fill in your e-mail so we can share with you our top stories!