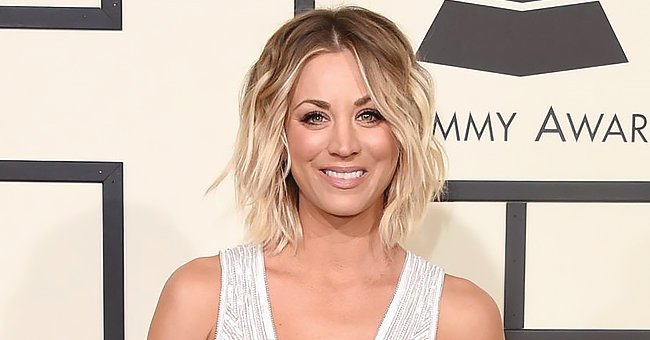 Getty Images
Here's What Kaley Cuoco Said after Criticism for Wearing a Mask during Workout Amid Pandemic
"The Big Bang Theory" star Kaley Cuoco clapped back at social media users who criticized her for wearing a mask while working out, deeming it "unhealthy."
Kaley Cuoco is delighted that filming resumed on the HBO Max series she currently stars in called "Flight Attendant," but the week's joy also had a dash of negativity, which she took care of rather swiftly.
Sharing how she stays in shape amid the novel coronavirus, Cuoco posted a video of her "newest" craze, but not everyone agreed with how she went about it. Nonetheless, she put the record straight.
At the beginning of the week, Cuoco shared a workout video wherein she wore a face mask in addition to the usual workout clothes even though she was all by herself in a hallway. Giving a glimpse into her daily life, she wrote:
"My newest obsession during COVID/quarantine! All you need is 20 mins, a jump rope, and good music !"
Cuoco, who played Penny in the beloved long-running sitcom "The Big Bang Theory" received a flurry of supportive messages following the post, but it also included those who criticized her for wearing a mask while working out: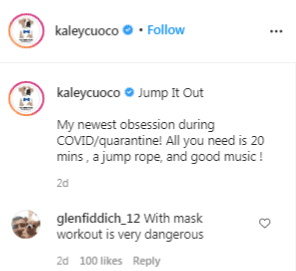 Comment from a social media follower on a workout video posted by Kaley Cuoco on September 7, 2020. | Source: Instagram/kaleycuoco.
According to the CDC, multilayered masks work well to prevent the spread of the respiratory disease, and they specifically mentioned the conditions under which people should avoid wearing a mask.
While anyone over the age of two should wear a mask, it should not include those who can not remove the mask unassisted or those who develop or have difficulty breathing. Children under the age of two should also not wear a mask, according to CDC's website.
The 34-year-old actress didn't let the comments slide, and she quickly made her feelings known with a response and wrote in her defense: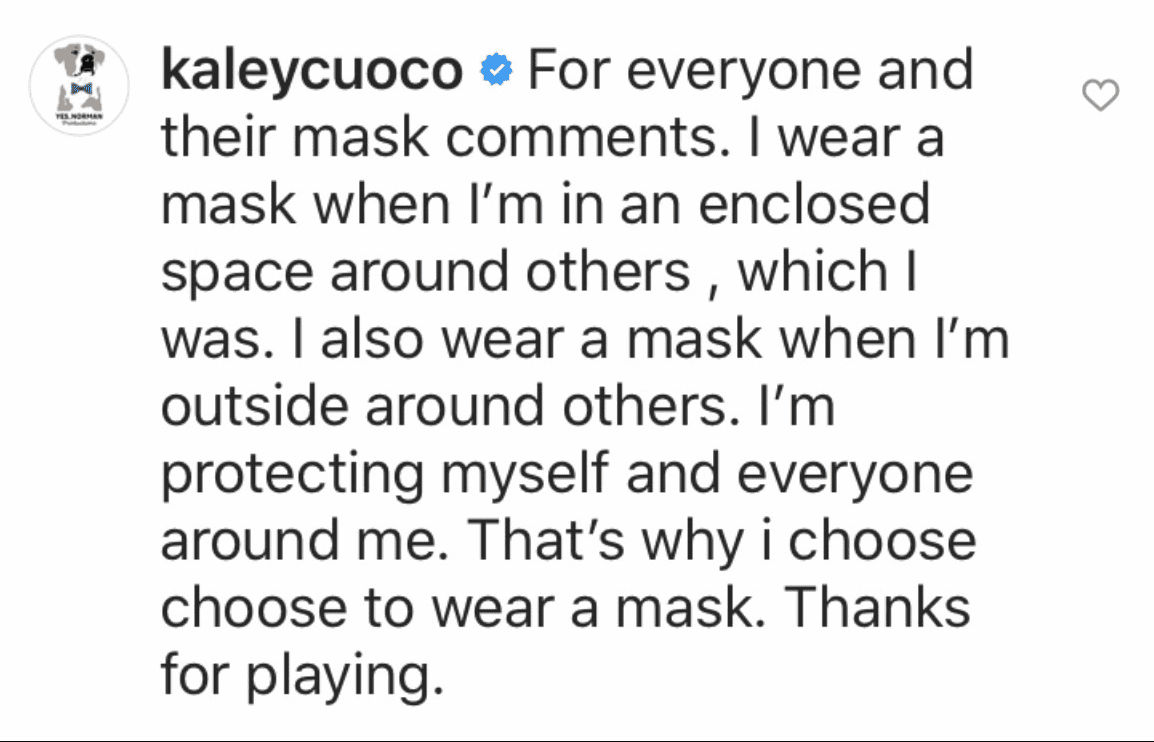 Kaley Cuoco claps back at a social media user for his negative comment on her exercise video. | Source: Instagram/kaleycuoco.
WHEN THINGS COME FULL CIRCLE
However, as filming on her HBO series resumed in New York earlier this week, it also brought along with it serendipity, and she couldn't help but share.
While on location on Wednesday, the actress walked to her dressing room only to find a framed poster of the movie "Picture Perfect" starring Jennifer Aniston right outside her door.
Not only was the production of the first she ever got cast in, but Jennifer Aniston was a big icon for her at the time since she was a big "Friends" fan.
But Cuoco was not the show's only big fan, and when "Friends" announced their "Reunion" sequel they were over the moon, including the cast who previously expressed interest in coming together again.
However, Jennifer Aniston recently shared that the production of the show is delayed due to the novel coronavirus, with no official date scheduled to pick up filming again.
Please fill in your e-mail so we can share with you our top stories!