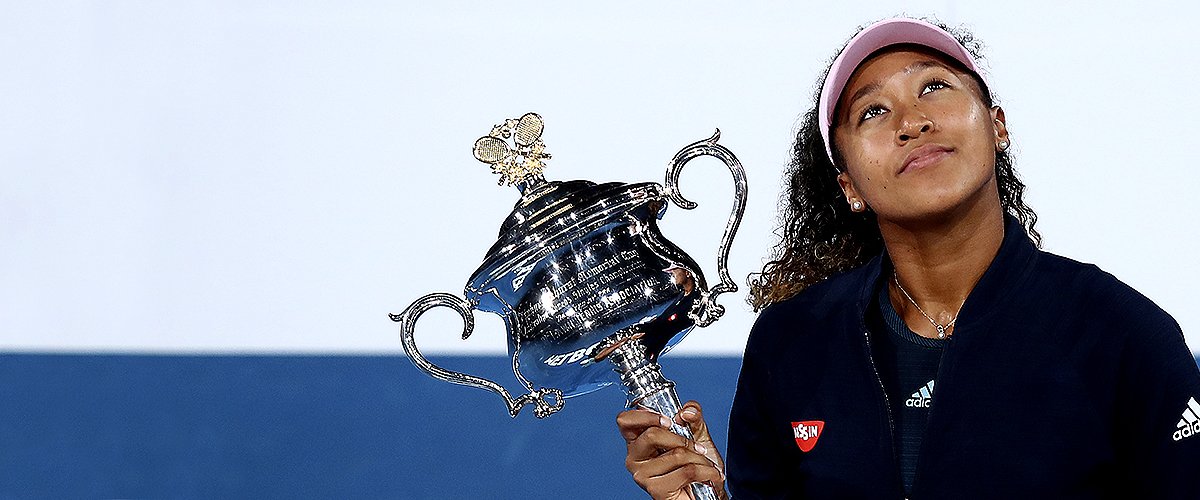 Getty Images
Naomi Osaka and YBN Cordae Have Been Dating since Last Year — Meet the Handsome Rapper
Over the past few years, rising tennis superstar Naomi Osaka has dominated the headlines with her exploits on the court. However, in the last few months, much of the attention has been on her relationship with rapper Cordae.
The 2020 US Open tennis tournament commenced on Monday, August 31, and fans have been thrilled by the exceptional talents on display despite the notable absence of the 2019 US Open champions Rafael Nadal and Bianca Andreescu.
While the men's defending champion Nadal withdrew from the tournament due to health concerns amid the ongoing novel Coronavirus pandemic, women's champion Andreescu cited a lack of proper preparation due to the global health crisis.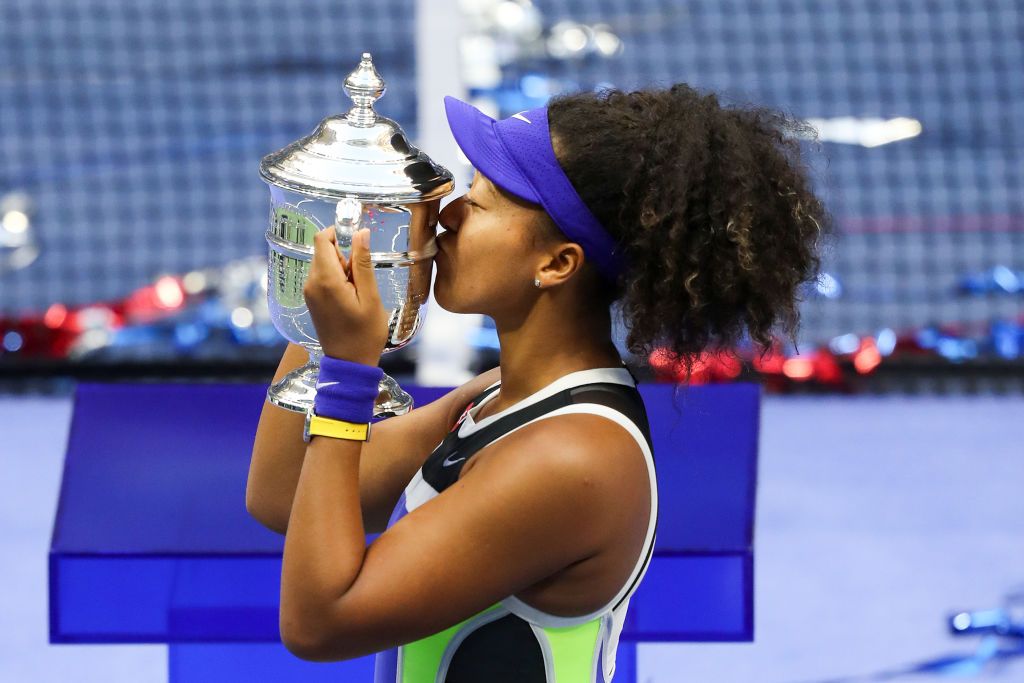 Naomi Osaka kissing the U.S. Open 2020 trophy after winning her Women's Singles finals match against Victoria Azarenka at the USTA Billie Jean King National Tennis Center in New York City | Photo: Getty Images
Despite their absence, the USTA Billie Jean King National Tennis Center was still graced by skilled competitors, including the sensational Naomi Osaka. The 22-year-old tennis star boasts an impressive record of five titles of the WTA despite turning professional barely seven years ago.
Osaka set up a final showdown with Victoria Azarenka at this year's tournament after defeating Jennifer Brady at the semi-final. During her match with Brady, she was passionately cheered to victory by her boyfriend, Cordae.
While fans were not allowed in attendance at this year's US Open, the rapper was permitted into the stands as Osaka's guest.
MEET NAOMI OSAKA'S BOYFRIEND CORDAE
Naomi Osaka's boyfriend was born Cordae Dunston in 1997 in Raleigh, North Carolina, but his family later moved to Suitland, Maryland. Cordae picked an early interest in music as he grew up listening to classic hip hop from artists such as Nas, Talib Kweli, Rakim, and Big L.
Cordae began writing rap lyrics while he was in high school but only saw it as a hobby because his focus remained on his education. After graduating from high school in 2015, the talented rapper proceeded to college but never completed his education.
In 2018, he dropped out of Towson University and claimed college was "bigger than him" and that he only went there to make his mom happy. He moved to Los Angeles shortly after and began performing using the stage name, Entendre.
CORDAE'S RISE TO STARDOM
The 23-year-old rapper gained public attention when he released creative remixes of OG classics such as Eminem's 1999 hit song "My Name Is." He also released a response to J.Cole's single "1985."
Videos of the two remixes were uploaded to the WorldStarHipHop's YouTube channel, and they immediately went viral, further launching him into public consciousness. He also received positive reviews from the online rap community and mainstream media.
In 2018, Cordae became a member of the YBN collective alongside YBN Nahmir and YBN Almighty Jay. He subsequently changed his stage name to YBN Cordae.
Barely a year after he began his music career, Cordae released his debut studio album "The Lost Boy" on July 26, 2019. Cordae has been widely lauded for his unique rap style, and he is fondly described as the "middleman" of the rap genre, with his music described as a bridge that connects the old school with the new school. During a 2019 interview, Cordae explained his outlook on rap music. He said:
"This art form is about having fun and expressing yourself. When it is just a job, then that takes the whole kick out of it [for the fans.]"
While Cordae's music can be goofy and playful, the rapper is quite adept at switching things up and throwing much darker tunes as he did in his song "Kung Fu."
Cordae's debut album was an all-round success, and his spirited brand of rap has endeared him to many. He received a nomination for Best Rap Album at the 62nd Grammy Awards.
In August 2020, the young rapper changed his name for the second time in his career following the announcement of the YBN crew split. He dropped the "YBN" tag and officially became known as Cordae. The break-up of the group was first announced by its founder YBN Nahmir via Twitter.
CORDAE'S LOVING RELATIONSHIP WITH NAOMI OSAKA
Apart from making a blistering start to his music career, Cordae also has everything running smoothly in his love life. The rapper began dating tennis superstar Naomi Osaka in 2019, and the duo has managed to keep their romantic life private despite enjoying continuous media attention.
The cute couple reportedly met during a 2019 Los Angeles Clippers game. Cordae revealed he was not a big tennis fan and so he had no idea who she was when they met. However, he has since become an ardent follower of the sport and regularly supports his girlfriend from the stands during games.
Since they began dating, Cordae and Osaka have been notoriously private about their romance. Still, fans got a sneak preview into their loving relationship when Osaka posted a heartfelt tribute to her rapper boyfriend in September 2019.
Last month, Cordae celebrated his 23rd birthday, and Osaka showed that they were still very much in love with a sweet birthday message. While sharing a cute picture of her and Cordae on Instagram, she wrote:
"I always feel so lucky to be in your life and to be continuously learning from you. I'm so grateful that I can talk to you about anything and ask for advice (cause you know I need all the help I can get lol)."
On his part, Cordae is not shy about letting the world know how much he loves Osaka. Earlier in the month, Cordae took to his Instagram page to share loved up photos with the former world number one.
The duo is winning many fans with their show of love and support for each other. It may still be early days in their relationship, but their fans are loving their every move.
MORE ABOUT NAOMI OSAKA
Osaka was born on October 16, 1997, in Osaka City, Osaka, Japan. She was raised in the United States but holds Japanese citizenship and opted to represent Japan on the court.
Naomi Osaka's parents Leonard Maxime Francois and Tamaki Osaka, are from Haiti and Japan, respectively, and got married in the 1990s despite great resistance from Tamaki's family.
Osaka relocated to the United States with her family when she was three and immediately picked interest in tennis. Despite not having any prior tennis experience, Osaka's father Francois, began training her as a child after watching the Williams sisters dominate the sports.
Since becoming a professional tennis player in 2013, Osaka's parents have been her biggest and loudest fans. After Osaka beat Serena Williams in 2018 to win the US Open, she headed straight to her mom, and the two shared a long embrace.
In 2019, Osaka proved that her victory over Williams was not a fluke as she won her second Grand Slam title at the 2019 Australian Open. The back-to-back Grand Slam wins helped her to the number one spot in tennis.
Her success has placed her in Japanese history and made her an inspiration for many young girls back home. Without a doubt, Osaka was surrounded by supporters at every turn.
Please fill in your e-mail so we can share with you our top stories!