Carrie Underwood's Husband Mike Fisher Gushes over Her Triumph after the 2020 ACM Awards
Mike Fisher has been nothing short of supportive to his wife, Carrie Underwood, over the years. He has taken to Instagram to show this once again as he celebrates her ACM Awards win.
Mike Fisher posted a picture of his wife, Carrie Underwood, receiving the award for the Entertainer of the Year. The post was captioned:
"Wow what a night! Congrats @carrieunderwood I'm so proud of you for working so hard and using your gift for His glory!"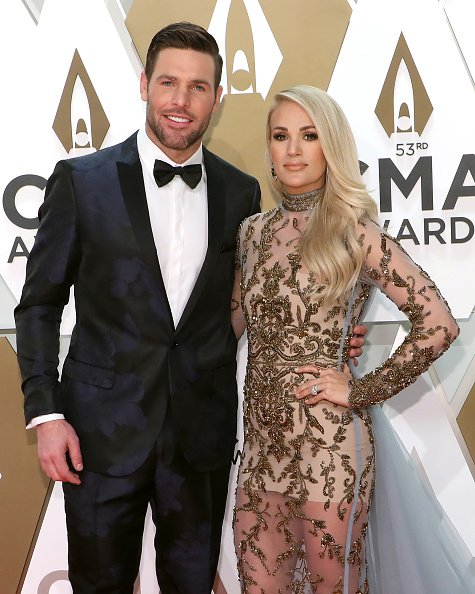 Underwood was shown wearing a glittery black gown with a thigh-high slit. The gown had puffy sleeves and a full round neckline while her bold earrings and black heels finished the look.
Fans were excited for Fisher as they sent in congratulatory messages. Many said they had been waiting for the award and that it was well deserved while others were proud of the couple's faith.
A certain fan said she got carried away with Underwood's toned legs while another said she sealed the win with her performance at the Awards show. A couple of people also had questions about the award resulting in a tie.
The couple suffered three miscarriages before they had their kids.
This sentiment was shared by various fans on Twitter after the pictures of the joint winners were released by the Academy Country Music Awards official Twitter page.
The comments ranged from Underwood deserving the award to theories about male domination. Several acknowledged that the other winner, Thomas Rhett, was a great singer who had an amazing year.
The 37-year-old was the only female nominated for the male-dominated Entertainer of the Year award. She also delivered breathtaking performances at the awards.
Her opening act was a rendition of her hit song, "Before He Cheats" from her first album, "Some Hearts." She went on to pay tribute to the female Grand Ole Opry members in celebration of Opry's 95th anniversary by singing a beautiful medley of their songs.
The "American Idol" star has had her family's support with her husband making major compromises for her career. The same goes for Underwood, as she reportedly had to tweak her style of music and performance in order to meet Fisher midway.
The couple reportedly had to work around a lot of differences, such as Fisher's love for family and Underwood's initial disinterest in having a family. This changed after the country singer had her first child, Isaiah.
Fisher and Underwood have two sons who are reportedly their world as the couple suffered three miscarriages before they had their kids.