'OutDaughtered' — Busby Quints Look Incredibly Adorable in Striped Dresses as They Hold Brooms
The "Outdaughtered" brood were a charming bunch as the held brooms in a new snapshot shared on social media. The famous quints had fans drooling in numbers as always.
In April 2015, Adam and Danielle Busby broke the record for being the first people to be parents to all-female quintuplets and ever since they have been busy raising their cute girls and building their lives together.
Adam and Danielle Busby's famous quintuplets stole fans' hearts in a new snapshot shared to Instagram. The girls were all shades of adorable as they posed at the back of a trailer with cleaning equipment in their hands.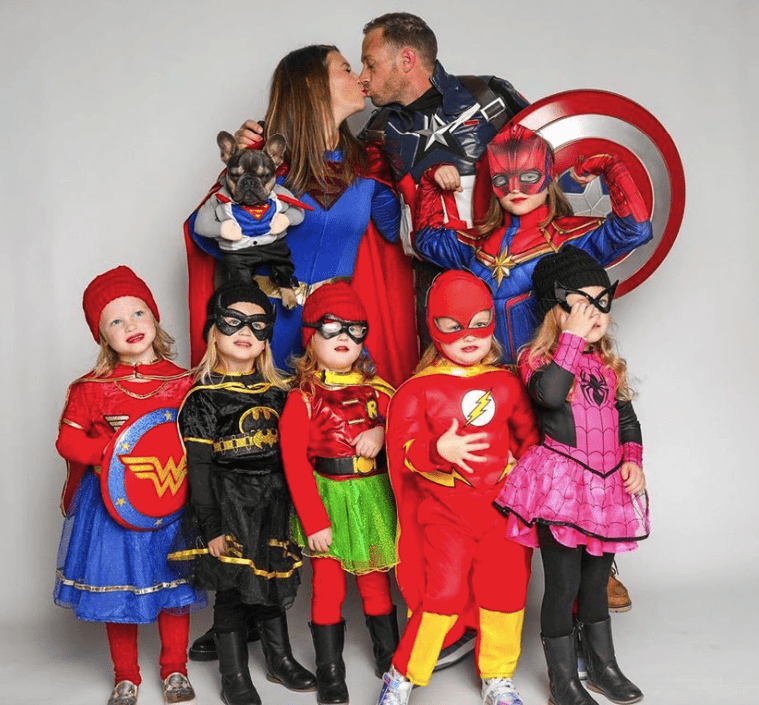 The not-so-little toys rocked similar striped dresses with their blonde tresses styled in french twists. The caption informed fans of what the little celebrities were up to:
"Lake Charles donation drop off at the Quints school yesterday, so many amazing things! Thank you, everyone, who donated…"
The caption let fans know that the Busby's had the donation items delivered while beckoning on families in need to visit CrossRoads Moss Bluff for items.
As of June, updates on the Busbys showed that their home was still under construction.
Fans in the comments could not get enough of how appealing the quintuplets looked as they fanned over them and shared their admirable thoughts.
Last month, the "Outdaughtered" personalities and their parents took cover in their Houston home following the effect of Hurricane Laura. In one of his media updates, the family's patriarch, Adam Busby, reassured fans that his loved ones were doing fine.
The star dad informed fans that their house was getting boarded up while his parents and sibling were home with him. Adam shared that the house was stocked up with necessities until the weather mishap died down.
On her Instagram story, the quintuplets' mom, Danielle, shared a prayer message for the Lake Charles residence as she showed gratitude that some people were able to be evacuated.
As of June, updates on the Busbys showed that their home was still under construction. However, the family is content with staying at their temporary house, which is a 10-minute drive to their home.
During her media update, celebrity mom, Danielle, shared a photo of her luxury kitchen, which is yet to be completed. The 36-year-old lightly called it a construction mess. Although the mansion still needs to have a lot of things in place, it looked to be turning out as expected.
When the novel Coronavirus outbreak was declared a pandemic earlier this year, Adam and his wife took it upon themselves to sensitize their daughters on the importance of staying safe. 
In one of the "Outdaughtered" episodes, the star parents had a fun and educative session where the quintuplets and their older sister, Blayke, paid undivided attention on how to stay safe.