Yolanda Hadid Is a Grandma-In-Waiting as She Proudly Shares Photos Hugging Gigi's Baby Bump
Soon-to-be grandmother Yolanda Hadid shared a heartwarming photo of her hugging daughter, Gigi Hadid's baby jump as the family waits for their unborn "angel."
While the world is eager to see the beauty Gigi Hadid and Zayn Malik bring into the world, no one is as excited as the waiting grandmother, Yolanda Hadid.
Over the weekend, Yolanda showed fans how expectant she was for her grandchild with a series of lovely photos of her doting on a pregnant and glowing Gigi.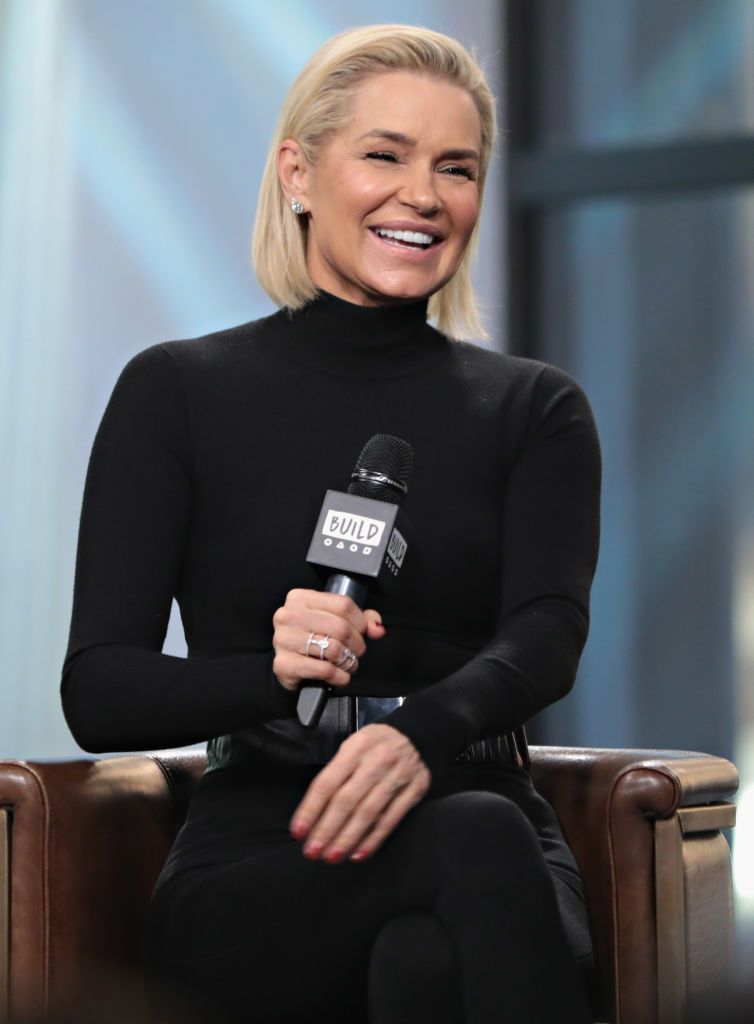 In the first slide, "The Real Housewives of Beverly Hills" was seen cradling her daughter's baby bump as she knelt and rested her head on it.
The 56-year-old showed off her youthful glow in a casual ensemble of white jeans and a colorful sweatshirt as her hair was braided to the back.
Gigi, on the other hand, exuded pregnancy glow in a sweater over a white-shirt and joggers, as she and her mom both smiled at the camera.  The second slide gave fans an up-close glimpse at Gigi's burgeoning bump as four hands cradled it. The sweet photos were captioned: 
"Waiting patiently for her angel to be born......"
The heartwarming photo received thousands of likes and comments from fans who couldn't help but gush over the cute picture. Other users declared how loved the baby would be.
Yolanda's post with Gigi comes days after she paid a touching tribute to her boyfriend, Joseph Jingoli, on his birthday.
The lovely image came amid speculations that the renowned model had already welcomed her child with Malik. Last week, the 25-year-old dispelled the rumors with a series of cute photos showing her bump at 27 weeks.
The supermodel was seen rocking a black crop top and sweatpants with a cream bucket hat in the post. The first snapshot was a close view of the freckles of her bump while the second showed her full outfit and her stomach from the side.
The rumors first surfaced after younger sister Bella Hadid shared a cryptic post. The 23-year-old drove fans wild when she shared an outdoor throwback photo of her and Gigi holding their bellies as they enjoyed the sunset. However, neither of the parents have officially confirmed the birth of their child.
Yolanda's post with Gigi comes days after she paid a touching tribute to her boyfriend, Joseph Jingoli, on his birthday. She uploaded a sweet photo of them dressed in stylish ranch clothes and another of her man on a horse.
In the accompanying caption, the former model described the businessman as her "true love" and concluded the tribute, calling him a blessing in her life.
Jingoli is Yolanda's new beau after two failed marriages to David Foster and Mohamed Hadid. During her marriage to Mohamed, Yolanda welcomed three kids, Gigi, Bella, and Anwar.
The family tree extends further as Gigi also has two older paternal half-sisters, Marielle and Alana, from her dad's first marriage.