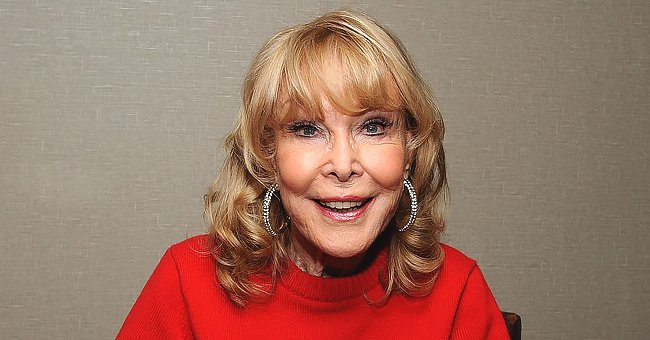 Getty Images
Barbara Eden Celebrates 'I Dream of Jeannie's' 55th Anniversary with Special Audio on Instagram
Barbara Eden commemorated "I Dream of Jeannie's" 55th year with a voice recording, recreating her iconic role on the show.
Barbara Eden will always be remembered for her legendary role as the titular character in the famous sitcom, "I Dream of Jeannie," which first hit the screens on September 18, 1965.
In celebration of the hit series' 55th anniversary, the actress posted a sweet tribute that made fans nostalgic as it brought them back to the iconic first episode of the show.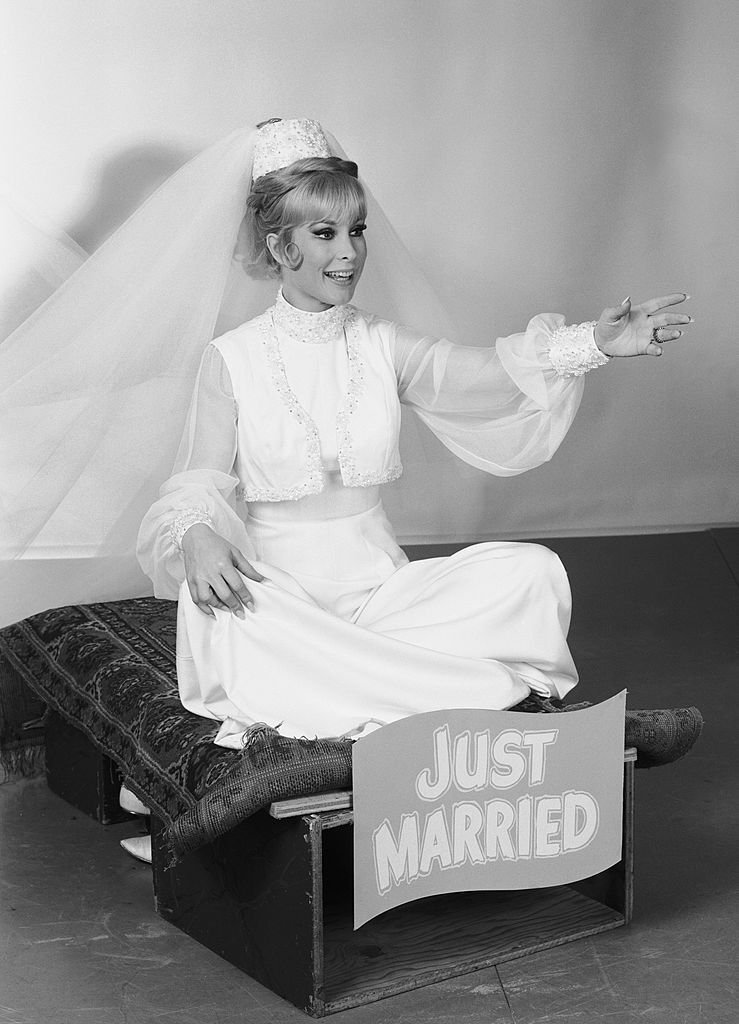 Barbara Eden on Episode 11 of "I Dream of Jeannie," which aired on December 2, 1969. | Source: Getty Images
In her Instagram post, Eden shared a long video that began with a picture together with her late co-star, Larry Hagman. She wrote in the caption:
"Sit back and listen as Barbara Eden, with a blink and a nod, brings back America's beloved Jeannie and takes us back to the desert island where it all began."
The following minutes featured a special audio recording of the star, voicing over the show's first episode, titled "The Lady in a Bottle." Her sequence begins with Jeannie's perspective, lonely in the desert island, before meeting her master.
Avid viewers and fans of the show were quick to comment words of praise and show gratitude to the woman who played their favorite character. One comment commended the actress for her sweet voice that instantly put images in her audience's heads.
In 1977, Hagman landed a lead role in the series "Dallas" and re-launched his career.
Other fans shared how they recalled the first episode like it just aired -- when astronaut Tony Nelson came to the desert and released Jeannie's from her bottle after 2,000 years.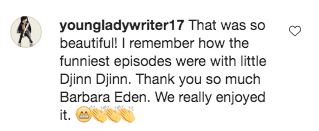 Screenshot of comments on Barbara Eden's Instagram post. | Source: Instagram.com/OfficialBarbaraEden
"I Dream of Jeannie" aired for five seasons and earned Eden two Golden Globe nominations for outstanding performance, which she executed while pregnant with her first and only child.
The actress welcomed her son, Matthew, on August 29, 1965, eight months after the show's pilot was filmed. By the end of the first 13 seasons, the star was already showing and had to be covered for her role.
Eden had difficulty getting pregnant with her then-husband and fellow actor, Michael Ansara, when suddenly two blessings came all at once -- the pilot's approval and her pregnancy.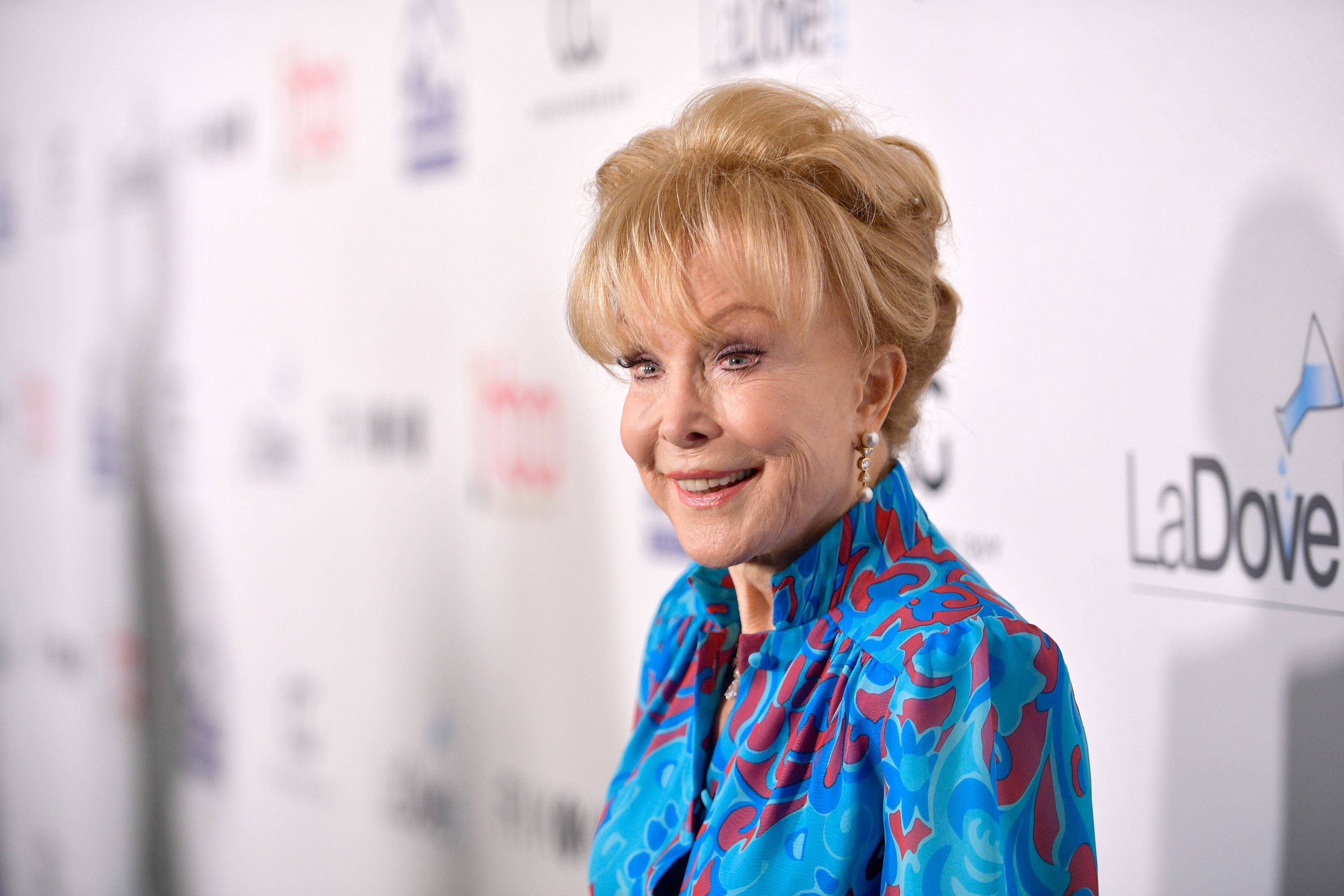 Barbara Eden during the 4th Hollywood Beauty Awards at Avalon Hollywood on February 25, 2018 in Los Angeles, California. | Source: Getty Images
Eden's leading man in the show, Hagman, who played Nelson, also gained fame because of his breakthrough role in "I Dream of Jeannie." Sadly, his career spiraled down soon after.
In 1977, Hagman landed a lead role in the series "Dallas" and re-launched his career. To this day, he is most recognized for his character, JR, on "Dallas." A little over ten years later, the actor was diagnosed with cirrhosis of the liver, followed by a cancerous tumor.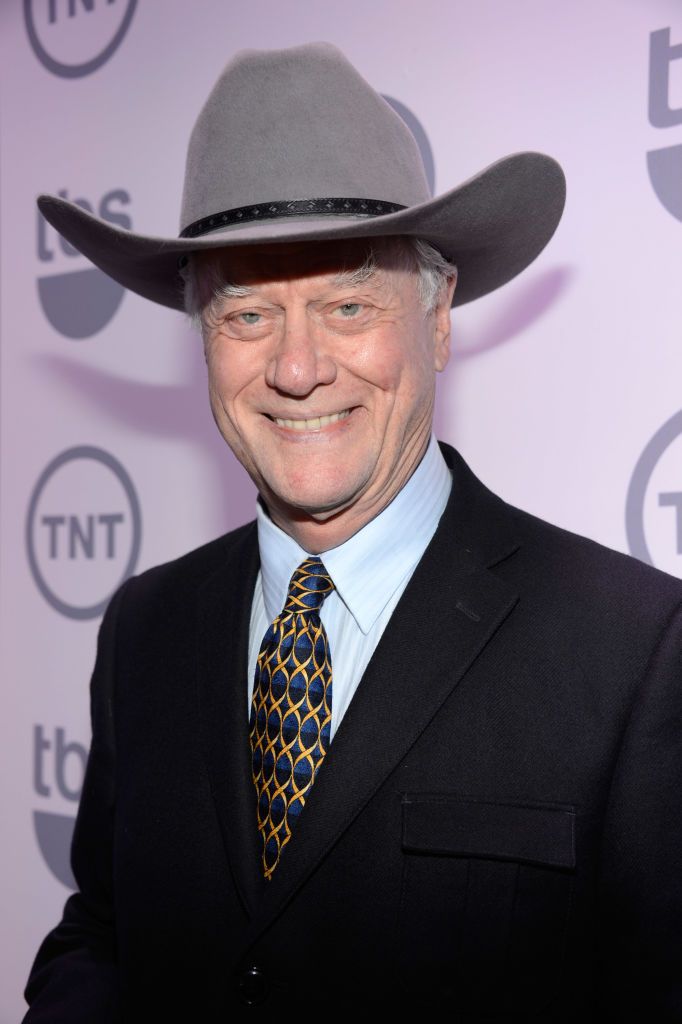 Larry Hagman during the TNT/ TBS Upfront 2012 at Hammerstein Ballroom on May 16, 2012 in New York City. | Source: Getty Images
He was able to recover well after his kidney transplant but was diagnosed with throat cancer in 2011. The following year, his illness returned. Hagman died at the age of 81 due to Acute Myeloid Leukemia.
Please fill in your e-mail so we can share with you our top stories!