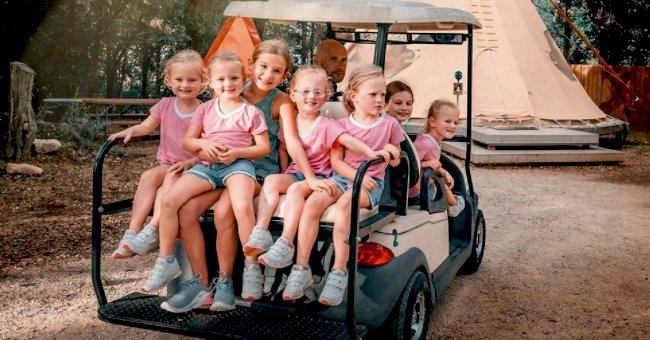 instagram.com/itsabuzzworld
Busby Family Shows Daughter Hazel Getting New Lenses & Fans Are Charmed by Her Smile
The Busby family recently uploaded a photo on social media that shows Hazel getting a new pair of lenses. Fascinated by Hazel's smile, fans were quick to praise the charming girl.
In the adorable snap shared on the family's Instagram account, It's A BuzzWorld, on September 18, Hazel, who has an eye condition called Nystagmus, can be seen with her mother, Danielle Busby.
The little girl's eye condition makes her have uncontrolled eye movements. Her eye condition, which has noticeable effects on her development, has required her to go through surgery and routine checkup.
Nonetheless, in the photo's caption, the famous family assured fans that everything is alright. Hazel and her mom had to visit the doctor for some minor adjustments with the girl's existing prescription.
The family added that Hazel got her lenses during their latest visit to the doctor's clinic. As shown in the photo, Hazel is still using her old frames, but she now has a fresh pair of lenses.
Having America's first set of all-female quintuplets plus an older sister, the family's life has captivated people.
Hazel is definitely rocking in them. As for fans, they are relieved to know that the little girl is doing fine. They also could not help but praise her smile in the photo.
One person wrote that Hazel has the most beautiful smile. Another added that she is a little charmer. Someone else commented: "Look at those beautiful teeth! She's so pretty."

Screenshot of comment from the photo shared on Instagram account, itsabuzzworld, on September 18, 2020. | Photo: Instagram/itsabuzzworld
During season 2 of "Outdaughtered," Danielle and her husband Adam Busby talked about their daughter's surgery. Danielle said at the time that the surgery would not really fix her vision but it would correct the placement of where her eye goes to focus better, so she does not have to turn her neck.
Besides Hazel, Danielle and Adam are also doting parents to Ava, Olivia, Riley, Parker, and Blayke. Having America's first set of all-female quintuplets plus an older sister, the family's life has captivated people.
Meanwhile, retailer Target holds a special place in their hearts. In fact, the couple made sure to buy their supplies from the store when they decided to transform their backyard into a staycation paradise.
Adam and Danielle first met in 2003. But Danielle said their love story really started when Adam finally dared to talk to her a few months later. After weeks of eating lunch together, Adam asked her out.
In July 2006, Adam and Danielle exchanged their wedding vows in their hometown, Lake Charles, Louisiana. On the day of their wedding, Hurricane Rita hit.
The wedding plans immediately changed, with the couple scrambling to find a different venue. Luckily, they found a tiny chapel where Adam and Danielle finally said their "I do's."
Please fill in your e-mail so we can share with you our top stories!