Lamar Odom's Fiancée Sabrina Parr Displays Her Curvaceous Figure Posing in Plum-Colored Outfit
Lamar Odom's fiancée, personal trainer Sabrina Parr, stunned her fans and followers on Instagram with a recent photo of her looking chic and beautiful in a plum outfit.
Basketball player Lamar Odom's fiancée, personal trainer Sabrina Parr, recently set her Instagram page ablaze with a sizzling hot photo of her all dressed. Captioning her dazzling picture, the beautiful Parr wrote:
"Stop trying to skip the line. Just wait your turn and God will bless you bigger than ever!!! #happysunday #getuptoparr #sabrinaparr."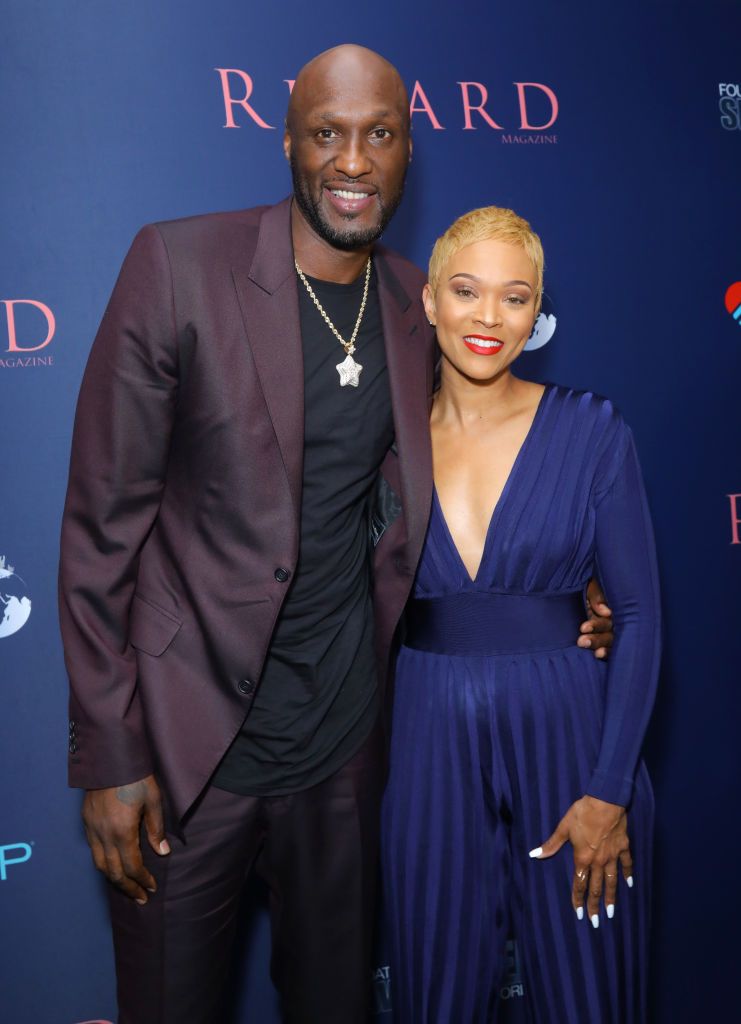 Parr wore a plum-colored bodysuit that hugged her figure tightly and showed off her curves. She paired the bodysuit with fitted pants that were in a deeper plum shade.
The stunning beauty wore her hair short as she has for a long time and glammed up the outfit with eye-catching jewelry pieces.
A twinkling silver necklace sat at the base of her throat while her matching bracelets adorned her wrist. The entire look was elevated some more with a pair of nude strappy heels and dark sunglasses.
Parr's fans and followers were immediately taken with her chic look and rushed to the comments section to praise her outfit and her effortless style.
Odom got an imprint of Parr's lips tattooed on his neck.
Not only do things look great with Parr's timeless fashion sense, but also her love life with her handsome fiancée, Odom.
On June 16, the personal trainer and entrepreneur went all out to appreciate her beau on their first anniversary together. She posted photos from their early days together and penned a lengthy heartfelt caption that read:
"A lot of people have asked me "how did I know he was the one"? The truth is, Lamar made sacrifices for me that no man has ever made!"
Parr wrote that the first photo was the first they ever took together. Both of them seemed focused on other things and the personal trainer admitted that she was trying to play it cool back then.
In the second photo, they seemed more relaxed and comfortable around each other as Odom embraced her from behind. She added that that was when they discovered that they both enjoyed talking about basketball and drinking wine.
When she first met Odom in 2019, the basketball star was living in Los Angeles while she was in Atlanta. Parr admitted that she put up a lot of boundaries and expectations for the kind of person she wanted to be with. 
She was surprised when he conformed to every one of them and even rented an Airbnb in Atlanta. That was how she knew that he was serious about them.
Odom and Parr fell deeper in love and got engaged in November 2019. Their love story became even cuter when Odom got an imprint of Parr's lips tattooed on his neck.
The lovebirds are also known to have become the best workout buddies. In June, Parr got to pay her beau a visit at a wellness center in West Palm Beach where he was working on his mental health. Parr is living her best life with her fiancé while looking incredibly beautiful, as she always does.