Check Out David Beckham's Fashion Statement in Sliders with Socks at His Wife Victoria's Show
David Beckham stole the spotlight at his wife Victoria Beckham's fashion show, turning heads in a statement outfit comprising sliders and white socks. The former footballer was joined by his three of his children as they supported Victoria.
David Beckham proved to be the husband of the year as she showed up for his wife Victoria Beckham's London Fashion Week show.
The former footballer was joined by his children, Romeo, 18, Cruz, 15, and Harper, 9, to support the renowned designer, but not without making a fashion statement.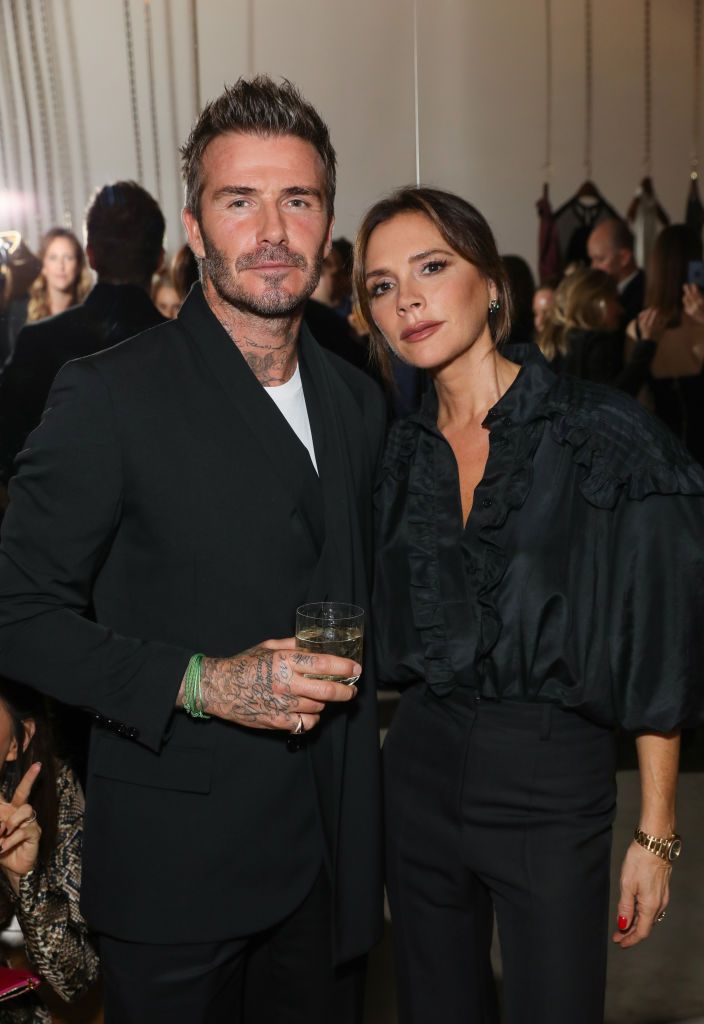 As seen in photos shared on David's Instagram story, the 45-year-old was clad in a casual ensemble of an oversized Dior parka over a white t-shirt and paired with black track pants.
The fashion show was to launch Victoria's spring/summer 2021 collection.
However, the highlight of his look was his cool combination of white socks and sliders, which sent fans into a frenzy online. Many fans lauded the entrepreneur for making socks and sliders look super cool, while others couldn't believe he dressed that casual to a fashion show. One user gushed:
"Only @davidbeckham can wear white socks with sandals and look cool."
The former Manchester United player was flanked on the left by his son Romeo, who charmed fans in a short-sleeved Air Dior sweater combined with black pants and the Air Jordan 1 High OG sneakers.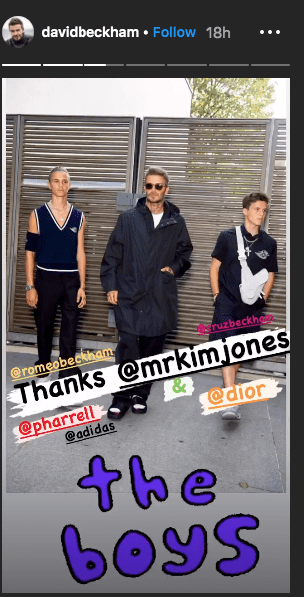 While Cruz tugged at hearts in an Air Dior polo shirt with oversized shorts and a white saddle bag hung across his chest. In another post, which was captioned "the gang," the Beckham boys were joined by Harper, who looked adorable in a long silk floral dress with matching mask.
The fashion show was to launch Victoria's spring/summer 2021 collection, and due to the ongoing pandemic, the event had only a few guests in attendance.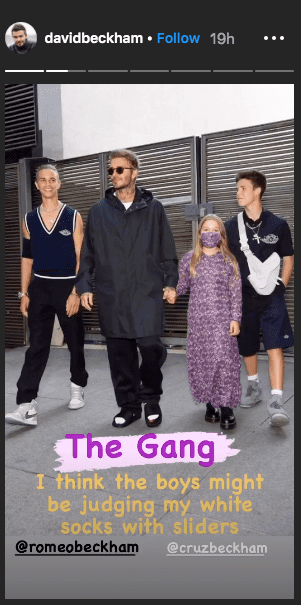 Nevertheless, the former Spice Girl was thrilled that her family could attend, and took to her Instagram to share a lovely photo of them alongside the caption:
"My favorite (and only) guests this season! love you all so much."
She also gave a shoutout to her oldest son, Brooklyn and his fiance Nicola Peltz who were absent from the fashion show. In a subsequent post, she noted that her daughter's dress and custom mask was from her #VBPAW20 collection and was specially made by the atelier team.
While Brooklyn couldn't be a part of the family's annual tradition of showing up for Victoria, he echoed his love in a comment under his mother's post. He also shared a video of her collection on his page and bragged about how proud he was, proving that family is truly everything.