Chris Brown's Daughter Royalty Looks like a Model Posing in Denim Skirt and Cool Pink Sweater
American singer Chris Brown's daughter, Royalty, looked model-like in a recent post on her Instagram feed as she posed in a denim skirt and a cool pink sweater. 
Royalty Brown, daughter of American singer and rapper Chris Brown, looked model-like as she posed in a jean skirt and a cool pink sweater in a recent post on her Instagram. 
In the photo, the beautiful 6-year-old was seen posing regally in front of a shiny silver curtain. She was clad in a pink woolly cardigan with star-shaped patterns along the sleeves.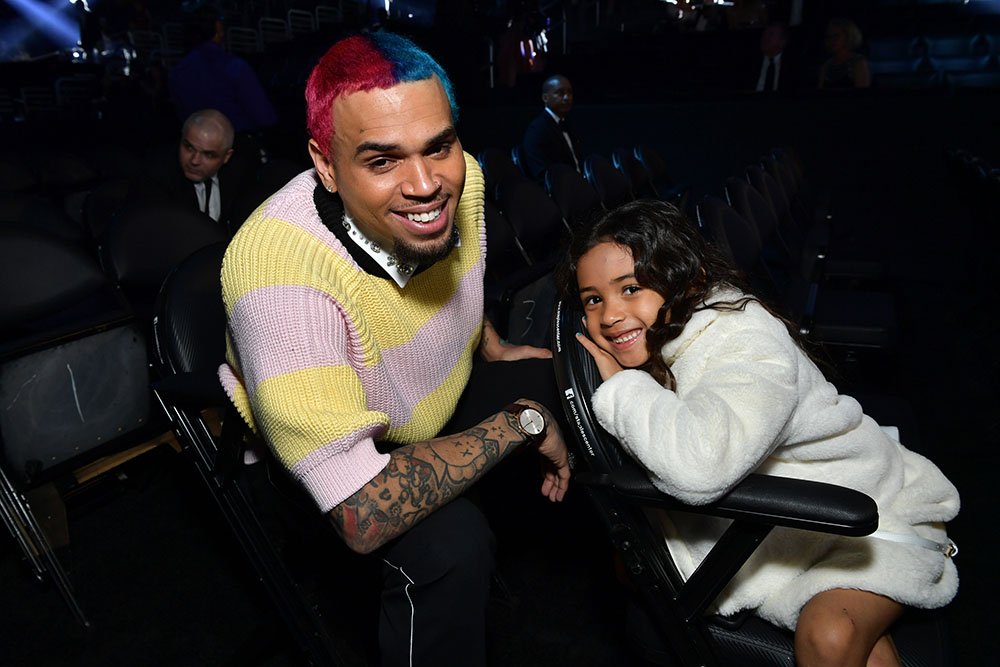 She also had on a blue mini-skirt with a black and white belt. In a match of beautiful colors, she tied a purple ribbon around her braided ponytail and accessorized with multi-colored bangles around her wrists.
In a stylish model-like pose, Royalty crossed one leg in front of the other and grinned widely into the camera. Her beauty resonated in this lovely photo. Beneath the post, she captioned: 
"Hi ?"
This is not the first time Royalty is dazzling the world with her beauty as she and her mother, Nia Guzman, have been known to post jaw-dropping photos on their social media accounts.
In May, the duo reportedly posted photos on their Instagram accounts that garnered fans' positive reactions. In the pictures, the mother and child both had on matching olive green swimsuits. 
The adorable child has also shown the signs of being a musical genius.
Royalty smiled sweetly into the camera while her mother flaunted her hour-glass figure. The pictures were promotional photos for the luxury "Myra Swim" swimwear fashion line. 
Just last month, the 6-year-old once again flaunted her remarkable style in the adorable photos posted on her Instagram. In the pictures, the beautiful girl had on a pink and blue tie-dye ensemble and pink crocs.
Royalty let her long braids fall down her shoulders and coupled the look with a large pair of purple sunshades. To finish this look, she accessorized with colorful bracelets and carried a brown $365 Louis Vuitton bag. 
Besides being a fashion icon in the making, the adorable child has also shown the signs of being a musical genius. In February this year, Guzman posted a lovely video of her daughter singing beautifully. 
Royalty sang Justin Beiber's 10,000 hours so well that her talent could not be denied. She then added her own freestyles to the rendition, much to her mother's excitement. 
In January, her father, Brown, also shared a video of the angel singing along to the song "Little Bit," by MattyBRaps and the Haschak Sisters. Since the father and daughter share such a close bond, his talent has undoubtedly rubbed off on the little girl.