J Lo Shows off Fun Dance Moves with Her Kids as She Flaunts Toned Belly in White Crop-Top
Jennifer Lopez danced it out with her kids as the trio promoted a charitable event in collaboration with Yoplait. The singer stunned in a crop top showing her toned abs. 
Jennifer Lopez, 51, showed that she is still consistent with her fitness regime in a new dance post showcasing her flat tummy. The event was a family affair with twins Max and Emme, 12. 
The three were jump-starting a Yoplait social challenge video, which calls for participants to dance, tag, and know that their entry will go towards a good cause. The post is found below.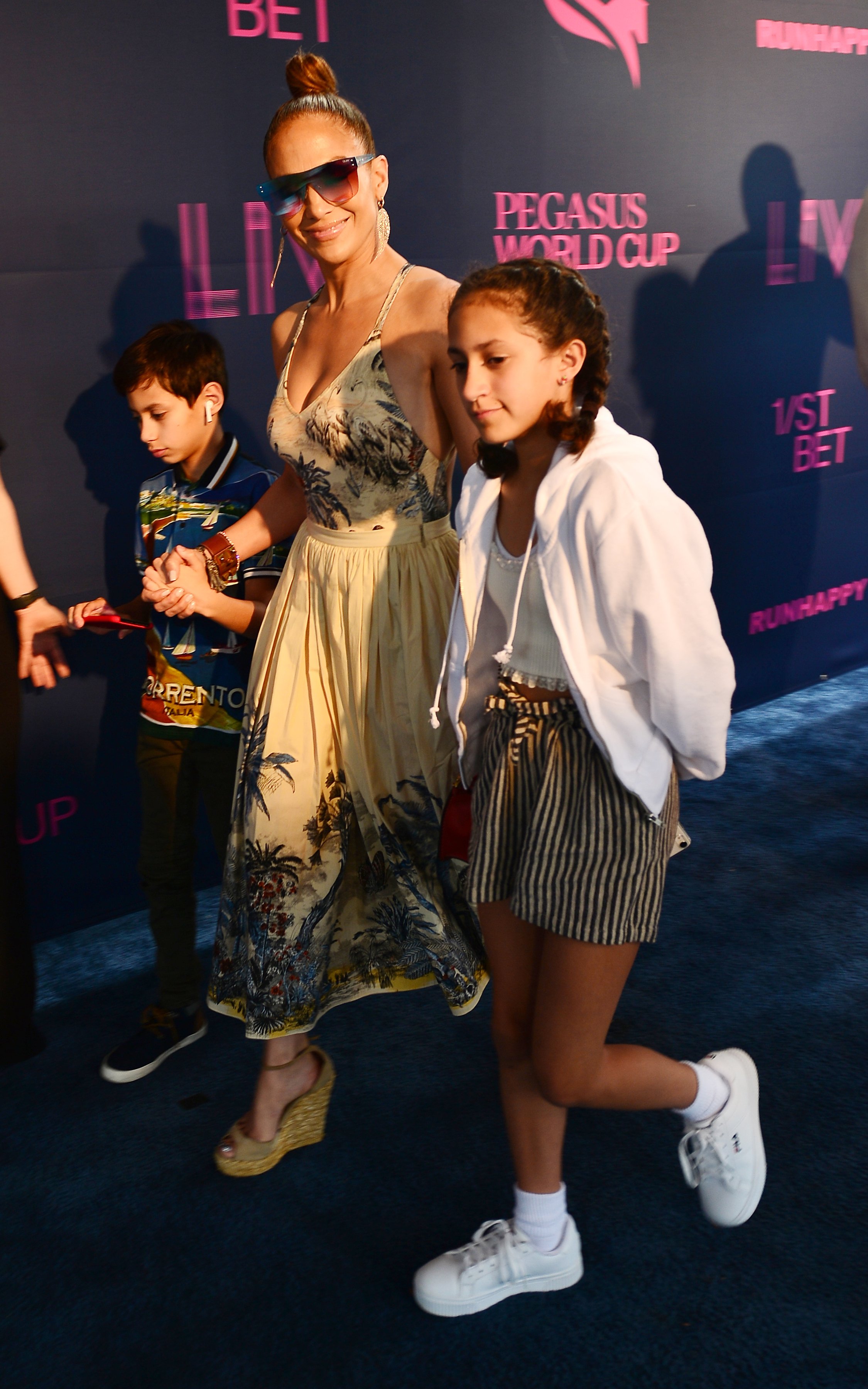 LOPEZ ROCKS OUT WITH KIDS
Started on Tuesday, the challenge calls for entrants to dance to Lopez's new song, "Pa' Ti." They have to include the relevant hashtag, and once they do that, Yoplait will send a dollar to Feeding America. 
Lopez shared clips from behind-the-scenes and the official dance video with her kids on her Instagram stories. In the first promotional slide, she stands with her hands raised in her all-white outfit.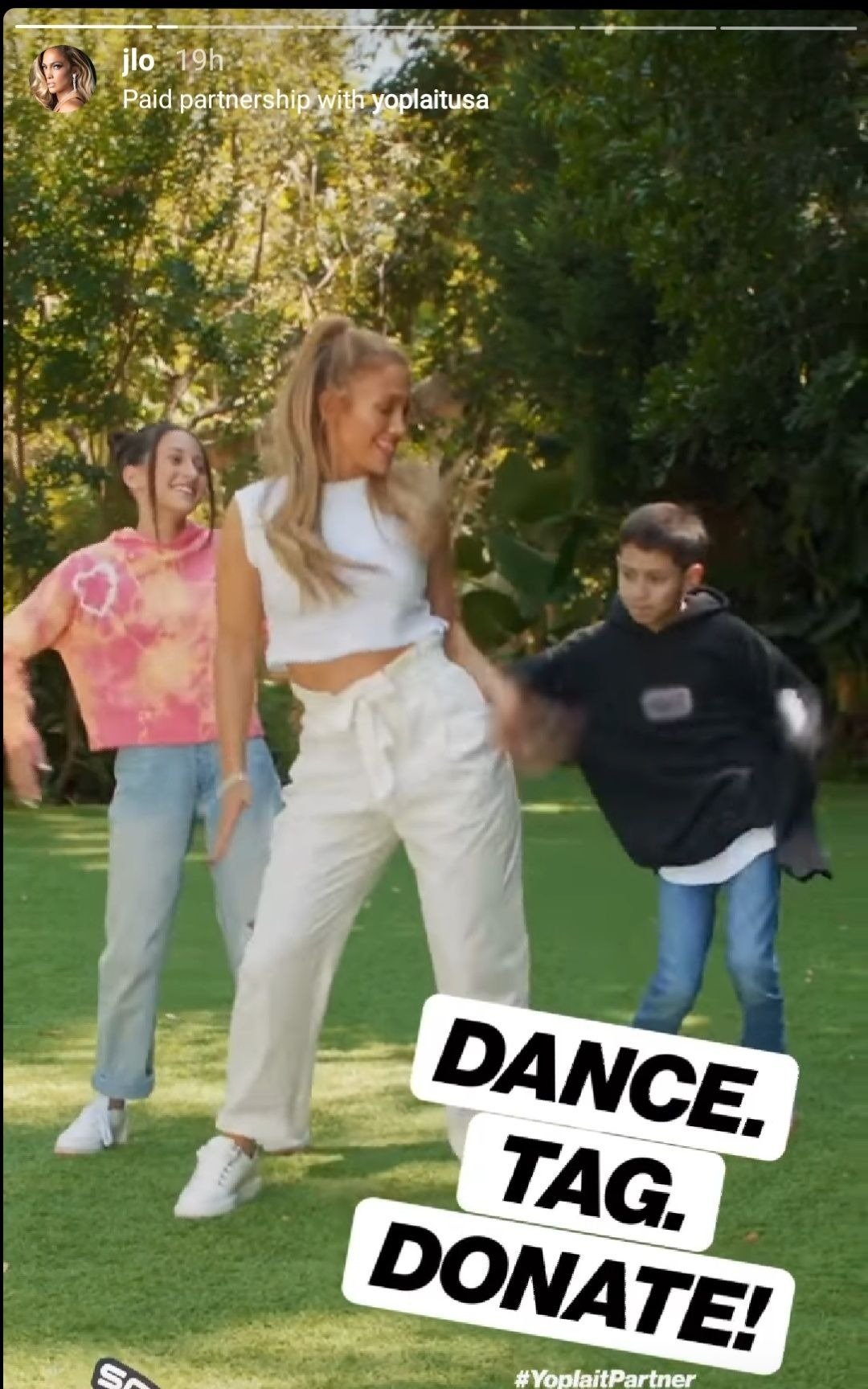 STUNNING IN ALL-WHITE
Her monochrome-style, sleeveless crop top is raised high enough for fans to admire the incredibly toned abs and sculpted midsection that Lopez has been successfully maintaining for a while now.
Lopez paired the top with high-waisted, long, off-white pants that were loose enough to allow her movement. It featured a belted bow at the top. She finished off the look with a pair of white sneakers. 
Lopez styled her hair in a half-up-half-down ponytail for the fun event. Behind her, Emme wore a tie-dyed hoodie with light blue jeans, and Max wore a black hoodie with jeans. 
THE ROUSING VIDEO FOR "PA' TI"
In another slide, we saw Lopez and Emma making a pyramid of Yoplait products. The song for the challenge, "Pa Ti," was released last Thursday alongside Colombian artist, Maluma. 
The teaser for the music video had many a bit surprised as it saw Lopez and Maluma look like they were about to kiss while Lopez sat in the much-younger 26-year-old's lap. 
The "Maid in Manhattan" actress is currently engaged to fiancé Alex Rodriguez. One can safely presume the steamy video clip was Lopez simply getting the song's message across in her capacity as an actress.
LOPEZ IS LIKE A BIG SISTER
The week before, Rodriguez shared a heartwarming photo of him and his blended family out together at an event. The former baseball pro has two daughters, Natasha, 15, and Ella, 12, from a previous marriage.
Lopez was well-huddled next to her daughter and one of Rodriguez's kids while Max rested on her leg. Fans were delighted at the sweet shot and could not help but compliment Lopez's youthful looks. 
Most agreed that Lopez gave off a big sister vibe in the family photograph. It came in slight contrast to a Labor Day portrait the group shared the prior week. 
LABOR DAY FAMILY SHOOT
Over two shots, Lopez, Rodriguez, and their four kids all posed in white attire outside. In one photo, the children had climbed a tree, and Lopez and Rodriguez stood on the ground below. 
Another shot showed Lopez on the lower bough of the tree and Rodriguez standing. A final picture showed Rodriguez hugging his fiancée while the kids smiled behind them near their home. 
It was clear who the mother was in the last one, as Rodriguez also kissed Lopez in the photograph. The pair seem blissfully in love, even as their kids are all said to be getting along. 
A week later, Rodriguez shared yet another family photo, this time showing three of the kids enjoying a group hug with gorgeous Lopez next to them.