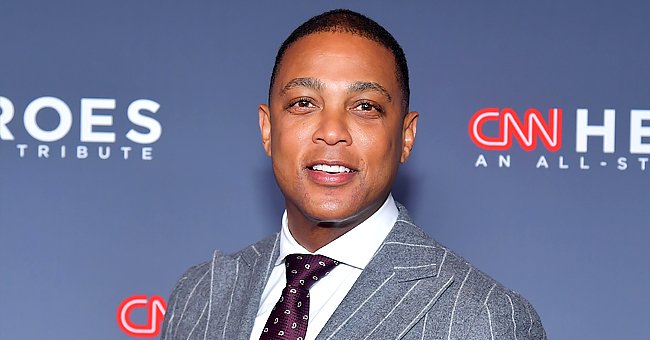 Getty images
Don Lemon Gives a Glimpse of How He Spends Time with His Fiancé & Their Dogs at Home
CNN anchor Don Lemon shared an amusing video of his dog jumping into the pool after him in an Instagram post and fans agree that his furry friend is ready for the Olympics.
With the Summer Olympics beginning on July 23, 2021, athletes around the world are busy practicing for the much-awaited event. And it looks like there is a little furry being who is eager to participate!
At least that is what Don Lemon says. In an Instagram post, the CNN anchor shared a video of himself jumping into the pool to enjoy a swim when his puppy decided to join in the fun.
Don Lemon and Tim Malone at the opening gala of the Tribeca Film Festival in New York City in April 2017. | Source: Getty Images
A SPECIAL FURRY FRIEND
In the caption, Lemon quipped that he was signing up his dog Barkley Ma Lemon for the Summer Olympics. Some of his fans voiced their support for the doggo in the comments section.
Lemon's fiancé, Tim Malone was seen lounging as he watched him flip back into the water. He looked relaxed in a pair of shorts and sneakers. The video was captured at the couple's sweet Sag Harbor retreat.
Back in June, he revealed how a breakup helped him come out to his mother in the mid-90s.
The white canine who was rescued and adopted by the couple played the role of a messenger when Malone proposed to Lemon in April last year. Barkley was joined by Boomer, the couple's second dog, to help pop the question.
DON'S LOVE LIFE
The dogs had collars that read, "Daddy Will You Marry Papa?" Lemon obviously could not say no to such a sweet proposal and they got engaged. A day prior to that, they celebrated Malone's birthday together in Manhattan.
The couple had been dating since summer 2016. They first met in New York and went public with their relationship in April 2017 when Malone debuted on Lemon's Instagram as they headed out to a party.
Lemon publicly came out as gay in 2011. Back in June, he revealed how a breakup helped him come out to his mother in the mid-90s. Recalling how he told her about his ex, he said:
"So I told her, 'Mom, I'm really sad about John and our relationship.' She asked me what kind of relationship we had, and I told her, 'He was my lover.' That's when I started crying."
HIS MOTHER FEARED FOR HIM
At first, Lemon's mother was okay with it, but as he became more accepting of who he is, she became hesitant. She wanted her son to have children someday and also worried about his safety and career.
That changed when she started to learn about his friends and life. She eventually realized that her fears were not true and she was being paranoid. Lemon's career and life turned out just fine and today he is a happy man.
Please fill in your e-mail so we can share with you our top stories!