Here's Toni Braxton's Step-By-Step Guide to Her Makeup Process & Tips on Faux-Lashes
In a 9-minute long video posted on Vogue's YouTube channel, legendary singer Toni Braxton gave her fans a step-by-step beauty tutorial to achieving faux-lashes and full-face make-up.
At 52, Grammy Award-winning singer Toni Braxton continues to mystify her fans with her age-defying looks that break all natural laws. Despite her unique natural looks, Toni loves to glam things up with some beautiful make-up artistry.
Over the years, the iconic singer has been very vocal about her beauty routines, and recently, she decided to give her fans a step-by-step beauty tutorial on how to achieve the perfect make-up look.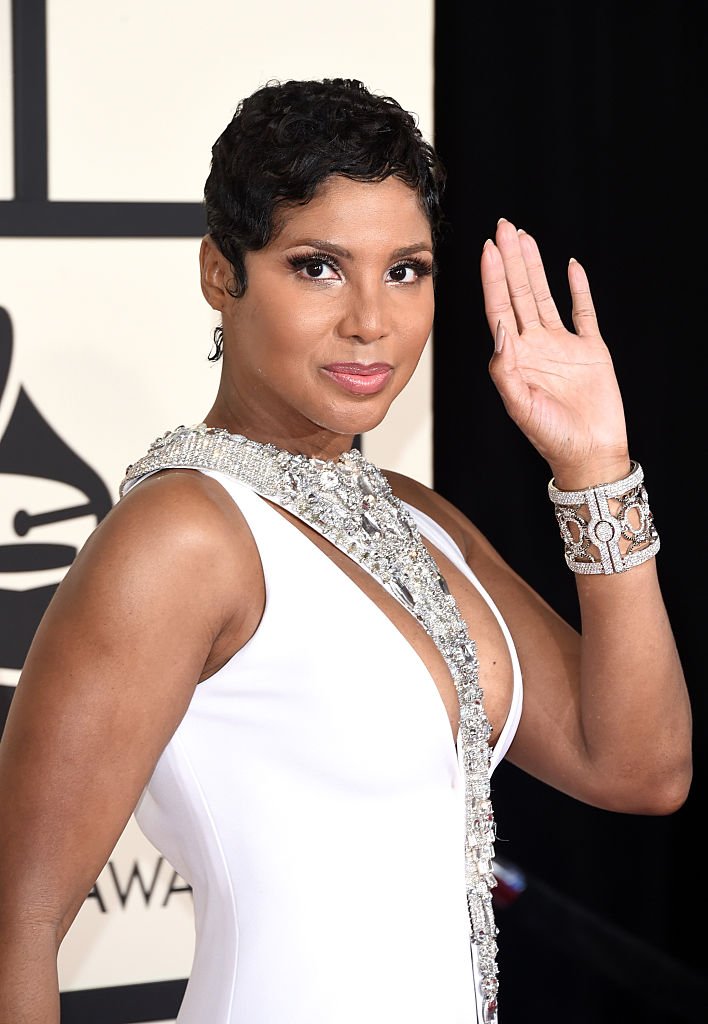 In the 9-minute DIY beauty tutorial, Toni employs a unique but straightforward combination of drugstore products, high-impact cosmetics, and a vibrator — which she conveniently dubs the face tingler.
As she starts the tutorial, Toni glides the purple-colored "face tingler" over her freshly washed and moisturized face. She then moves to an array of color cosmetics and dishes on how best they can be applied. As she works her magic, she gushes:
"I love doing my own make-up; it kind of relaxes me."
Toni moves on to gently fill in her arches while explaining how her eyebrow game has evolved over the years. She then makes use of eyeliner from Walgreens and finishes off with a pair of faux eyelashes.
The 52-year-old singer admitted that her way of applying make-up is not the conventional way, but she finds it convenient and it works for her. Next up, she applies a Bobbi Brown contour stick on her face and over her lips.
The Braxton family recently escaped a colossal tragedy after Toni's sister, Tamar Braxton, 43, survived an apparent suicide attempt in July.
She finishes off her full-face make-up by subtly brushing on NARS' creamy concealer alongside a bright orange blush and a weight of powder to hold everything in place. 
Meanwhile, the "Braxton Family Values" star has been making the news fairly regularly over the last few months. And she recently got the internet buzzing after she shared a sizzling hot image of herself in tiny black lingerie.
In the picture, which she shared on her Instagram page, the "Breathe Again" singer can be spotted sitting sensually on a chair, wearing nothing but the skimpy lingerie and showing off her nicely pedicured feet.
Fans were immediately thrown into a frenzy shortly after she posted the picture. Interestingly, it was not her stunning body or beauty that caused the buzz — it was her beautiful feet. 
Her fans quickly sparked off a foot fetish feeding frenzy in the comments section. Toni used the picture to promote an interview with rapper Missy Elliott, but her fans were understandably more focused on her feet.
In other related news, the Braxton family recently escaped a colossal tragedy after Toni's sister, Tamar Braxton, 43, survived an apparent suicide attempt in July. In a recent Instagram post, Tamar thanked God for giving her a second chance. 
The Braxton family has been through a lot lately, but they rallied around each other despite their differences. Toni certainly seems to have moved on from all the drama and has never looked more beautiful as she approaches her 53rd birthday.