Check Out Tyra Banks Rocking a Beautiful Glittery Dress on the Set of DWTS
Since becoming the new sole host of "Dancing with the Stars," Tyra Banks has been serving up some really glamorous looks to the viewers watching from home.
On Monday, October 5, 2020, ABC dance competition, "Dancing with the Stars (DWTS)" posted a photo of their new host, Tyra Banks, looking gorgeous in a shiny maxi dress. In the image, the former model was seen walking down the steps on the show.
On one hand, she held a microphone and part of her dress while in the other she held up her beautiful gown. She had on a big and bright smile as she was captured for the photograph.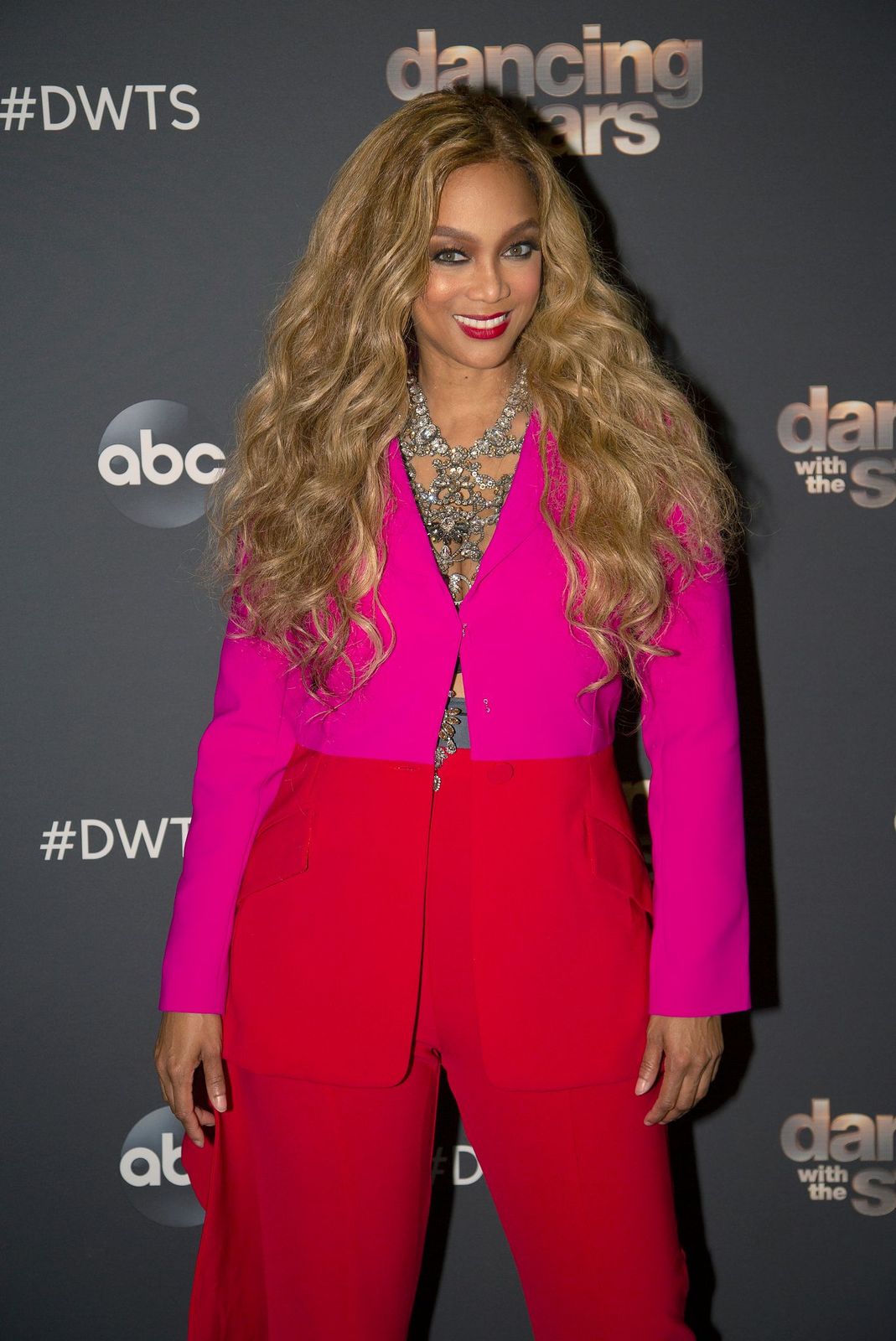 TYRA SHOW'S OFF DOWN
Banks' gown was a peach-looking color and dazzled with a glittery belt. The dress was floor length with a one-sided off-shoulder design and accompanied by matching heels.
DWTS announced that the dance competition was going into its fourth week. In the caption of the post, the ABC show also urged people to tune in to watch the next upcoming episode.
HER SEASON PREMIERE LOOK
For the season 29 premiere of DWTS, Banks, 46, once again stunned viewers with a fiery red ball gown. The dress featured a thigh-high slit and a long train that cascaded across the floor.
At first glance, the garment looked like it was a bunch of red roses bunched up together. DWTS' sole host added matching red gloves that reached past her elbows to complete her gorgeous look.
TEASING ABOUT HER LOOK
Hours before the premiere, the former supermodel teased fans on what to expect from her first outfit of the night. She told "Good Morning America" that the gown probably needed three people to carry it.
The "America's Next Top Model" host further described the dress as "a lot." She confessed to having done her final practice to make sure she could walk down the stair with it.
TYRA'S 2ND EPISODE LOOK
For her second episode of DWTS on September 22, 2020, Banks wore a garment that was inspired by the show's Mirrorball trophy. She shared her look on her personal Instagram account after the episode was done.
The dress looked quite futuristic with black, silver, and gold hues. It had a sheer look and off-the-shoulder sleeves which she paired with black open-toed high heels that featured a metallic detail.
WORKING ON DWTS
Last week, Banks appeared remotely on "The Late Late Show with James Corden" where she shared about accepting the DWTS hosting gig. The star revealed that she had no regrets about accepting the post which was previously hosted by Tom Bergeron and Erin Andrews.
The former model confessed to James Corden that she was having a great time working on the series. She admitted to Corden that she felt she'd made the right decision taking on the new post.